Comparison of Wotofo Nudge RDA 22mm and Nudge 24mm RDA
Views:786 Author:Linky Publish Time: 2018-02-03 Origin:Site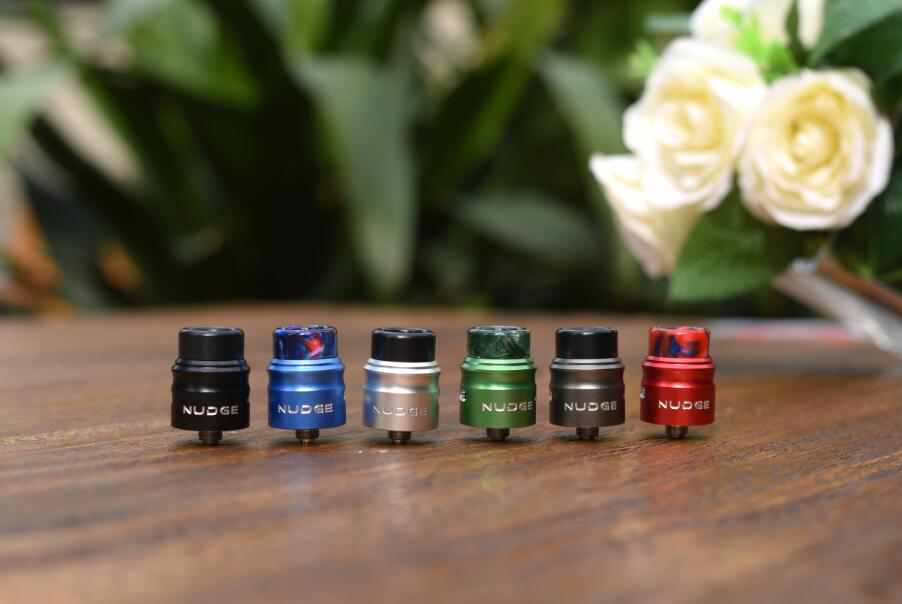 Both Wotofo Nudge RDA 22mm and 24mm are designed by WOTOFO and Suck My Mod. WOTOFO NUDGE RDA 22MM features a singular coil deck for easy and quick building. There are 2 atomizer covers of different sizes air inlet for choice. Bi-sides banked airflow inlet, inside structure forms U type air flow, giving a clean and flavorful vaping experience. It works with common and Squonk mods.
The former Wotofo Nudge RDA 24mm looks great on BF mods, especially the Nudge BF Mod. The RDA has 4 posts in a staggered Z design which makes it very easy to build dual coils. After the brief introductions, let's have a comparison of these two atomizers.
1 Compact and Beautiful Outlook
The delicate polishing and metallic feeling impressed me deeply. The machining is superb with every part fitting together beautifully! I found this tiny gadget feels great in my hand and the color is appealing (we currently have 6 colors for choice). Wotofo always put a great effort into the construction of our atomizers and Nudge RDA are the two I like most. Of course the general aesthetics are down to personal preference.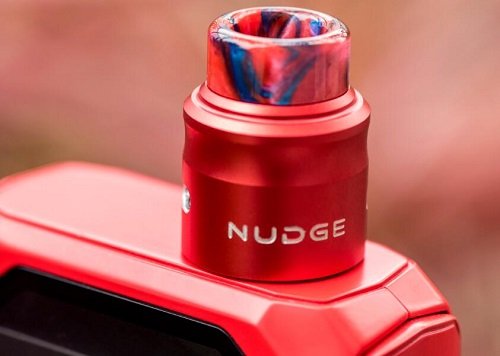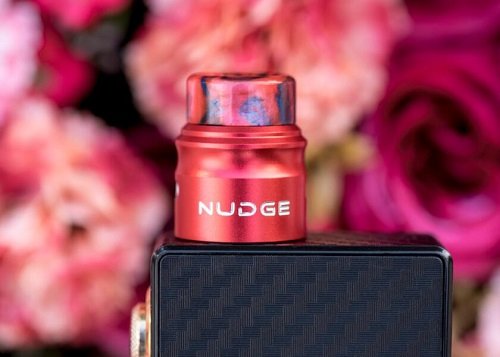 2 810 Resin Tip and Top-grade Material
The inner parts are made of PEEK insulation material imported from Germany, resistant to high temperature, not easy to deform and has a long lifespan. What's more, the 24K gold-plated 510 electrode giving superior conductivity and performance. It supports bottom feed juice supply, suitable for most Squonk bottom feed Box MOD.
WOTOFO using the top high quality material on Nudge 22mm and 24mm RDA to provide safe and joyful vaping experience. Nudge RDA 22mm and 24mm RDA adopts most widely-accepted 810 resin drip tip, i believe that nobody will feel it burning while enjoying your vaping. The atomizer cover is made of aircraft grade aluminum alloy and thus make the cover abrasion-proof and anti-scratch. If you are prefer to 510 drip tip, don't worry, one 510 tip adapter is included in the package.
3 Single Coil Compared to Dual Coil
Wotofo Nudge RDA 22mm adopts singular coil RDA deck. There are 4 screws on the deck, you only have to unscrew 2 screws to fix the coil. Meanwhile, it supports building the coil from two different directions. If you are experienced vaper, you will meet no challenge. If you are one of the numerous starters who want to have a try, you will find it quick and easy to fix coil without difficulties. This makes Wotofo Nudge RDA 22mm a great choice for vaping starter.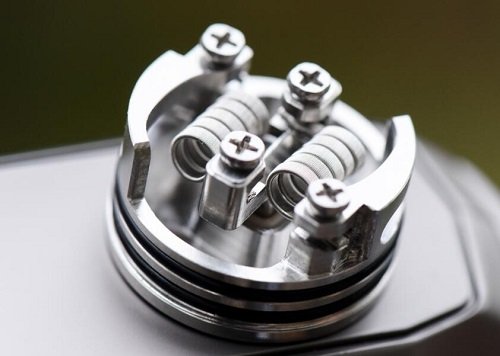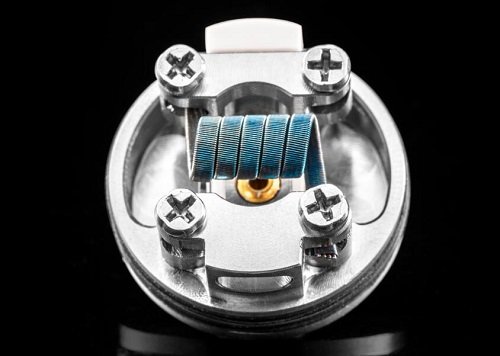 On the contrary, The deck on Nudge RDA 24mm is very creative dual coil design. We call it Z post design. It is basically a 4-post design with two posts on the circumference of the RDA and two posts in the middle of the RDA. The alignment of the screws, if you were to connect them with a straight line, form Z configuration. There are 4 terminals and on each terminal, you are able to slide in your coil lead in from the side. This makes coil placement extremely easy and it eliminates the need to have to twist your leads especially on your flat wire builds, because they lay in there nice and flat.
4 Two Covers for Choice and Adjustable Air Inlet
This is another big difference from the former Nudge RDA 24mm, Wotofo Nudge RDA 22mm offers 2 different atomizer covers of different air inlet sizes. I believe this to be a dauntless action. Unlike the former Nudge 24mm RDA's adjustable airflow inlet. The air inlet is mostly non-adjustable, instead, we offer one spare cover in the package. You can replace the atomizer cover by yourself, large or small air holes are all depends on your vaping preference.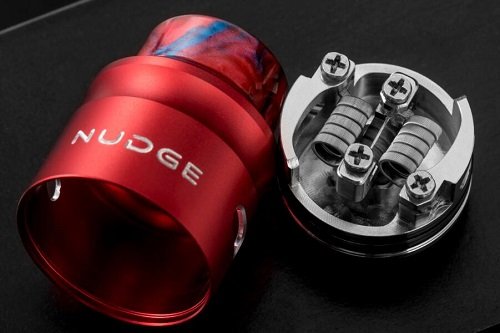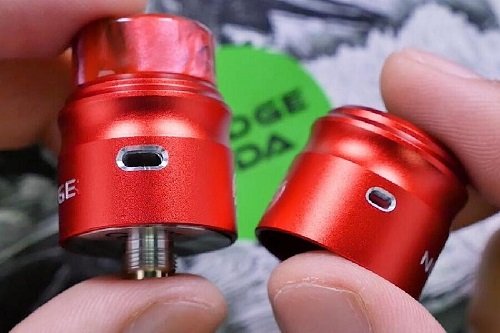 5 Both with Fantastic Flavor and Favorable Cloud Production
Nudge RDA 24mm boasts excellent flavor and vape production with a concentrated airflow system. Inherit the great tradition, this new arrival WOTOFO Nudge 22mm RDA makes some improvement and will not let us down.
Nudge RDA 24mm is a fantastic flavor-type atomizer that emphasizing the flavor and combining cloud production at the same time. It adopts bi-sides banked airflow inlet, inside structure forms U type air flow, getting through the coil, giving a clean and flavorful vape experience. Nudge 22mm RDA is a fantastic flavor RDA, emphasizing flavor and combining cloud production at the same time.
Conclusion
Both of the 2 atomizers are absolutely amazing! If you want to meet more challenge and more DIY fun, you can choose the former dual coil Nudge RDA 24mm. And of course, if you are incline to free adjustable airflow inlet design, it will also be a great choice.
If you are vaping starter or just want to tray a new hit, I will highly recommend Nudge RDA 22mm to anyone who is looking for a single coil RTA with enjoyable flavor and massive vape production. I believe this delicate constructed RDA from WOTOFO will offer you a brand new vaping experience!