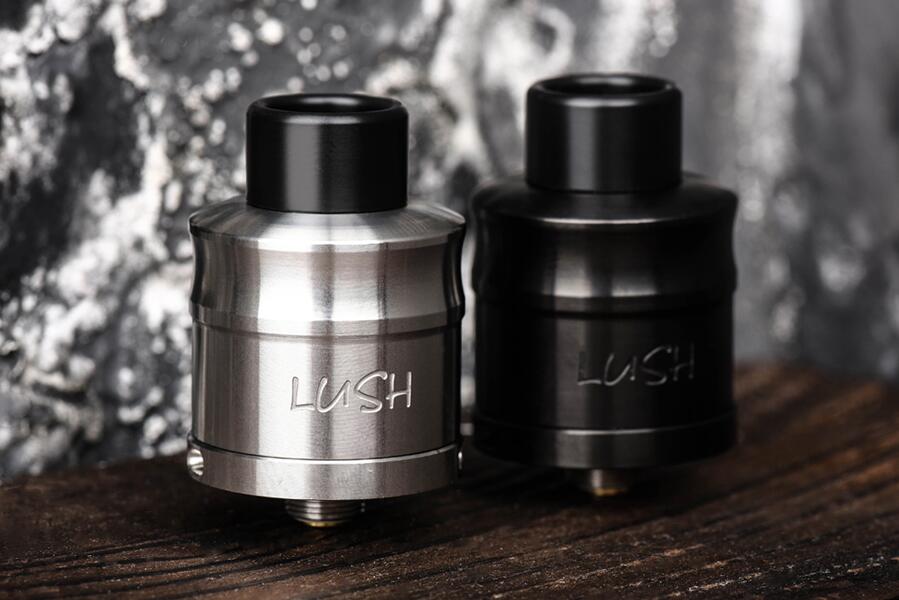 Today, I am bringing you another hardware review thanks to the fine folks over at Wotofo. Not long ago, I posted a review of the new Troll RTA, which was fantastic. Along with the Troll I also received the Lush Plus RDA, the follow up to the original Wotofo Lush RDA. The difference? It's larger. It also features a new, improved design. Thank you to the folks at Wotofo. I love these products, the design, quality, and presentation is excellent. Ladies, gentlemen. The Wotofo Lush Plus.
Manufacturers Specifications
•24mm Diameter
•32mm Height(including drip tip)
•Dual independent posts with four wire holes
•Durable titanium alloy screws
•Peek insulator made in Germany
Package Contents
•Lush Plus RDA
•Multfunction wrench
•Spare parts
• Gift Box with Anti-Fake label
•Japanese Cotton
•Prebuild twisted coils
•User Manual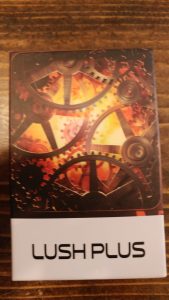 Packaging
Upon first inspection of the package, as usual, the sleeve of the box has a unique artistic design, as most Wotofo products do. I really like that Wotofo takes the time to make things look a little nicer than the usual plain box. It adds a bit of class to the product. The box is a slide open gift style. The back has the normal authenticity check scratch off.
Once you slide the sleeve off, sitting inside the is the Lush Plus. It is tightly packaged into a foam cutout. Nothing else here on the top beside the RDA and the standard Wotofo T-shirt card. Underneath the foam cutout, there are three little black packages which contain Cotton, Spare O-Rings, and a multi-driver. They are the exact same packages that were with the Troll RTA.
First Impressions
As soon as I took the RDA out of the box, it was decently weighted and felt like a quality piece of hardware. The top cap sits in place firmly and does not move and the drip tip is seated very nicely as well. The threading is all very smooth with no signs of metal burrs or leftover machining oil. I was able to remove the top cap with ease while being able to slip it back on without having to force it down with excess pressure. The juice well looks to be a tad bit small, which led me to believe that dropping any amount of juice in there will cause some leaking issues. Overall my first impression of this RDA was as expected, Wotofo seems to hold fairly steady when it comes to consistent quality and craftsmanship.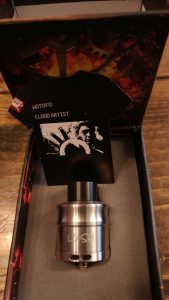 The Deck
This is where things get really interesting. Designs of decks these days are usually pretty common, sharing certain similarities between atomizers. Some are clamp style, some velocity style, post less and so on. Wotofo, like I said before, is always innovating, you can see that with the design of the deck on the Lush Plus RDA. It looks sort of Frankensteined together from a two post and some other contraption. Either way, I like it. These posts are what Wotofo calls, dual independent posts which mean you have some freedom to work around which holes you choose to use when installing your coils. I personally, installed them the way you would on a velocity style deck. I have seen other folks with this RDA on the internet use just the top two holes for smaller coils, which makes sense! I did struggle a bit with leg placement when using both the bottom and top holes. After a few tries of positioning and a bit of fidgeting, I got the coils set in place just above the airflow.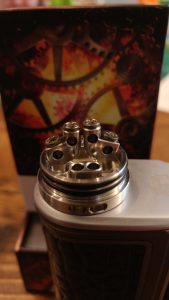 If there is one thing that I do not like about this RDA, it's the juice well, or lack thereof. Everything is so very tightly packed in there. The only way that I was able to successfully drip any amount of liquid in there was to position the tip of the bottle/dropper right on top of the screws. This allowed the juice to sort of cascade down the side of the posts into the well. This, compared to the 10-15 drops I can put in some other RDA's was just not something that I enjoyed. The design leaves me removing the top cap every 4-5 puffs to paint my coils and wicks again.
Negatives aside, the design of the deck is aesthetically pleasing and I love that Wotofo has come up with something unique. Hopefully, in future versions, Wotofo will consider making the juice well a tad bit bigger to accommodate additional dripping.
Airflow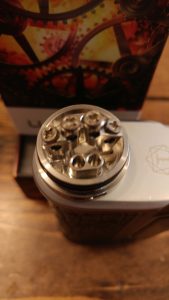 This might be a bit short because there is not much to really cover here. The Lush Plus is a bottom airflow RDA. Airflow on this RDA I find is a bit restricted. There is no adjustment to add additional airflow, it is what it is. I feel that the reduction in airflow here hurts the flavor production a bit. I expected an RDA with a tighter draw to have enhanced flavor but I found it a bit mute most of the time. The bottom airflow is a bit of a hindrance when trying to drip any amount of juice through the drip tip. You can't see how much is sitting in the well and before you realize it, the juice is leaking out the airflow holes. Some folks will find that this airflow setup is just fine, it will work well for lots of people. For me, I like big airflow and adjustable airflow on my RDA's.
First Build
I chose to fix a pair of framed staple coils that I made into the Lush for it's first build. I was able to get these in here with room to spare. The framed staples are 6 ply 0.5×0.1mm,26gK frame and 36g N80 wrap. I wrapped them 5 times around a 3mm drill bit and they come in at exactly 0.1ohm. Wicking this RDA was easy enough. The normal Scottish roll worked but it was a tad bit tighter to fit into the wicking slots. I fixed that by thinning the wicks down a little. All in all, super easy deck to build on.
Final Thoughts
Overall the Lush Plus is a very nice RDA. It is well designed, the material quality is excellent and packaging and presentation is fantastic. There a few drawback when it comes to my personal preference but that may not present an issue for some folks. Something I did not mention above is that while I was using the Lush Plus, the top cap had a tendency to get very hot. I touched my lips to the top of the cap a time or two and it was not pleasant.