Many of you may have heard of the Troll RDA, some of you may own it as well. Recently Wotofo released the Troll RTA and I was lucky enough to get my hands on it.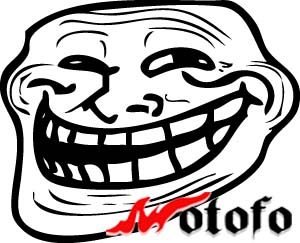 I can say after using this tiny little piece of mastery over the last week I am thoroughly impressed with it's performance and it's quality. I have been on some what of a search for that one RTA which gives an even balance of both flavor and vapor production.
Before we really dive into the finer details of the tank lets take a took at what you can expect once you get your hands on it.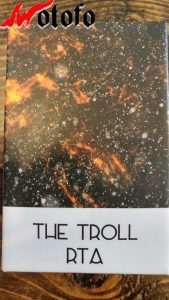 Firstly the cardboard slide box is, as usual, designed very well with an eye catching bit of art surrounding the entire box. Wotofo never seems to let the consumer down when it comes to placing a good amount of effort into packaging.
Package Contents;
•1 x Troll RTA
•1 x Multfunction wrench
•1 x Spare parts
•1 x Gift Box with Anti-Fake label
•1x Japanese Cotton
•3x Prebuild twisted coils
•1x User Manual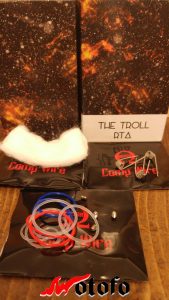 Specifications;
•Color S.S Black
•Thread 510 Thread
•Diameter 24mm
•Product size (L x W x H) 41mm Unique single "T" post design
•Glass Pyrex
Once you remove the plastic wrapping from the box and remove the cover everything is packaged very nice and neat inside of a foam cutout. Sitting on top of the everything is a user manual along with the usual Wotofo T-Shirt card. Once you remove the cutout there are three little black tear open packages underneath. They contain spare O Rings,Multi Wrench(the best one I have used to date) and a 3 5 wrap 3mm fused clapton coils. There is not any information of the wire material used but by looking at it I would say it's either Stainless Steel or N80.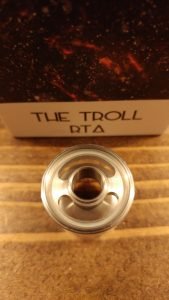 A while back I was sent, for review, the Sapor RTA by Wotofo. It is another tank that was adapted over from an already well known RDA. I was extremely impressed with it from start to finish. The quality was fantastic, the simplicity of building and wicking on it were great. It carried a nice small form factor that blended together well with all of the smaller more stealth mods that I have.
The Troll RTA is another fantastic transition from RDA to RTA. I am actually more impressed that I was with the Sapor RTA. It stil carries the same small size as the Sapor and looks fantastic on a smaller mod. The overall size of the Troll RTA is 24mm so you can expect it to sit nice and flush on the vast majority of mods out there.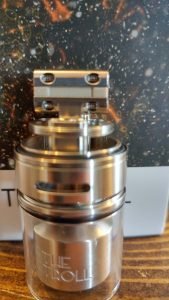 The machining on the whole thing is excellent. There are no little burrs of metal anywhere and the threading is very smooth. I had one small issue with the build deck when I first went to open up the post holes because the phillips screws were tightened in too hard and 3 of the 4 were jammed in there. After a lot of pressure and one stripped screw I got them all out.
The troll is a top fill RTA with two generously sized kidney style fill ports. I am able to get a needle tip in there as well as a dropper with no issues. Yorker caps provide a bit of an issue which is no surprise, they don't work well with anything. Do not be fooled by the small compact size of this tank, it holds a whopping 5ml of eliquid which is more than enough to keep the average person going for a while.
This time around Wotofo got really creative with the design of this RTA. The deck is unlike anything I have used in the time that I have been into vaping. The deck is sort of shaped like a "T" with the holes bored out of the solid single piece of metal. I guess you could consider this a single post design.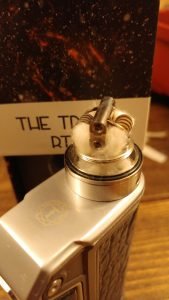 Taking into consideration how small this tank is, the deck is really quite easy to build on. The only complaint that I have when it comes to building is that the space between the inside wall of the chimney and the outer edge of the coils is a little tight. When arranging the coils on the post I had to get them as close to the post as possible without touching. I was able to fit a dual set of 3mm coils in there no problem but you just want to make sure that everything is positioned as close to the deck as possible without touching and causing a short.
A talking point about the design of tank and frankly, something I am really a fan of is the raised deck. Essentially the airflow and deck have a gap in between effectivly leaving a massive amount of room for the liquid to get in and wick. I have never seen a design like it and I really believe it might be one of the best out there.
I especially dislike when I get a new tank and I have to spend hours fidgeting around trying to figure out how to wick it. There are so many out there that have a very fine line between too much and too little wicking material. I was really happy when the first wick I put into the Troll, performed perfectly. It also appears as there could be a few different ways to wick this and have it work just as well if not better. I chose to run the wicks down into the little holes straight to the bottom of the deck so that the cotton was always in contact with liquid. Another method I did not try but I have seen is, cut the wicks just below the holes and fluff the ends out. It would act similar to an RDTA style wicking method.
The airflow on the Troll is somewhat restricted in comparison to other RTA's that I have used in the past but, it is the perfect amount of airflow once you get used to it. The airflow channels sit at the bottom of the tank on opposite sides of each other and are fully adjustable. The airflow ring moves very smoothly with no catching or sticking at any point. Vapor production on this little RTA was shocking. I was easily able to fog out an entire room in no time.
Overall, from top to bottom the Troll RTA is a major performer. The quality of the product it's self is top notch and every bit of this little monster just goes to how dedicated Wotofo is to innovating and changing the game. I really did not find much about this tank that I did not like,a few very minor things such as the space between the outer edge of the coil and inner wall of the chimney.
Also the included screwdriver seems to be slightly undersized for the screws that are on the deck. I was able to use one of the phillips precision screwdrivers from my build kit and it worked great. Other than those two things, I absolutley love the Troll. It has actually become the tank I use every day while I am working.
Would I recommend this to someone? Absolutley, I already have recommended it to several friends as well as some local shop owners. Anyone looking for an easy to work with RTA should look no further than the Troll RTA. Even a beginner could pick this up and figure it out. Wotofo has done an excellent job with this product just as I expected.