Preview of Bravo RTA from Wotofo -- Must Try in 2018
Views:724 Author:Linky Publish Time: 2018-01-11 Origin:WOTOFO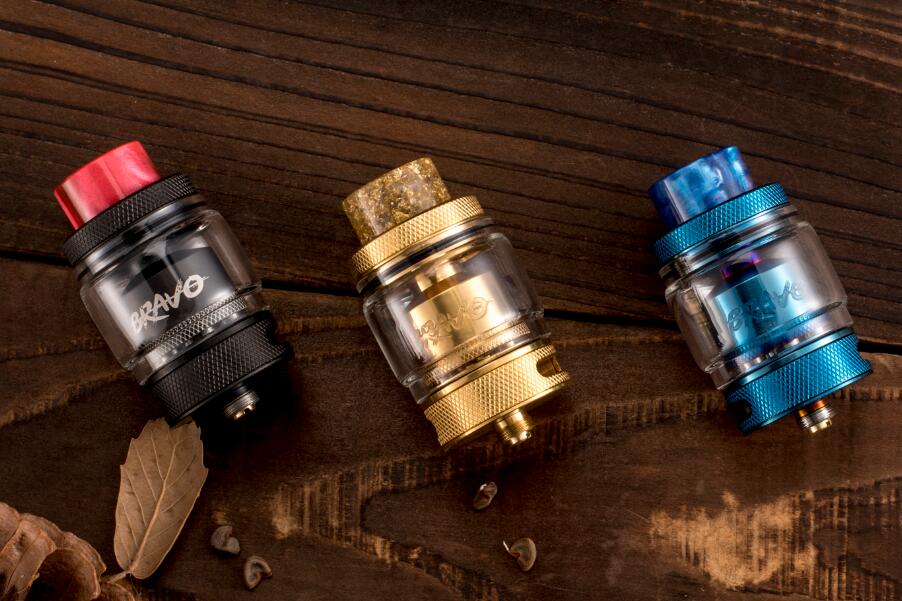 Vapers are acquainted with WOTOFO which has produced lots of distinctive and competitive hot items for vapor fans all over the world. Some of them are jointly designed by Wotofo and vape celebrities or masters. We do appreciate all the design ideas from our fans. Recently WOTOFO launched the newest 25mm RTA which honored Bravo from the idea of a regular enthusiastic vaper. Will it be a new hit? Let's firstly have a preview of Bravo RTA.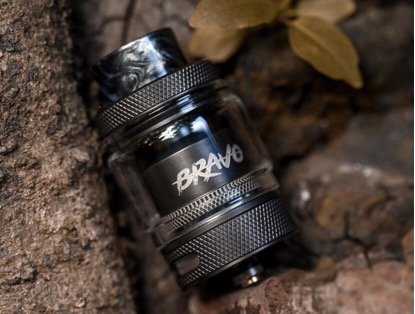 The first impressions of Bravo are the amazing knurling and compact structure. The whole craftsmanship is fantastic. Bravo adopts top filling system with dual coils design. The tank casing is transparent, we can see the logo "Bravo" inscribed inside clearly.
1 Clamps Post with Dual Coils
The electrode design dominates the performance of one atomizer. Bravo is the first WOTOFO RTA owes atomizer adopted clamps post design, which is more appropriate for flat wires. You will find it's easier to fix your coils and cotton, What's more , it makes sure you clamping the coils firmly and tightly.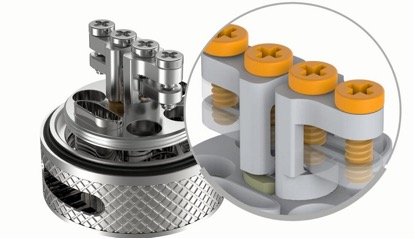 Coils and cotton are the soul of every atomizers, it decides if you could fully extract the flavor and smoke from your favorite atomizer. Dual coils became much more popular, mostly because they offer great level of enjoy to your vaping experience that single coil can't really compete with.
2 Floating Deck
Floating deck design provides bigger capacity for your favorite juice. This ensures long-lasting vapor experience for you. A glass bubble tube will be included in the package for more juice capacity.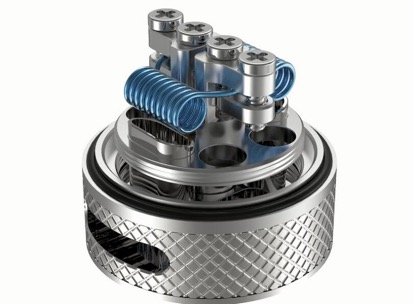 3 Straight 810 Resin Drip Tip
Straight Resin drip tip for a better vape experience. Many fans may have ever complained about a burning hot drip tip. Now this problem will never occurs on Bravo RTA. Resin drip tip ensures great heat insulation ability and offers enduring and smooth puff. And another good news is a 810 to 510 drip tip adapter will be included.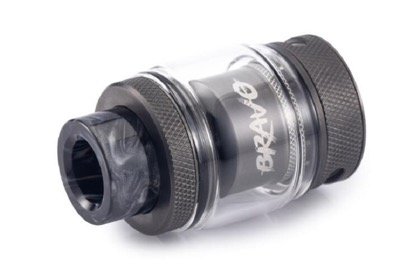 4 Less Threading on Cap and Speedy Refilling
It takes no effort to screw out the top cap and you can find the screw thread on top cap is less than others, which makes it speedy and quicker to refill the tank. If you need to refill frequently, this design will offer you great convenience.
5 Great Airflow and Supreme Cloud Production
Wotofo Bravo offers superb mouth-feel for you. Under the configuration of RTA, Bravo could compare favorably with the experience of RDA.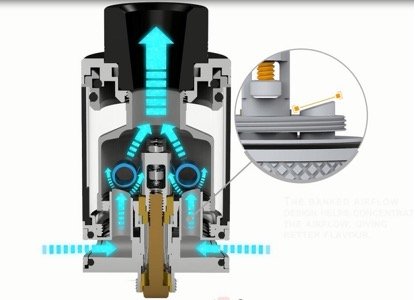 Besides, the banked airflow inlet design helps concentrate the airflow, giving better flavor. As for the cloud quantity, it's always being the pursuit of cloud chasers, and the effect of wreathing cloud is definitely cool.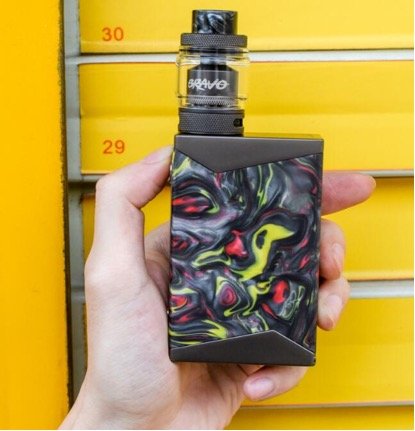 Sum Up
The workmanship and material of Bravo RTA is outstanding. It's comparatively easy to disassemble and cleanse except the tightened drip tip, but it won't be a problem if you have a tool. It fits well on my MOD with no rattle. On the other hand, Bravo RTA is fairly dependable, the juice won't easy to leak under common use. You will find this suits you best.