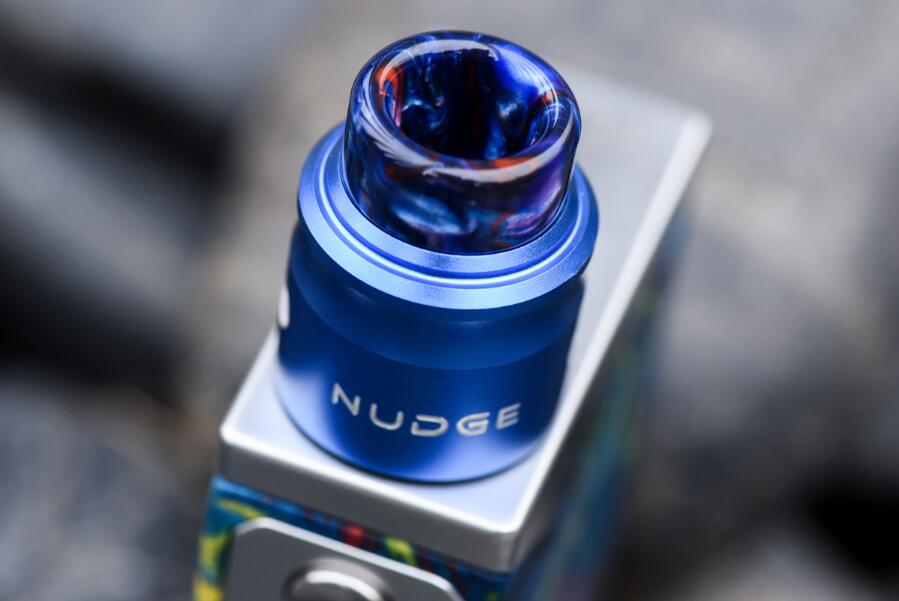 WHAT'S IN THE BOX:
· 1x Nudge RDA by WOTOFO
· 1x 810 Drip Tip
· 1x Delrin 510 Drip Tip Adaptor
· 1x Bag Of Prebuilt Comp Wire Coils
· 1x Bag Of Japanese Cotton
· 1x Bag Of Spare Parts
· 1x User Manual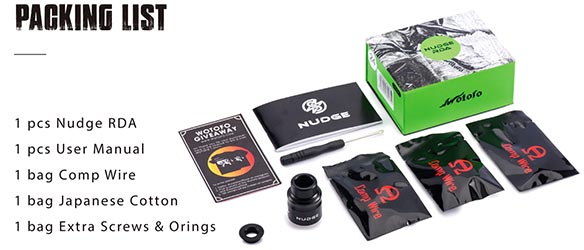 Comments
This RDA is a collaboration between Wotofo and Matt from the Suck My Mod YouTube channel. Matt is a popular YouTube reviewer and this is not his first time making an atomizer but I believe, this is his best effort to date. He has partnered with other companies in the past and most recently, he has partnered with Wotofo on their very popular SMM Serpent single coil tank.
As I said earlier, the first thing you notice on this RDA is the absolutely gorgeous drip tip that it comes with. Mine has a resin, blue, marbleized look to it with a couple of touches of red in there. In my opinion, this is the perfect type of resin wide bore drip tip. It is not too thick and it is tall enough to keep your lips off of the top cap. I love these types of drip tips and I think this one suits to Nudge RDA perfectly. It is an 810 or Goon style drip tip. I have tried some of my other Goon style drip tips in the opening and they have fit just fine. There is also a 510 DT adapter included in the package.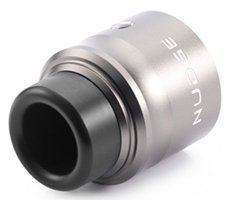 This is one of those RDA's that has a combination top cap barrel. In other words, the top cap does not separate from the barrel, it is all one piece. The machining is very nice and the interior of the top cap does have a very conical design to it. There are two airflow cutouts on the barrel part of this piece that coincide with two cutouts on the base of the deck. While this RDA does have side air flow, it all depends on your coil placement as to what part of the coil your air flow is going to hit. Mount your coils high and the airflow will hit from the bottom of the coil. Mount your coils lower and the airflow will hit on the side of the coil. The airflow on the Nudge RDA is fully adjustable by spinning the cap around the base of the RDA. It does have a nice tolerance to it but since there is no stopper, it can be a pain to get your RDA off the mod if you screw it on too tightly. Sometimes you actually have to remove the cap of the RDA in order to get a good grip on the base to remove your atomizer from the mod.
The base of the RDA has two o'rings with a very nice tolerance that do an excellent job of keeping the top cap in place. It is not too easy to pull the top cap off nor is it too hard. On the sides of the base, there are two walls that come up, that kind of form an arch around the sides of your coils. It is very reminiscent of a Wasp Nano RDA but instead of having a single coil, it's a dual coil setup. It's almost like having 2 Wasp's decks in one with the coil placement on the outer edges of the RDA. On the bottom of the deck, there is some SMM branding as well as some Wotofo branding. I did install the squonking pin in my RDA in order to use it with the Nudge mod but it does come out of the box with a traditional 510. Both pins have a flathead slot to them and they are easy to swap out.
The deck on this RDA is very interesting. Wotofo calls it their Z post design. It is basically a 4-post design with two posts on the circumference of the RDA and two posts in the middle of the RDA. The alignment of the screws, if you were to connect them with a straight line, form Z configuration. There are 4 terminals and on each terminal, you are able to slide in your coil lead in from the side. This makes coil placement extremely easy and it eliminates the need to have to twist your leads especially on your flat wire builds, because they lay in there nice and flat.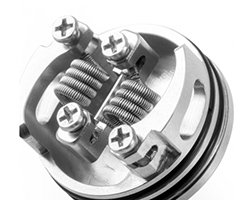 Because of the way they did the airflow around the circumference of the base, it will limit you as far as the inner diameter of the coil you are able to use. Wotofo does include 3 very nice 3 mm ID coils. That's another thing I just find very weird. Why include just 3 coils? Why not two, and if you are going to throw in the third one, why not go the extra mile and just include two sets for a total of 4? I don't know, it just seems to me that sometimes, the little things are just not that well thought out all the time when it comes to Wotofo.
Building and wicking on this RDA is pretty straightforward even though the terminal configuration is a little different than most of us are used to. Your leads are held into place by 4 Phillips head screws. Screws are of decent quality but I would have liked to have seen some beefier ones. Once your coil is in place, the only thing you have to be careful of is that your coil does not hit against the airflow wall. If it does that, you will have a short. The coils that Wotofo included ohmed out at .15 ohms.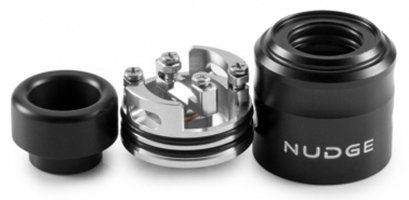 When I build on this RDA, I do like to mount my coils on the high side. I find that if I mount my coils so that the airflow hits the bottom of my coils that I do get better flavor. The airflow itself with the coils mounted that way is also a bit looser as well. If you mount the coils lower, you are definitely going to restrict some of the airflow because the side of your coil will be right up against the airflow itself. So, if you like a looser draw, definitely mount your coils a little higher and you will get an airier drawer. If you want to tighten things up a bit, mount the coils lower. Wicking is as simple as tucking your coil into the sides of the deck. There is more than enough room for your cotton and because of the post configuration, your leads are not in the way.
Pros for the RDA
· Great DT
· 510 DT Adapter
· Smooth Airflow
· Innovative Deck
· Excellent Flavor
· Squonking Pin and Traditional 510 Pin Included
· Great Coils Included
· Beautiful Colors Available
Cons for the RDA:
· 3 Coils?
· Has Slight Overhang On The Mod Its Named After
· Deck Screws Could Be Of Better Quality
CONCLUSION:
I do like this RDA a lot. I think it's one of the better-looking, more flavorful RDA's that have come out lately. I love the color schemes that Wotofo made for this RDA. The drip tip is a total win and the airflow is extremely smooth. The flavor is excellent on it and Wotofo does include three really nice coils.
If you're looking for a nice little squonking RDA that will perform well in dual coil mode, then it would be tough to beat this combination as far as quality and price point go. If you want to get into squonking and you're not too familiar with Ohm's law, definitely check the mod out. It performs very well when you pair it up with the Nudge RDA. Not only will it perform but it's got those safety features built in for the people who have never tried squonking before and may not be familiar with Ohm's law.