SPECIFICATIONS
2
ml

Capacity
(TPD Version)
*Tank Cpacity:3ml(TPD 2ml)
*Build Deck Diameter:22mm
*5 Airflow adjustments
*Replaceable coils,easy to change
*Convenient top filling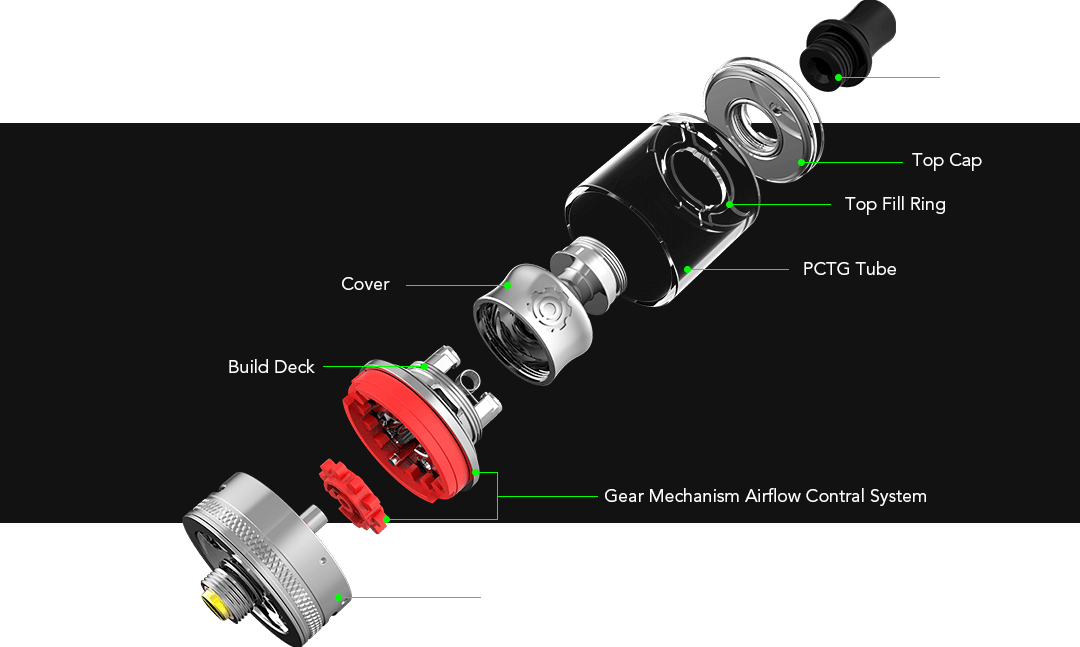 OPERATION GUIDELINES
PRODUCT INFORMATION
The Remarkable Gear


for MTL Users

The COG MTL RTA is a mouth-to-lung RTA designed especially for builders who prefer nic salts or high nicotine vaping. It's the new collaboration between Wotofo and Suck My Mod, featuring single coil setup on a 22mm build deck and 3ml tank reservoir.
Highly Durable Drip Tip, Comfortable Fit Between Lips
The COG is paired with a drip tip that is designed to condense the vapor for mouth to lung draws. Made of delrin and sized in 510, it keeps heat down to a minimum while offering tremendous flavor.
Enjoy building,
enjoy MTL,
and enjoy the COG!
Air Actually Reaching the Coil

Is The Key!
Though the air hole on the base ring can be adjusted, traditional MTL RTAs take air from the base interior with one-size inlet to the coil, which actually is still not truly regulated airflow control. The COG, utilizing gear mechanism, has 5 different internal air inlets that accurately control the amount of air and path approaching to the coil, giving MTL users customized draws for real.
Geared Mechanism for Fine-tuned Airflow
The COG MTL RTA has an innovative gear mechanism for very precise air tuning. Simply twist the base to fine tune your perfect draw. As the base ring moves, the mechanism transmits the rotary motion to the internal gear which works like a revolver cylinder, aligning 1 of the 5 internal inlets with the only passage that directs an accurate amount of air right underneath the coil.
Move me to see how the gear mechanism works for airflow control
Unveiling Vape in

Transparency Trend
Transparency is very trendy these days, in life, in society, and now in vapes. The COG MTL RTA is designed with creative transparency at the top and the bottom. See through the bottom, gears joining together, making the tank even cooler.
Optimal Deck


for MTL Builds

It has an incredibly simple build deck to work with. The COG features spring-loaded clamps for easier and faster coil installation. Spaced in an appropriate size for MTL coil builds, it can deliver dense and flavorful clouds efficiently.
Reducing the Risk


of a Cracked Tank

The tank tube is made of PCTG material, which is food safe as granted by FDA. It offers increased toughness while still providing extremely high clarity. A little tip here for you is that we don't recommend washing the tube with hot water.
COLORS AVAILABLE
Included Coil Specs:
1. Dual Core Fused Clapton Coil
Material: Ni80
30G*2+38G Resistance: 0.8ohm
Inner Diameter: 2.5mm

2. Single-Strand Coil
Material: Ni80 28G
Resistance: 1.2ohm
Inner Diameter: 2.5mm
Number of Wraps: 9-wrap contact build
What's in the package
1pc COG MTL RTA
2pcs 2.5mm Thick Cotton Strip
1pc Dual Core Fused Clapton Coil 0.8ohm
1pc Single-Strand Coil 1.2ohm
1pc Cross Head Screwdriver
1pc User Manual
1bag O-rings