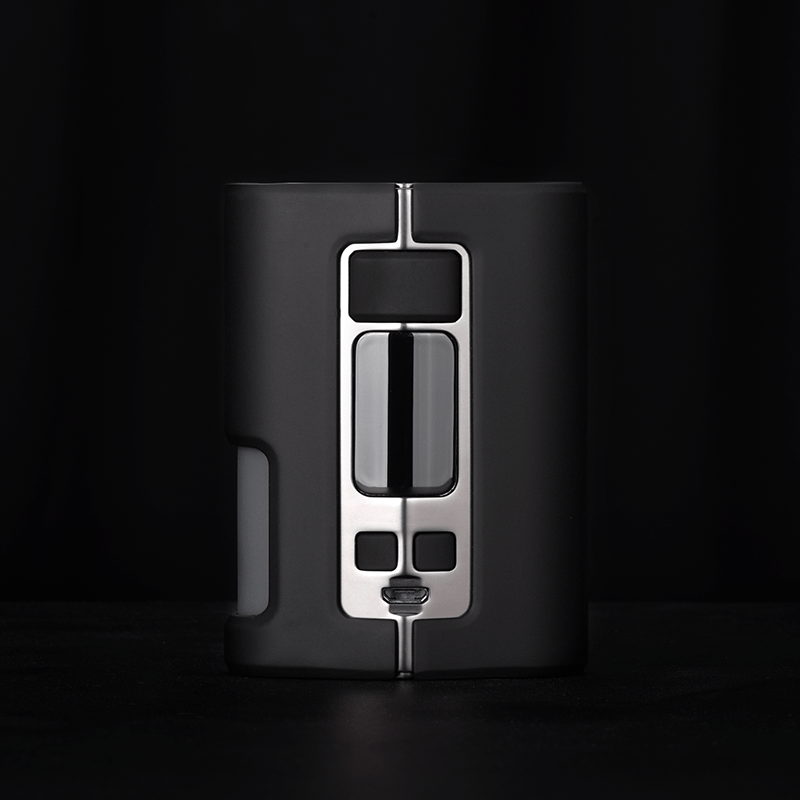 Wotofo Dyadic Squonk Mod
DYADIC 200W dual 18650 squonk mod results from the collaboration between Wotofo and YouTuber Tony B. The mod features three different power levels with a firing speed of 0.0001Second. This mod can go as low as 0.05ohms supporting the pro-level coil setup. The squonk bottle has a capacity of 8.5ml......Read more
in stock
---
Description
DYADIC 200W dual 18650 squonk mod results from the collaboration between Wotofo and YouTuber Tony B. The mod features three different power levels with a firing speed of 0.0001Second. This mod can go as low as 0.05ohms supporting the pro-level coil setup. The squonk bottle has a capacity of 8.5ml.
Dyadic Squonk Mod
Wotofo Dyadic Squonk Mod adopts industry-leading inner chip which has an instant fire speed of 0.0001s. It features three power modes and can fire down to 0.05ohm, supporting your pro-level dual coil setup. Easy-to-loosen connector design ensures no more stuck-on-mod trouble. Feel elevated flavor with this super powerful mod. 
Wotofo Dyadic Dual Battery Regulated Squonk Mod: A High Wattage Squonk Mod
Wotofo collaborates with Tony B to introduce Dyadic dual battery squonk mod. It is a comfortable squonk mod with simple features and a powerpack performance. The zinc-alloy box cover gives a perfect aesthetic and incredible ergonomic features.
Its smooth finish comes from the outer rubber coating. The outer chassis gives the regulated squonk box protection from an accidental drop. One can choose from 5 different colors such as Gunmetal, Black, Silver, Red and blue.
The dual 18650 battery offers you longevity in your vaping experience and a power output up to 200W. Setting the batteries in the mod is easy. It uses an industry-leading inner chip giving this an instant fire speed of 0.0001s. The regulated squonk mod supports the pro-level coil setup by going as low as 0.05ohms. However, it supports all atomizers with resistance ranging between 0.05 ohm to 3.0 ohm.
Dyadic 200w squonk mod features an 8.5ml squonk bottle. It comes with another spare squonk bottle. One can easily remove the bottle for cleaning and refilling. The bottle has both top loading and side filling features. However, for side refilling, users will need to remove the 8mm side rubber plug.
The 0.96" TFT screen displays the mod setting. It shows the wattage, Ohm reading, output mode voltage, and battery life. Dyadic regulated squonk box has three different power levels, such as Standard, Powerful and Powerful+.
It features two adjusting buttons and a large fire button on the frontal side. The adjusting buttons allow users to set the wattage level. Click the fire button 5 times to switch the device on or off.
Pressing both of the adjusting buttons together locks and unlocks the device, this is a safety feature to prevent your vape to fire or settings to be changed while in your pocket or purse. Press the upper adjustment button along with the fire button to change the power levels.
The spring function 510 pin allows atomizers to easily adjust on the Dyadic mod. Atomizers with a base over 25mm diameter may hang out from the mod.
Features that make Wotofo DYADIC the best regulated squonk mod
Powerful 200W output
Mods offer powerful performance. Often, several adjustments make the mod difficult to handle. Wotofo DYADIC dual 18650 squonk nails here. Vapers can achieve the power output of mods with no difficulty.
Dual 18650 Battery
Dyadic gets power from its batteries. Dyadic supports dual 18650 battery offering output range from 5W to 200W. It supports resistance between 0.05 ohm to 3.0 ohm.
Three different power levels
The dyadic 200w squonk mods come with three different power levels. Vapers can set the level on Standard, Powerful, and for an extreme performance Powerful+.
Built-in Safety features
Wotofo Dyadic dual battery regulated squonk mod comes with several protective features such as Low Resistance, Low Voltage, Overheating, Short Circuit, 10s Auto Cutoff, etc. The dyadic mod also has an Automatic Atomizer Recognition feature.
It utilizes industry-leading inner chip, has an instant fire speed of 0.0001s

It is a regulated mod that's able to fire down to 0.05ohm. So it supports your pro-level dual coil setup

Featuring an easy-to-loosen connector design, there're no more stuck-on-mod tragedies

With dual 18650 battery setup, it works longer and outputs steadier

It has a side-filling 8.5ml squonk bottle, on-mod refilling becomes more convenient

Whether you prefer left hand or right hand, it's both super easy to operate

Come and feel its velvet rubber coating surface, plus these solid and clicky buttons

Assured safety protections are built-in with the Dyadic

Automatic Atomizer Recognition
Low Resistance Protection
Low Voltage Protection
Overheating Protection
Short Circuit Protection
10s Auto Cutoff Protection
Dyadic Squonk Mod Specifications:
Dimensions: 82.4mm*61mm*37.3mm
Display: TFT 0.96inch color screen
Body Material: zinc alloy + velvet rubber coating
Battery Type: dual 18650 battery (not included)
Working Voltage: 6.6-8.4V
Wattage Range: 5-200W
Resistance Range: 0.05-3.0ohm
Max Charging Current: 1800mA±150mA
Squonk Bottle Capacity: 8ml (TPD 2ml)
Connector Threading: 510 thread
Working Modes: STANDARD/ POWERFUL/ POWERFUL+
Colors Available: Black, Silver, Gunmetal, Blue, Red
Package Contents:
1pc Dyadic Squonk Mod
1pc USB Charging Cable
1pc User Manual
2pcs Squonk Bottle (one pre-installed on the mod)
Learn More About Dyadic Box Mod >>