Wotofo Serpent Elevate RTA
Serpent Elevate RTA results from the collaboration between Wotofo and Suck My Mod (SMM). Serpent Elevate RTA by Wotofo is a 24mm diameter a postless single coil, top filling RTA with a capacity of 3.5ml e-liquid with a straight glass. Made of German PEEK, Wotofo Serpent Elevate RTA features a smo......Read more
in stock
---
Description
Serpent Elevate RTA results from the collaboration between Wotofo and Suck My Mod (SMM). Serpent Elevate RTA by Wotofo is a 24mm diameter a postless single coil, top filling RTA with a capacity of 3.5ml e-liquid with a straight glass. Made of German PEEK, Wotofo Serpent Elevate RTA features a smooth surface with snake scale decoration giving it a high-end look.
Serpent Elevate RTA
The Serpent symbolizes the creative life force in mythology. Wotofo comes in collaboration with Suck My Mod to introduce the new Serpent Elevate RTA of Serpent series. It is a postless single coil RTA loaded with the successful features of the heralded Serpent line, featuring an elevated postless build deck, as well as, an ingenious top-airflow design. Serpent Elevate, an RTA combining its past merits with current vape trends, assures you exceptionally intense flavor!
6 Colors Available: Black, Rainbow, Blue, Gunmetal, Gold, S.S.
Wotofo Serpent Elevate RTA: Build for an Extreme Flavor Outcome
Wotofo Serpent RTA comes with a straight glass tank with a capacity of 3.5ml. However, using the serpent mini bubble glass, the juice capacity increases to 4.5ml. Pour the liquid from the top. The high build quality and excellent exterior design give the RTA a stylish look and aesthetic appeal. It comes with an extra resin blue drip tip that allows vapers enjoy better flavor inhale.
The dual top airflow offers a smooth draw. A nice smooth airflow control ring allows you to control the airflow for a customized vaping experience.
Serpent Elevate RTA features all the latest RTA trends such as Postless, four terminals build deck maximizing building space, implementing 2mm by 1.5mm terminal posts side-secured via hex screws. Its four-terminal build deck allows the vapers to place the coil in any direction. The postless look is impressive and helps the air reach the coil through multiple air channels.
Serpent Elevate RTA's top airflow design allows air to reach the coil through 4 different holes. No matter which way the vape wraps its coil, the air will reach to enhance the flavor experience. This single coil RTA offers easy wicking. Vapers need to wick the coil properly for great flavor outcome.
What makes serpent elevate single coil RTA a standalone device?
Silky smooth surface, mystic snake scale decor
Style and aesthetics make a device stand alone among others. The smooth surface with a snake scale décor gives the Serpent Elevate RTA a distinctive look. Its scale-like design provides a better grip besides enhancing the look. One cannot deny the fact that the RTAs look sets is apart from the competitors.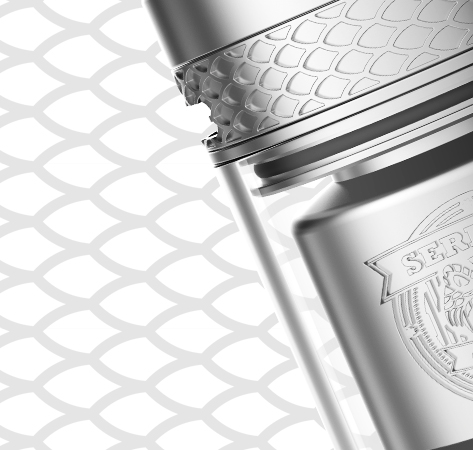 Breakthrough air splitting structure
The top airflow of this single coil RTA allows air to reach the coil through a scientific air distribution system. This air enters through the top air inlets and travels down through the outside chimney wall. Air from both sides merges at the bottom of the deck center. From there, it goes right through the coil above. Thus, it gives ample airflow to the coil for exquisite flavor production.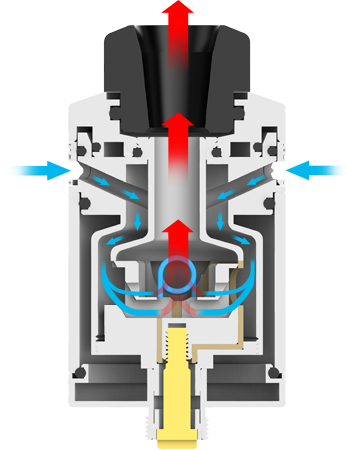 Leakage-free top air inflow design
Top airflow design is commonly perceived as the most effective way to prevent juice leakage for a tank atomizer. The Serpent Elevate RTA features adjustable top air inflow with 2 wide air slots, differing from all its precedents.

Intuitive single coil mounting deck
This single coil build deck of the Serpent Elevate is lifted from the atomizer base to shorten vapor delivery path and enlarge juice capacity. There are four terminals on this postless deck to allow different coil installing directions, making the building process easier and intuitive.

Range of Accessories
The Serpent Elevate RTA package comes with a range of accessories. It includes 1bag 3mm Cotton Strip, two Clapton coils, extra O-rings, screws, and a Coil Trimming Tool. These tools help cut pre-built coils according to the mod fittings.

Serpent Elevate, The Best Single Coil RTA Specifications:
Diameter: 24mm
Threading: 510 thread
E-liquid Capacity: 3.5ml
Filling Method: Top filling
Airflow Type: Adjustable top airflow
Insulator Material: German PEEK
Extra Accessory: 4.5ml bubble tube, Coil trimming tool
Packing List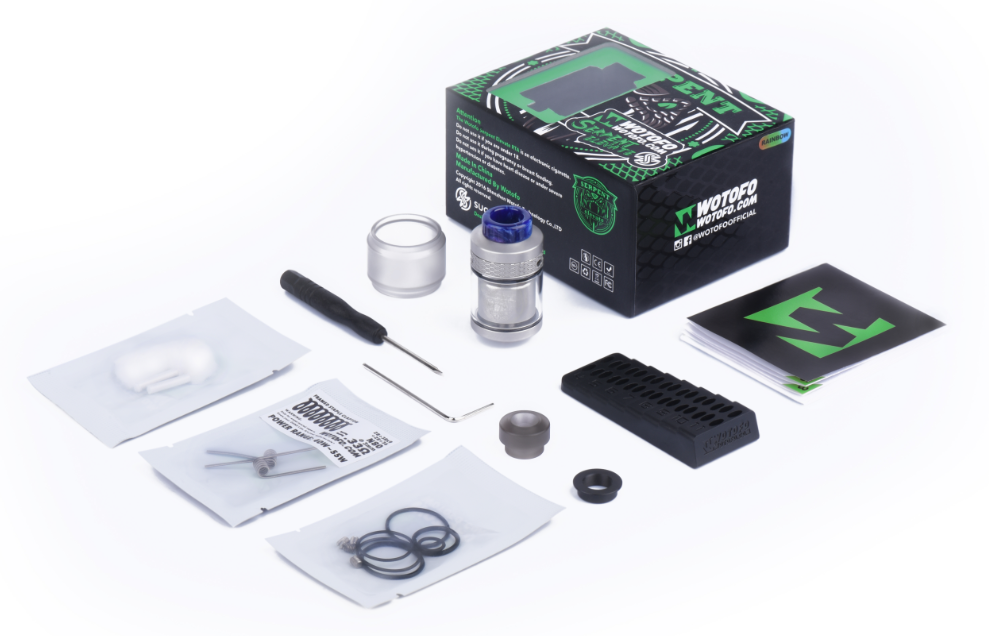 What's in the package:
1pc Serpent Elevate RTA
1pc Coil Trimming Tool
1pc Extra Drip Tip
1pc 510 Drip Tip Adapter
1pc Bubble Tube
1pc User Manual
1bag Clapton Coil
1bag 3mm Agleted Cotton Strip
1bag Extra Orings & Screws
Included coil specs:
Framed Staple Clapton Coil
(28G+38G*9+28G)+36G N80
ID 3mm
0.33ohm (40W-55W)
Learn More About Serpent Elevate RTA >>
video