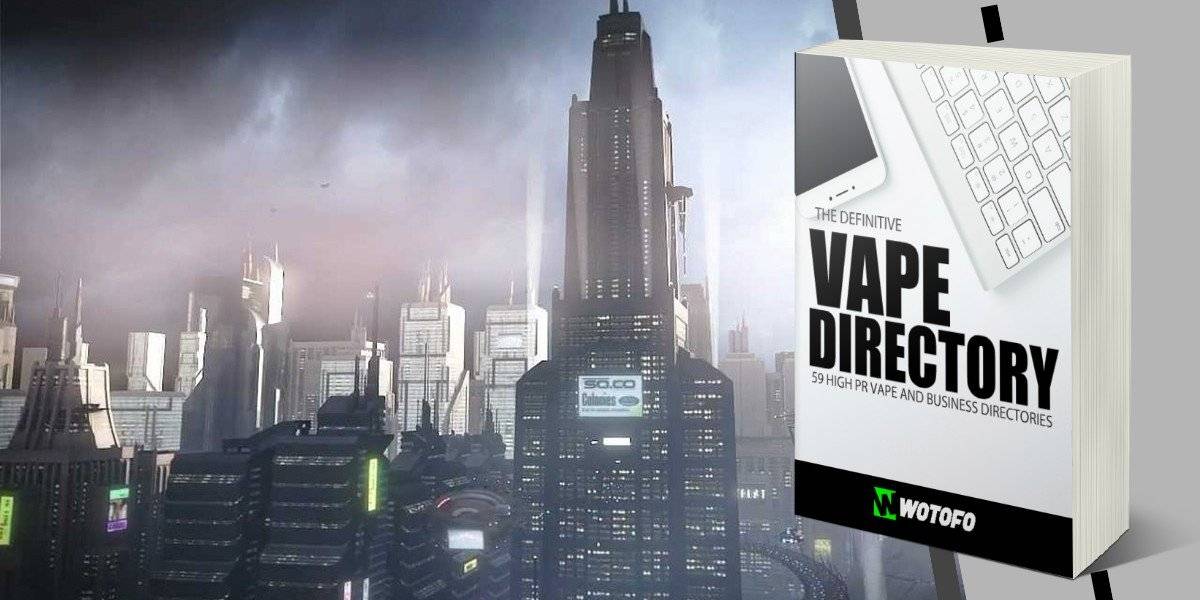 59 High PR Local Vape Shop Business Directories You Need To Be On
It goes without saying that listing your vape shop on local business directories helps your exposure and has the power to attract more customers.
But there's something you should know about free online directories:
Not all directories are created equal. In fact some are a complete waste energy.
Sure, they may provide a free link back to your vape business website, but they can still cost you the most precious resource of all - TIME.
You see, some registration processes can take up to 30 minutes to work through. So does the pay-off in terms of a back link really justify the cost of your labour?
The truth is, sometimes it doesn't.
So how do you know which business directories are worth your time?
Well this is one of those, things that grows with experience. As a general rule you should only focus your efforts on listing your vape shop on high PR (page rank) directories.
What is a High PR Vape Shop Directory?
To understand the answer to this question you first need to understand what page rank is and how it works.
Wikipedia defines page rank as follows:
PageRank (PR) is an algorithm used by Google Search to rank websites in their
search engine results. PageRank is a way of measuring the importance of website pages.
According to Google:
PageRank works by counting the number and quality of links to a page to determine a rough estimate of how important the website is. The underlying assumption is that more important websites are likely to receive more links from other websites
So what does this mean for vape directories. In simple language it means the higher the PR of the vape directory the greater it's popularity.
This has two meanings for vape shop owners. First high PR vape directories appear higher in the search engines and as a result attract traffic.
Second, listing on a high PR vape directory gives you a good back link to your vape shop website. The more high PR back links you have from sites related to vaping the greater the chances you have or ranking your site high in local search.
In short if the vape directory has a low page rank it won't be getting a lot of traffic and the back link you get will be of low quality.
Also it will be almost worthless to your SEO efforts so don't waste your valuable time trying to complete registration forms on every directory on the planet because the truth is some just aren't worth the effort.
With that said, we've got you covered as we've done all the research and hard work for you to uncover the best high PR web directories for vape shop businesses.
However, before we share the list it's important to gain a little understanding of what a business directory is and why they are important for your vape business growth.
What Is A Business Directory
A business directory is an online list of businesses within a particular niche, location or category. One way local businesses can get found by online searchers is through inclusion in business directories.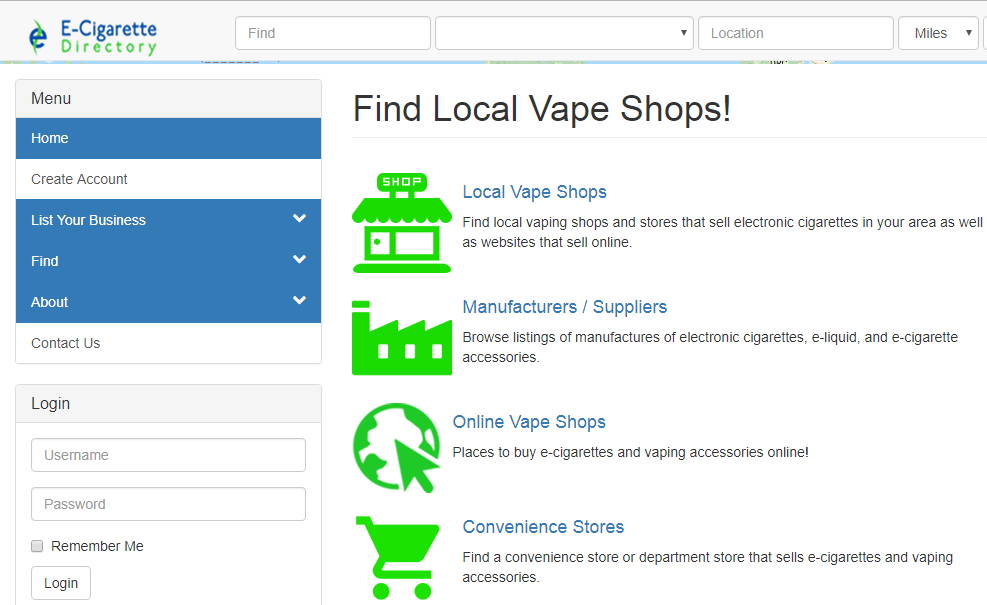 So it makes sense to get your local business information into the places people are already going to find businesses like yours, rather than simply hoping they'll find you in search results.
Getting your local business' NAP (Name, Address, Phone number) information listed on directories, business listing sites, and citation sites not only helps to improve visibility, but links back from these sites can also have a benefit to SEO.
Listing your vape shop on directories ensures that you have a presence everywhere your potential customers might find you and is critical to any local marketing plan.
Don't wait – add your local vape shop to the 9 industry specific vape shop business directories listed below today and start improving your stores visibility and increasing customers.
9 industry specific vape shop business directories you should join
50 Essential Online Local Business Directories for Marketing Your Vape Business
Apart from industry specific vape business directories and vape shop finders there are a multitude of general business directories that are worthwhile listing your vape business on.
But as with industry specific vape shop directories not all are created equal and listing your vape business on many of the directories you find is once again not really worth the effort.
To help you cut though the clutter we've put together a powerful list of the top 50 online local business directories that have the potential to drive traffic to your store and are actually worth the time it takes to complete their registration.
Rather than list them all here we've created a handy downloadable PDF which lists our recommended directories for your vape business.
The list is hyperlinked so to visit each directory simply click on the directory name inside the e-book and it will take you straight to the directory.
Now before you grab the list and start going crazy listing your vape business on these powerful directories I highly recommend you check out our 4 top tips for listing your business.
The tips provide some important information that will help prevent you from getting slapped by Google.
Other Local Directories That Increase Vape Shop Visibility and Improve Backlink SEO
The 59 top local online business directories that we listed above are certainly not the only places your business should be listed.
Local Industry directories, chamber of commerce websites and social media networks are just a few other listing sources your business can take advantage of.
To find your local chamber of commerce or industry directory simply conduct a Google search.
In the example below I searched my home town in Australia using the search term "Bunbury industry directory"
The listing automatically showed mt my local chamber of commerce and member directory. This is a great place to add a listing.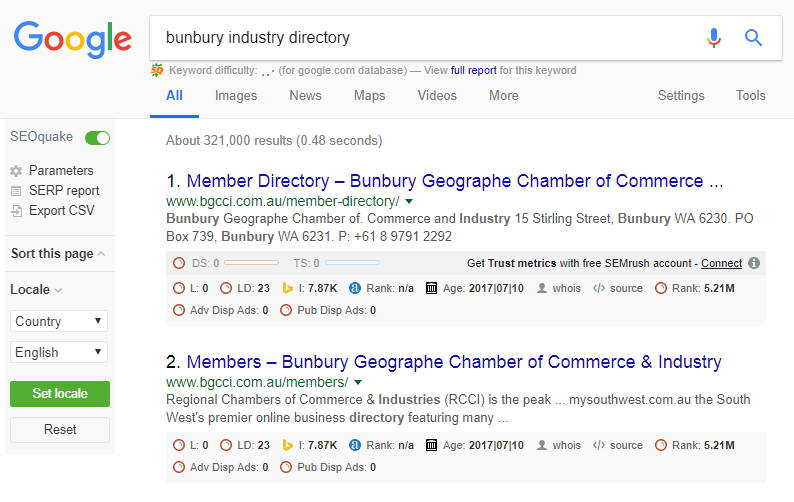 However what really surprised me was when I looked down the page I discovered another three local directories where I could list my business,
mycommunitydirectory.com.au

mysouthwest.com.au

ourcommunity.com.au
Social Media Business Directories
While technically social media sites are not business directories they still serve the same purpose as a business directory for your vape shop.
When it comes to social media sites always make sure you complete the full details of your business location including the following:
▶Business name
▶Address
▶Phone number
▶Website address
▶Business category
The vape directories takeaway
In summary, it goes without saying that getting your local vape shop listed on high PR vape directories and general business directories can help you expand your reach and attract more visitors to your store.
However it is important to understand that listing on directories is only a small part of your local vape shop marketing and promotion strategy and you should not rely on this to grow your business,
If you're serious about growing your local vape business scroll to the bottom of this page and subscribe to this vape business blog as we have a host of other great actionable tips for growing your business coming soon.
Finally if you know of any other good vape business directories we;d love you to share them in the comments below and as always if you like this article give it the the thumbs up on your favorite social media channel.
Until our next post here's to your vape business success.