Tidbits For Starters: Vape Starter Kits Ranking Highest in 2022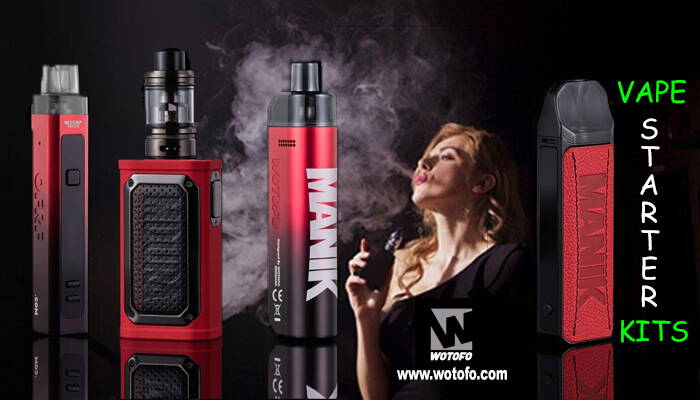 According to Forbes, the vaping market has seen a massive boost post-COVID. As life continues to normalize, individuals are resorting to vape to enhance the time that they spend outdoors.
The vape industry is also expected to take an upward leap as the tourism sectors open up. Even in the middle of an economic down run, the vaporizing industry has been steadily growing over the past few months.
One could argue that the rise of COVID has caused a surge in the need to vape. As the fear of the virus spreading lingers on, individuals are moving away from shared joints and bowls and getting their individual devices. This has been deemed as a safer option by a lot of consumers. As a result, vaping companies have also seen an increase in the number of new consumers.
If you've still haven't gotten your personal vape device, now is the time to do so! In this post, we will walk you through some of the most sought-after vaping starter kits in 2022. All of the kits mentioned in the post are great for both novices and veterans.
If you're looking for a vape kit that strikes the right balance between advanced technology, smart design, and creative functions—this is it. The MDura Pro Kit is nothing short of an innovative genius for true vaping connoisseurs. If you're fond of traveling, this kit is going to be your favorite traveling partner. It's completely shockproof, waterproof, and dustproof and remains a good friend throughout your trip to the hills.
The vape kit also has an astounding reputation for withstanding the harshest outdoor environments and won't sustain any surface damage. Much credit for this durability can be attributed to the kit's robust manufacturing. The vape kit's rugged built makes it very safe in the face of falls, drops, and shocks.
Other than sticking to high manufacturing standards, the kit is also treated with rubber coating and premium quality shell coverings for added structural support. There are extra leather panels to lend extra protection.
Speaking of the kit's performance, it is said to literally make you feel like your heads are in the clouds. All its features are super stylish and strike the right balance between comfort, functionality, and aesthetics.
To add to the kit's credibility in the world of vaping, it fully meets IP67 specifications and manufacturing standards. These standards make it resistant to both water damage and dust.
Additional MDura Pro Kit features include short circuit protection, overheating protection, low resistance protection, low voltage warning, and PCBA temperature safety shutoff. The vape kit interface is extremely easy to use.
To make it easier for you vape, the kit has a 0.001-second firing speed. All you need to do is push on the top cap in order to open up the tank. Then, start pressing the needle tip of the liquid bottle. Apply the right amount of pressure the squeeze the liquid in. Close the cap, and you're good to go.
The kit includes one-piece MDura Pro Mod, a charging cable, accessory bag, bubble gas tube, user manual, nexMESH Pro Tank, H12 Clapton Mesh Coil Head, and H15 Mesh & Parallel Coil Combo Head.
There is also a wide range of colors available for you to choose from. You can choose among black, blue, red, orange, and retro red to match your aesthetic.
There is a wide range of vaping kits available in the market. Each of these has a different set of specifications and features for an individual with different vaping styles and preferences. If you feel that most of the vape kits available in the stores are too tricky, bulky, or complicated for you, it's time to switch to the SMRT Pod Kit. This is one of the most portable and compact vape devices.
At the same time, the vape kit also offers a great deal of playability. The SMRT Pod Kit is a very versatile pod system, so there is a lot of room for customization. The SMRT Pod Kit has the right kind of options for both vaping novices and experts. As a beginner, you won't find yourself fiddling with complicated settings. You'd always find something that makes it easy for you to get the hang of the device.
It's extremely simple for the newbies, and you can always add up more features as you level up. Besides, the more you use it, the easier it becomes to use it. There is also a wide range of options for you to rebuild your vaping experience and make it more enjoyable.
The kit package includes hack coil heads to add to your ease. It also comes with a user manual, type c charging cable, rebuildable coil kit, pod cartridge, Clapton M coil, and a MANIK S battery. You can always start with a basic package and get some add-ons to customize your vaping experience.
The airflow system is designed to be very flavor-enhancing. Thanks to the 4.5 ml big pod capacity and the 2000mAh Li-ion battery, you can be sure that the 80W output is fully safe. You can choose among black-blue, black-red, black, and gold to match your aesthetic. All of these colors carry a very striking and durable gradient finish.
The Manik Mini Pod Kit really helps you take your vaping game a notch up! The mouthpiece comes with a 1000mAh capacity built-in battery to give it the high functioning power that it needs. Besides, the mouthpiece design is perfectly fine-tuned and will sit in just the right way between your lips. The MTL inhalation technique ensures a flavorful flow of air and liquid through the air passage.
Other than the comfortable tactile finish, the mini pod is also very compact, lightweight, and easy to carry around. In short, the kit does equal justice to both functionality and style just the right way. Since the surface is made up of leather, it offers the right kind of endurance to human skin.
The mini pod has a 0.001-second firing speed and a few additional safety shutoffs. All you need to do is vape on and do your thing, and the kit's protection functionalities will take care of the safety functions. In fact, the safety systems automatically activate the moment you start puffing. The easy auto-draw also eliminates the need to press the button.
The added benefit is that it carries an on-screen power output adjustment. You can also choose between power settings of 1 and 30 watts. The kit also comes with built-in coils. This means that once your coil dies, a simple replacement does the job.
Speaking of aesthetics, the Manik Mini Pod Kit will definitely make your vaping mates envy you. This kit comes in eight vibrant colors for you to choose from. The most common ones are beige, gold, black, gray, and blue. However, you can also opt for red and orange if you want one.
As far as safety is concerned, the safety connection is entirely waterproof. The main material that we use is PCTG and zinc alloy. The kit weighs 64 g and uses side filling and side airflow methods. The charging port uses a micro-USB and has a total charging time of 60 minutes.
The kit also includes a charging cable, user manual, a M12 nexMESH Coil Replacement Pod x 1 and a M11 Parallel Coil Replacement Pod x1. We recommend completely reading through the instruction manual before you start using the device.
At the same time, please be wary of the fact that all rechargeable batteries carry a certain amount of inherent risk. It helps to study the device and have a thorough understanding of how to use the pods and batteries. Make sure you're always handling the batteries with precaution.
It's the first MTL pod systems manufactured by Wotofo and the one best known for its customizability and versatility. The kit is super portable and gives you the vaping experience that you really need, thanks to the heating cores that deliver the flavor. The vape pod kit also comes with an 800mAh rechargeable battery to keep on running the entire day.
You can choose from a wide range of color options, including silver, mocha gold, black, gold, black-blue, black green, and black red. The pod is not only very compact but also super easy to carry around. Besides, the hollow steel mesh and the aluminum alloy oxidation process make the overall texture of the device very durable.
The vape pen's body is very slim and well-developed, and so are the mesh coil and wire coil. The device is made up of PCTG material and aluminum alloy for added durability. The type C charging technology is high-speed and only takes up to around 50 minutes to completely fill up. Besides, the side filing option also makes it very convenient to use. The cartridge slot is also waterproof, and the vape pod has adjustable airflow.
There are also a bunch of additional airflow customization options too. The MTL mesh vape pod is designed in a way that allows you to choose your air intake requirements. The design and functionality give you a lot of control over your cloud production and flavor intake. It all comes down to your individual's vaping style. The heating capability gives you a unique flavor every time you take a puff.
Further specifications include an 0.69'' OLED Screen, a pod capacity of 2.5ml (Standard Edition), side filling method, adjustable airflow, and dimensions of 110.5 x 19.5 x 19.5mm (with pod installed). The device uses an output voltage of 0.5-4.0V, output power of 0.5-4.0V, and a net weight of 56 g. The battery uses a type C charging port and takes up to 50 minutes to fully charge.
When you receive the package, you can expect a NEXMINI Pod System along with an M22 nexMESH Coil, a M21 Parallel Coil, a type C charging cable, and the user manual. The M22 nexMESH Coil is pre-installed.
All of your favorite vaping kits in one place!
Are you a vaping enthusiast who struggles to find an authorized seller to get you the vaping supplies that you really need? Are you looking for a trusted supplier who promises good value for money? Are you too lazy to hit the stores and are exploring your options online? Wotofo is the online vape shop that you need.
Other than vape kits and tanks, we are also dealing with a wide range of starter kits, pod kits, and sub-ohm kits. Our pod systems include pod cartridges and pod coils. Luckily, the OFRF NEXMINI POD, Manik Mini Pod Kit, SMRT Pod Kit, and MDura Pro Kit are currently in stock on our website. We also deal with the rebuildables— RDAs, RTAs, RDTAs, and even the latest SMRT COIL. As far as the vape building tools are concerned, we also have pre-build coils, wicks, wires, vape replacement coils, glass tubes, and drip tubes available for sale.
Get in touch and our representatives will be glad to help you customize and enhance your vaping experience.
---
---