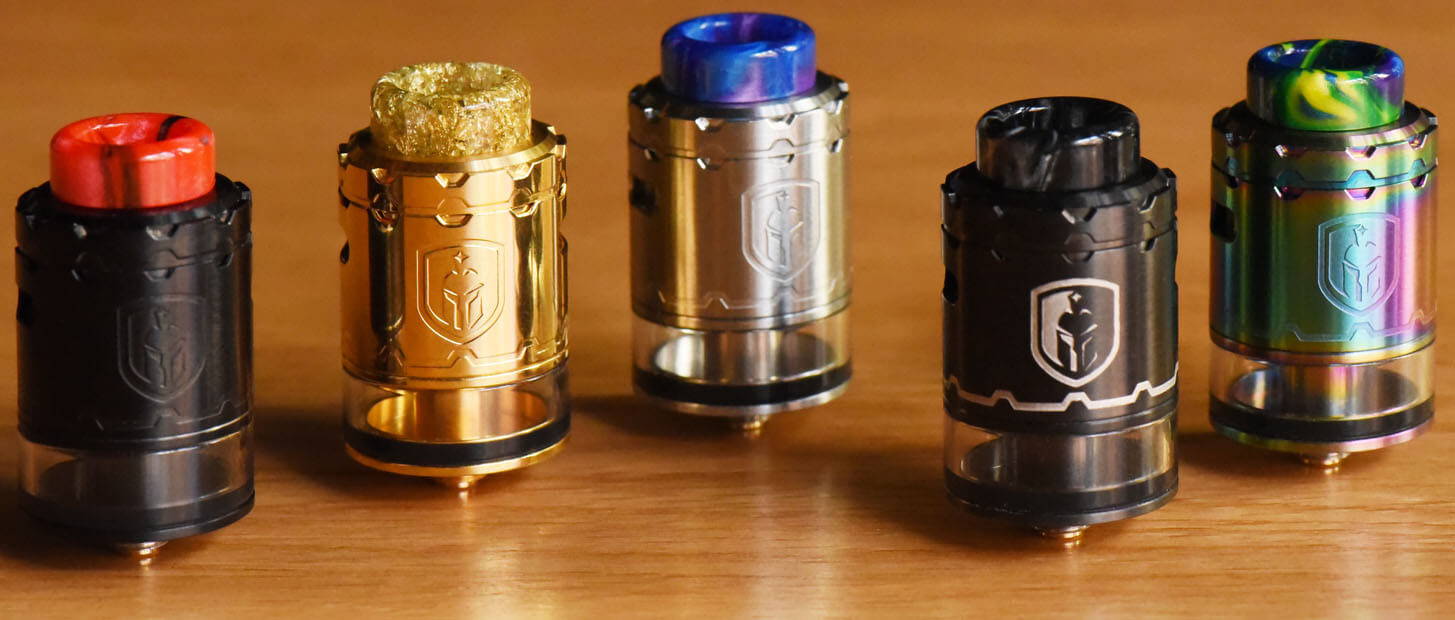 Dual Coil Dual Atty – Wotofo Faris RDTA
Let's start with a question. How many of you experienced a juice leakage problem caused by not closing the air slots when filling an RTA?
Well, 100% RTA users had such experiences. It's like an inevitable problem with RTAs' error-prone filling procedures. Not to belittle RTA devices, as RTAs do play an important role in the realm of rebuildables, but let's see it from a different perspective, what do people do to improve it? People add a tank to an RDA to form an RTA, hoping to get RDA performance without constant dripping. But RTAs store eliquid around the vaporization chamber and have air inlets at the bottom, then the leaking problem by air pressure begins to annoy vapers.
So what about putting the tank under the vaporization chamber, which surely moves the air inlets above the tank and is broadly seen as an RDTA. Now, air pressure difference cannot force eliquid to come out through air holes. There will be no trouble of forgetting to close the air slots before filling. Though this is not the origin of RDTA, but the structure of RDTA does provide some clues for improving rebuildable devices.
After introducing one of the advantages an RDTA has, you can now get the idea why we launched the production of the Faris RDTA. Faris is from Arabic, translated to "knight" in English. The name of this product stands for its versatility in usage, an RDTA & RDA 2-in-1 Tank, like a knight who has dignity, gentleness, horsemanship, physical strength, poetic talent and mastery in the bow and arrow, spear and sword.
The Faris RDTA is designed by Wotofo and Kuwaiti vape reviewer Vape GeekQ8. It measures 24mm in diameter, 44mm with drip tip and 510 pin in height for RDTA, and 36mm with drip tip and 510 pin in height for RDA. The pre-installed drip tip is 810 sized resin tip, and the package includes a spare drip tip. The e-liquid capacity of the tank is 3ml and there's a 2ml frosted PC tank tube included for regulation compliance.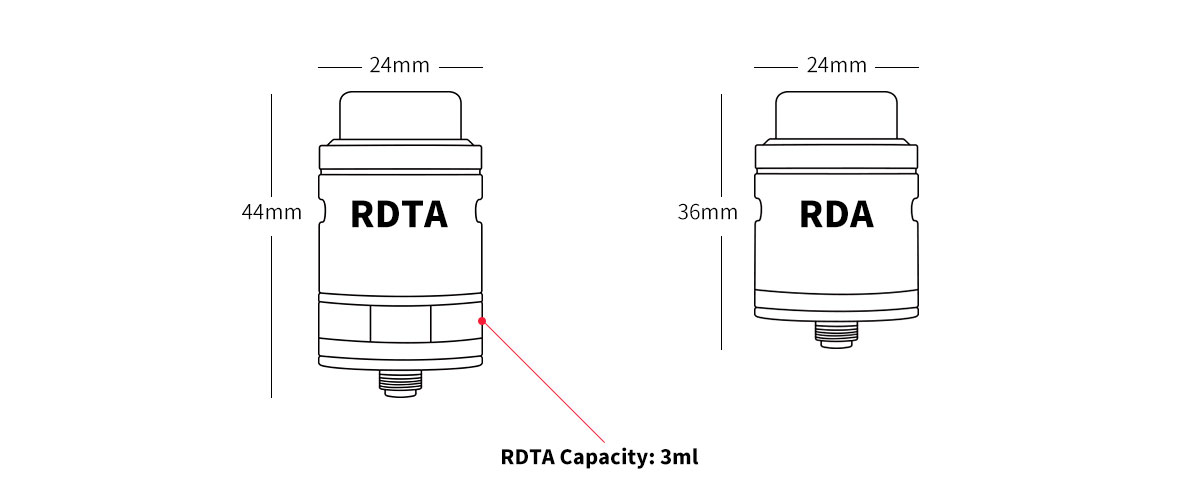 Highlight for the top cap lies in a thoughtful design which is not easy to notice. It is a tiny little barrier to solve the vapor condensate problem.
As we all know that vapor condensation is unavoidable when vapor meets cool surfaces. Too bad that vapor condensate gives an annoying vaping experience and it's a big problem for aotmizers. To eliminate condensation drawn into your mouth, the Faris provides a barrier inside the top cap to stop condensate going up along the inner wall of the atomizer, improving every puff of your vaping.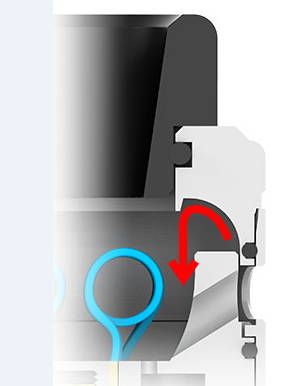 The Faris has a postless dual coil build deck in 24mm diameter, able to support both dual coil and single coil setups.
You'll find two post-like bulges sit symmetrically on the deck, they are made that thick to guide the inflow air direction. Such air redirection method is Wotofo's signature airflow design, the pocket hole style air inlets. Pocket holes are most commonly used in woodwork, mainly on miter joints, drilled at an angle. They can direct air from upper level downward to the bottom of the coils and then rises through the coils to the top, maximizing the performance on juice vaporization. With redirection of air, air holes can be positioned relatively higher, preventing juice leakage through the holes when over dripping or over squonking. By directing air right across the coils, flavor is enhanced, and vapor production is increased.
By the way, the airflow can be adjusted by turning the top cap as most atomizers are.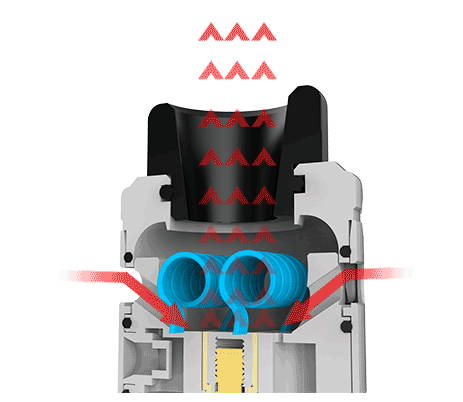 Coils are mounted by side securing method at the bottom of the deck.
There are four terminals with proper size to hold your coil legs. A little hole is located halfway between two terminals, for balancing the air pressure during juice filling.
Wicking ports are adjustable with an included block to make the ports fitted for both dual and single coil setups. Here comes the thing that needs to be pointed out.
In the past, when a dual coil RDTA is used with a single coil, wicking ports' sizes are neglected. Since such devices are originally structured for dual coil builds, the wicking ports are made in size for more amount of cotton wick, then e-liquid can be less under control from the tank reservoir if used with single coils, so it's necessary to understand the difference and make switches on port size.
There are two ways to feed the Faris, side juice hole or squonk pin for RDTA, direct dripping or squonk pin for RDA, meaning the Faris is squonkable either in RDA form or in RDTA form. For side juice filling method, we innovatively utilized duckbill valve on the filling port. Duckbill valves are unique, one-piece, elastomeric components that act as one-way valves in the shape of a duckbill which prevent backflow and allow forward flow. Juice leakage prevention is ensured with such design.

To wick the Faris for RDTA usage, you don't need to leave too much cotton hanging down into the tank. Just keep it aligned with the tank top, because the natural physical movement of vaping will saturate the cotton and wick the eliquid up to the coils, even with the diminishment of eliquid.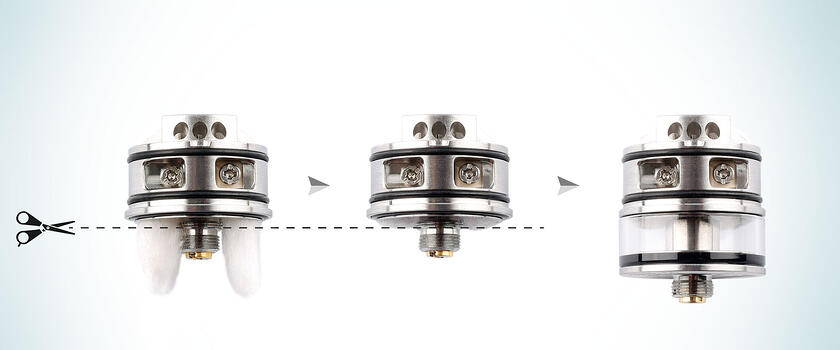 That's it, the Faris RDTA & RDA 2-in-1 tank. What do you think of the new RDTA? What RDTA problems did you experience? Share it in the message box below.
We're happy to hear you about your experience.
Thank You!
This field is required
This field is required
This field is required