Most Authentic and Unique Vape Mods
---
6 Mods We Loved (and we think you'd love too)
---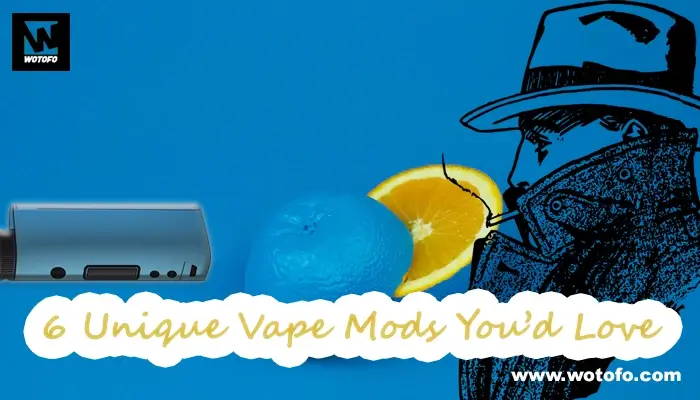 2021 has been a great year for the vaper. With new models coming out left, right and centre, we've been flooded with more choices than ever.
Many of the mods that have come out this year have one-upped each other one after another. So without wasting any time, let's jump right in and take a look at some of the best mods in recent history and a few that have been emblazoning the Wotofo banner across vaper's hearts for a while now.
The MDura Mini Mod is definitely a contender for the best portable sub-ohm mod of this year. Small enough to fit into any pocket and robust enough to take more than a small fall or a light crash, the Mini is a great option for new vapers who don't want to be lugging around a large device with them. It comes equipped with a Clapton coil for power users and is compatible with nexMesh Coils that give you that good, saturated hit that you've been looking for. On all these fronts, the MDura Mini performs just as well as its larger, older cousin, the MDura Pro, though it does have a lower power output, allowing users to set it between a range of 5-80 watts.
Don't let the size fool you, though; the Mini is a mod to rival any large counterpart. Billed as an SBS mod, the Mini takes a single standard 18650 battery and features 2A charging to let you replenish that battery quickly, which is a great feature for those looking to vape on the go. Don't worry, though; you won't need to charge often since the MDura Mini delivers a quality vaping experience for quite a while before needing a charge. With a standard 510 connector, the Mini also lets you hook up plenty of tanks and comes with airflow adjustment nozzles as well.
---
For people looking for a more well-rounded experience while retaining the compact form factor, you can consider trying out the high-wattage MDura Box Mod. It allows you to revel in the glory of vaping power that is true and handsome without the worry of your vaping experience getting hindered by the excess power. Over the years, the manufacturer of this product, Wotofo, has been producing superior vaping products garnering a good reputation among vapers. The Mdura is at its best when combined with nexMINI Subtank, as together, they offer a tailor-made vaping experience that is based on your preferences.
Two 18650 batteries let you get more than a few hits in before you need a charge. It has an elegant design and solid construction, making it one of the classiest pieces available in the market. Compared with other mods of its size, it has a superior wattage, a high-quality make, durability, and is extremely lightweight. So, you will only be using it for those flavorful cloud chaser hits. The MDura is a consistent hit with fans of high-profile and boasting mods, for whom power is more of a priority than anything else. We have loved using our MDura mods for all these reasons and more and would definitely recommend them to both heavy-duty veterans and new vapers alike.
---
The Profile Squonk is the latest in the Profile Product's line and can be used as a squonk device by utilizing a 1 x 18650 battery. With an increase from 80W to 200W and using 2 x 18650 batteries, it can also be used as a regular mod. It delivers the kind of smooth and saturated vaping experience that we have come to expect from one of the most reliable names in the vaping game. It uses nexCHIP technology, having a firing speed of 0.001s. It has an easy-to-use interface and comes built-in with regular safety and protection features.
The product has six color themes you can choose from. It uses a type-C cable to fast charge at 2A. It has a wattage lock as well as a fire button lock. It comes with a 7ml e-juice squonk bottle which is made from 100% food-grade silicone. It also has a leak-proof seal design. The vapers have come to love the comfortable grip the device offers. The easy to hold profile squonk mod has solid and clicky, easy-to-reach buttons. All these features make it a sleek and powerful device that packs more of a punch than it lets on.
Looking for a 2 in 1 Vape Mod?
Get Profile Squonk Mod - To squonk, or not to squonk, that is up to you!
---
The Mdura Pro is Wotofo's latest high wattage offering, and it does have quite a kick to it. Built to withstand, the Mdura Pro is as durable as they come, having been rated for dust, water, and shocks. But the IP67 rating isn't everything, the mod itself is completely encased in silicon, with a 30 mm 510 connector on top and a battery door to let in the two 18650 lithium-ion batteries you'll need to run your device (batteries sold separately).
The Mdura Pro delivers a quality vaping experience and is compatible with many different RDA and RTAs. Whether you're going for a single coil or a dual coil setup, you could even equip it with your nexMesh Pro Tank or the Troll X, both coming from the same maker as the mod itself. With both the tanks, the Mdura Pro gives you the chance to get some nice, long drags in. The Mdura Pro is a high power mod, meaning you'll probably be charging your device quite a bit, especially if you crank the power output up to the max, which is capped at 230 Watts.
There's not much else to say about the Mdura Pro; it's just a quality box mod that comes with all of the adjustable elements that you'd expect from one in 2021. The proof is in the pudding, though, and we're sure that after spending a while with the new Mdura you won't be looking for a replacement.
---
The SMRT Pod is Wotofo's latest DTL kit to make use of the trusted Manik label and an addition to the line it is. Compatible with Wotofo's game-changing SMRT coils (so compatible that they named the kit for it), the Manik S kit looks great, vapes great, and feels great in your hand.
Wotofo may have brought a revolution with their SMRT coils, but they weren't trying to reinvent the wheel on this one, and it shows; the Manik S has a few callbacks to the older Manik models and it keeps to their established kit design. However, the SMRT kit does have one big difference to distinguish it from the other vapes in the series – it's a purely Direct to lung device. As a device that doesn't need to cater to both MTL and DTL vapers, the SMRT instead tries to better meet the needs of different DTL demographics. True to its name, the SMRT kit comes with Wotofo's signature SMRT rebuildable coils, which are easily the best coils out there in terms of build accessibility.
Of course, for those of you who've been using PnP or RPM coils, you'll be pleased to know that you can easily swap one out for the other. Again, buildable playability is one of any SMRT compatible kits' main selling points, letting you easily replace coils within a minute, and most importantly, without any hassle. With a sizable 2000mAh battery, and plenty of airflows to let you get to cloud chugging, the Manik works like a dream, and it works for more than a while, so you won't need to worry about losing your charge too soon.
---
The SMRT kit is the latest Manik DTL, The Manik mini is Wotofo's newest addition to the celebrated Manik series, and what an addition it is. The Mini is truly a worthy successor to the first Manik, and it features a revolutionized sleek design that lets you get plenty of vaping in with a kit that'll fit conveniently in your pocket.
The Manik might be billed as a Pod kit for its form factor, but don't let that fool you; the Manik Mini is an AiO kit, meaning it's suited to both MTL and DTL vapers. Depending on the Pod you equip with the kit, it'll let you take direct or mouth-first hits, with both sporting the sort of quality consumers have come to expect from a product with the Wotofo brand name.
The Manik Mini is a great option for those looking for a streamlined vaping experience without too much fiddling around with the peripherals since it takes factory-set pods with built-in refillable coils. That basically means you'll be getting the best of both worlds: you can refill the pod, but once your coil wears out, all you have to do to replace it is pop it out and pop a new one right in. They fit like a charm, and are the device is waterproof once fitted with a pod, meaning you won't have to worry about moisture affecting those precious internal connectors.
With its sleek, ergonomic design, and more than ample 1000mAh battery, the Manik Mini is a must-have kit for the convenience-inclined. The ease of replacing and refilling your pods only adds to this feature set. And because it lets you switch between MTL and DTL vaping without the hassle and on the go, the Manik mini's got something in store for just about anyone.
---
If you enjoyed looking through this list as much as we enjoyed compiling it, and you just can't wait for Wotofo's next big launch, we've got just the thing for you. Check out the new Two in one Profile Squonk Mod. Though it's labeled as a Squonk mod, it's got a particular twist in store. "To Squonk or not to squonk?" is the question to ask yourself, especially when you can now have a mod that lets you do both.
---