How To Be A Polite Vaper - A Guide To Vaping In Public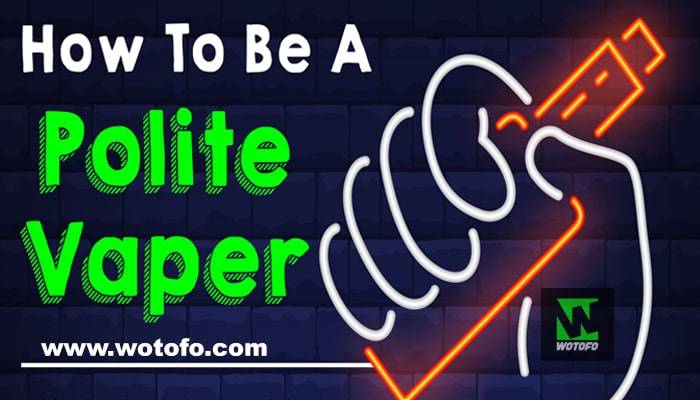 If you're vaping in public, make sure you're doing it respectfully and following vaping etiquette—without giving up on the favorful joy that follows. A true vaping connoisseur is always aware of both the risks and benefits of vaping a certain way.
At Wotofo, we believe in vaping proudly and with dignity without belittling someone else for doing it differently. As a part of the vaping community at large, see how you can play your part in making vaping a very socially acceptable, desirable, and inclusive activity.
Here is an Infographic about "How to be a polite vaper"
Share this "How to be a polite vaper" Infographics On Your Site/Blog
Summary of "How To Be A Polite Vaper"
Vaping freely is your right, but make sure you do so respectfully and responsibly.
Here are a few things you should keep in mind before you vape in public:
A vape cloud might not be as irritating as a smoke cloud; it's still quite bothersome.
Only do it when you're with your mates that don't have a problem with it, at a vape-friendly pub.
Although the passive vaping risk is far less than passive smoking; it's still not a great idea to torment those who are not comfortable with it.
Don't look down on another vaper for their vaping device's size or quality.
Use your device proudly, but don't belittle someone else for vaping a cigalike.
---
CHECK OUT NEW LAUNCHES FROM WOTOFO