Building Your Best Vape - A Guide To Components And Accessories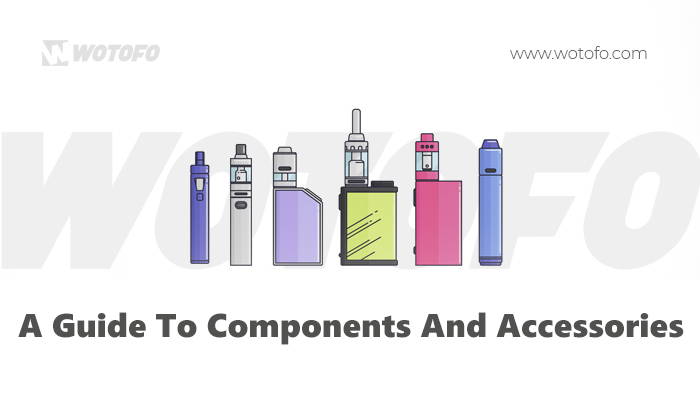 Whether it's tanks, coils, mods, and even batteries, it can be hard to discern the impact of individual components on your experience with your vape. Fret not, though; we're here to help out. In this article, we'll go over how each of these peripheral buys contributes to your vaping experience and let you know what you should look out for when you're going for the ideal build.
Let's get started with the most prominent piece of equipment you'll be dealing with; the mod.
There's a great variety of mods to choose from. Each manufacturer regularly comes out with new and improved versions of previous models, touting benefits ranging from better functionality to improved form factor. Mech mods and pods tend to be simpler since they usually don't feature as many replaceable parts.
Whether you're dealing with box mods, squonk mods, or AiO (All in one) kits, your mod is basically a glorified power supply. The performance aspects you should focus on when considering a particular mod are power output, battery capacity (for mods without replaceable batteries; for the rest, you should be looking at the type of batteries they're compatible with), and whether or not it has a generic connector.
Mods with a lower power output are usually better suited for people who aren't planning on going cloud-chasing or people using MTL (Mouth to Lung) devices, while 510 connectors are your best bet because they're compatible with most all tanks in the market. Battery capacity is fairly simple to gauge; either you're looking at the mAh rating of an internal battery mod or the type of batteries it takes. A higher number (for example, 21700s vs. 18650s) means bigger batteries and longer runtime on each charge, which can be a critical factor for people who vape on the go. Multiple batteries are also a plus, especially when you're shopping for a high-power output mod.
Beyond this, you might want to think about the aesthetics and ergonomics of your mod, as well as how sturdy it is. We've all dropped our vapes at some point, and it's always comforting to know that your device is rated to withstand a fall or two, even for the most cautious of vapers. An IP rating means a certain degree of waterproofing and/or particle-proofing, meaning it can even withstand the elements up to an extent. Airflow adjustment options are another big plus, as these let you decide whether you want to optimize cloud density or flavor.
The ergonomics of your mod are the most underrated aspect of one usually, and you'll find that it can make or break your vaping experience. The presence of locking mechanisms and a form factor that makes the device feel good in your hand as you reach for that first hit is a big part of what makes a certain mod worth it. Even how "clicky" the fire button can make a huge difference, and mechanical mods are notorious for competing based on not just hit quality but also hit-button quality. Despite performing better on all fronts, some higher-powered mods lose out to sleeker mods just because they fit into pockets better, making them more portable. Quality of life considerations like these are some of the most important choices to make when you're deciding on a long-term investment.
---
---
This brings us to our second-most important choice to be made; tanks. There are many different types of tanks out there, and for many people, the tank will matter more than the mod they're using, and as they start to fall in love with a particular tank for its reliability, they'll only buy mods that is compatible with the tank.
Your tank itself has a lot of moving parts, the most important of which is the atomizer. The atomizer is responsible for turning your e-liquid into vapor, and therefore it plays a critical role in influencing the quality of your hits and your overall vaping experience. Other than that, your tank also determines the amount of liquid you'll have on-hand, and thus how long your vape can function until you get back to your refill.
Speaking of quantity, your tank also determines the mechanism behind your fluid-to-vape conversion. RTA and RDTA tanks can be filled up to capacity, usually within the 6 ml range, while RDA tanks require near-constant refilling between hits, as they don't have a reserve store of fluid. Other than this, where your air ducts are positioned also matters quite a bit, not so much on their own but rather more for how they impact another aspect of your vaping experience.
Top airflow tanks have their air intake ducts positioned above your liquid reservoir. This means that you're less likely to experience a leak since gravity is on your side. Bottom airflow tanks may leak if they're not regularly maintained, especially as your O rings give out. Leaking fluid can be more of a nuisance than a new vaper might imagine, so you really want to look out for build quality as well and a reliable maker.
Beyond this, you also want to consider how much you enjoy fiddling around with your vape. For those who enjoy tinkering and are adept at it, rebuild-able tanks are a great option. However, this might not appeal quite as much to amateurs who just want the task of replacing your coil to be convenient. This brings us to our next component; the coil.
Where your tank is the most important aspect to consider when deciding on a mod, coils are your most critical consideration when deciding on a tank. There's an abundance of manufacturers who've been building a reputation with their own respective coils, such as Voopoo's PnP coils and Smok's RPM coil series. If you've been looking into either as your next go-to coil, you should check out Wotofo's SMRT coil series, which makes building and replacing your coils easier than it ever has been.
Aside from who's making your coils and what mods they're compatible with, you'll also want to consider what type of coil is in place, as well as how many coils are in use at a time. Mesh coils might increase your flavor consumption quite a bit, but they'll also give you more even saturated hits that are full of flavor and never taste burnt. Clapton coils can take this a step further even, but they're usually only compatible with very specific tanks and mods with high power output.
In the case of pod mods and AiO kits, your choice of the coil will decide whether you're using your vape as an MTL (Mouth to Lung) or DTL (Direct to Lung) device. Sub-ohm coils are meant for DTL use, and they pair well with both low and high-powered mods to achieve optimal flavor delivery and cloud volume. Coils rated for over 1-ohm resistance are usually used with MTL devices; they're more suitable for people looking to vape discreetly, and smokers trying to kick a bad habit, or people looking to max out their flavor experience while also relying on heavier hits through nic-salt based e-liquids (nicotine salts, for the uninitiated).
The number of coils you put in your tank will also influence the quality of your hits. A single-coil system might wear out more quickly than a dual-coil setup while offering better airflow, offering hits that differ in temperature and are less dense.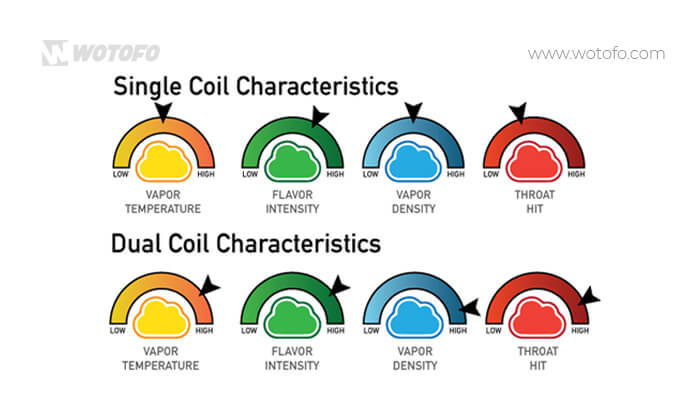 Some devices will only be compatible with factory-made pods that feature permanent coils. Even if these pods are refillable (they're often not), your coil will burn out eventually, and you'll need to replace the entire pod for a new one. While this might not matter much to people who only vape casually or as a hobby, it might make them less feasible for people who vape a lot because a new pod every few days can add up to quite a drain on your finances as well as an inconvenience. The cost of replacing your coil alone is considerably lower than having to sack an entire pod, and the cost of replacing a coil with a manually rebuilt coil as opposed to a factory-printed one is also considerably lower.
Lastly, you also want to watch out for the designated power rating of your coil, as disregarding it can shorten the life of a coil drastically while also hurting the quality of your drags. Each coil you see in stores or online is rated for a certain range of power from your mod, and using a coil on a wattage that is lower or higher than the recommended rating will either lead to your hits feeling restricted or burnt respectively. The higher output will also burn out your coil quicker in general, and this is doubly true when that output exceeds the recommended upper limit.
---
We discussed this briefly early on in the article as well, but they deserve their own mention; battery type and capacity are a game-changer, especially for people who don't use multiple devices. The type of charging mechanism at work also plays a role; USB Type-C support has started to become the norm recently, as micro-USB ports fade out of fashion. With the arrival of the Geek Vape Obelisk FC 120 earlier this year, we've even got 100+ watt mods that charge within 15 minutes. That's a big step up from the competition; devices sporting this sort of power output and battery capacity usually take at least an hour to charge.
If you're dealing with a device that doesn't come with its own built-in batteries, you should also consider what types of batteries your device can take. Many current devices will come with sleeves for your cells, making it possible to use different types depending on what you have on hand. 21700s are slightly larger and denser than your standard 18650s, and while the latter feature capacities between 1000 – 3000 mAh, the former can run you up to 5000 mAh, especially if your device takes two.
That does it for our list of the four critical components that play a key role in deciding how good of an experience you have with your vape. Hopefully, you now know everything you need to before deciding to spend on a product.
Good luck, and enjoy your vape!
---
---
---
---
---