What is a Pod Mod Vape? A Guide to Rebuildable RBA Pod Systems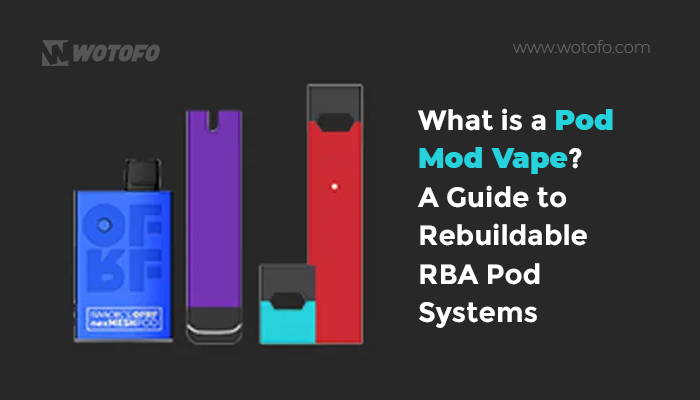 Over the years, the vaping industry has received remarkable advancement and it's currently fully jam-packed of admiration and transformation that ranges from wacky vapes to surreal e-juices and different accessories.
The industry is very competitive and amongst several vape manufacturers that dictate the industry, we have noticed products ranging from highly-priced to the downright insane – manufacturers are trying anything to assist themselves distinguish from others.
This is partly why some people are drawn to the vaping world – the accessories are incredibly cool and using them to take several puffs of your favorite e-liquid would be undeniable fun.
There is always space to try anything new, might it be mods or e-juices, the prospects are endless. We need to know vapes are going nowhere, their existence is somewhat immortal as they're a better and safer substitution for cigarettes.
The industry has responded to the anxiety of people who would love their e-juices more with a superb vape by unveiling the pod mod that amongst the numerous charismas and peculiarities, offers a vaping style that resembles smoking.
Consequently, these devices have gained insane popularity amongst people wanting to quit smoking for vaping as they mimic the smoking habit more than they do for vaping.
"Vape mod" is one term that is commonly used to mean a vape device. It refers to the main device without coils, a tank, or a battery.
From a financial perspective, it's not a good idea to buy one on its own, a vape starter kind will be more cost-effective and of greater value. Nevertheless, for vapers who understand their preferred coils and tanks, coupling them with the latest release of vape mod is sensible. Also, they already know how to clean vape coil and tank.
In the market today, there is a wide variety of vape mods to choose from such as vaporizers, box mods, mechs, at al. Beginners can visit Wotofo to view some of the best devices available. From there, they can find some of the best mods – from simple to powerful vape mods. For vaping pros who desire to purchase batteries, atomizers, and coils; a variety of products are paraded there.
Now, before making the decision on which vape mod you are taking home, it's always important to consider a few things like power, size, design, and even brand.
Regarding the power factor, there are extremely powerful accessories in the market with some capable of delivering vaping power of more than 200 watts! If you're a cloud chaser, that one suits you well. Also, the powerful vapes such as box mods come with large size compared to the low-wattage devices and may not comfortably fit in your pocket as a vape pen does.
The tight competition has pushed manufacturers to come with sleek and unique designs to attract more consumers. Whether they are searching for a box mod, a pod vape, a chrome vape, or a red vape, there is a wide selection of designs to choose from.
Whether you are a vaping professional or wanting to quit smoking and substitute it with vaping, the selection offers to you regarding mods, e-juices, and the chain of accessories can sometimes appear a bit overwhelming.
Most recently, more and more vaping devices are being made available in the market and a lot of people are worried as they cannot spot the differences. Particularly, inexperienced vapers find it hard to distinguish between the different types of vapes in the industry. The distinction can be understood by comparing different vapes.
Vape mods and pod mods are not only different in their physical design but also their uses.
For example, pod mods are smaller in size, more convenient, and easier to set up and vape compared to vape mods designed to produce huge clouds and delivery of flavor. Also, vapers can achieve certain vaping styles using a vape mod that cannot be achieved using the pod mod.
For instance, the combination of a vape mod and vegetable glycerin produces huge vapor clouds. In general, vape mods are preferred to produce vapor clouds whereas pod mods are used for the intake of nicotine.
But this does not imply that vape mods cannot vape nicotine e-liquids, only that pod mods are more convenient for nicotine consumption and not ideal for those who want vaping without nicotine. Also, you should be aware of the strength of nicotine in e-juice before vaping.
Also, vape mods are more customizable, vapers can easily adjust the wattage and temperature of the device compared to pods.
On the other hand, pods feature auto-firing mod – auto-draw gadgets with basic settings – unlike vape mods that feature a firing button that must be pressed every time you want to take a puff. Moreover, for people searching for a cost-effective vape, a pod mod is the right choice.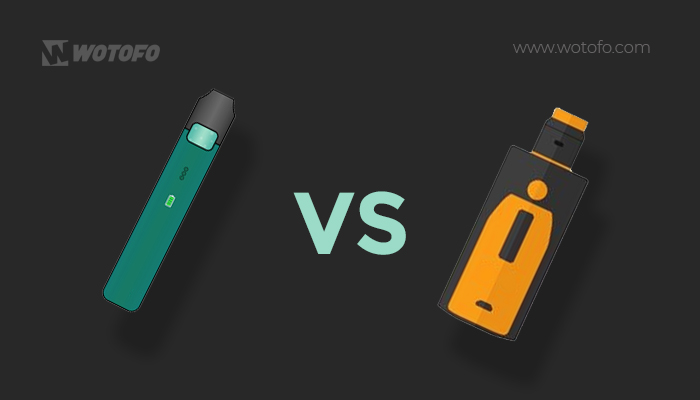 The primary difference between box mods and pod mods mainly comes down to several factors like size, power consumption, price, and even type of e-liquid used.
Box mods are box-shaped vapes as the name suggests that apply sub-ohm tank technology to provide vapers with some powerful and flavorful vaping experience.
These 'modifiable' devices enable you to customize the removable parts like coils and wicks that in turn modifies both the mechanics and resistance of the device. This way, it's easier to alter the wattage and temperature of the vaping device resulting in a great production of vapor clouds.
Unlike pod mods, box mods come with tanks as reservoirs for e-juice with most vapers opting to blend or prepare their own e-liquids to achieve their preferred tastes. Their customizability property makes them ideal for people who are eyeing on playing with their vaping escapade.
Their downside is their price and size. The various removable parts and selection of e-juices make carrying them in your pocket almost impossible. Perhaps you may be forced to carry them inside a handbag or a carry case to set up the "equipment".
On the other hand, pod mods are sleek, stylish, and are ideal for vapers who practice an on-the-go lifestyle. They are superior to conventional e-cig and vape pens but use lesser power and low resistance coils, and are less hassle than box mods.
Pros and Cons of POD Mods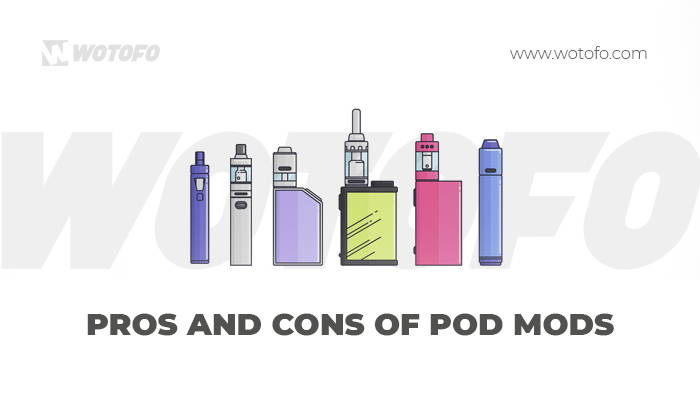 In recent years, pod systems have really strived to make a comeback. They've developed from cig-a-like devices to vape pens and later box mods and at the moment they seem to be growing tinier with the escalation of smart pod systems.
These simple small-size devices have no power to deliver huge clouds but do have the potential to make you enjoy your favorite e-juice in the right way as they actually leap ups from the pens and cig-a-like vapes.
Exhaling huge vapor clouds makes you feel like a king, especially when doing it in a cloud-chasing competition. But there are times you will need your vaping to be stealthier.
For example, when you're relaxing on the couch enjoying some Netflix content with your son or when you're walking in the streets.
They are ideal for people wanting to quit smoking as they replicate holding an ordinary cigarette in a great way, then pulling a puff in the mouth to lung. Its action is not only what makes pods ideal for newbies but also its low cost, simplicity, and little maintenance.
They are fantastic items for drawing nicotine salts. Vapers can enjoy a satisfying vaping experience with a higher content of nicotine than they would in a vape juice. This implies that they would not require to vape as much and save the battery life.
Some PODs are Non-Refillable Type
This's a serious con because it's uneconomical to keep purchasing for new pods disposing of them while they aren't spoilt. Nevertheless, there are some refillable types in the market that allow vapers to fill them with their favorite e-juice or their own made e-juices.
The pod system is made compact by the small size of the battery, but if you need a device you can vape the whole day without connecting them to a charge, then a pod system will disappoint you. If this is the only device that you own then you need to carry a charger every time you step out of the house with it.
The e-juices that have a high content of VG do not work well with pod devices. They are ideal for PG e-juices.
A Guide to Rebuildable POD Systems
Rebuildable atomizers (RBA) are easy to master. Rebuilding an RBA requires you to follow simple steps; taking it apart, cleaning it, attaching a new coil where the old or spoilt one was, putting it back together, and then vaping away.
This implies rebuilding a rebuildable pod vape is easier than replacing a coil in vape mod. Wounding a rebuildable coil around a wick is probably the hardest thing here. Perhaps mathematics is required to determine the number of windings the rebuildable coil will have as this dictates the resistance.
After preparing the coil and the wick, the coil is attached to both the positive and negative posts of the RBA and screwed in place. The next step is to test the coil with a multi-meter. If there is an error in the coil, maybe there is overlapping in the coil and requires to be corrected.
The resistance of the coil should be ascertained as well. If there are no shorts or errors in the coil, you need to fill the tank with your favorite e-juice. You might as well wet the wick and coil with e-juice to reduce the time of waiting for the wick to soak/absorb the e-juice.
Once everything is conformed to be working correctly, vaping is done right away. Enjoy your vape juice in peace!
Check out the new nexMesh Pod which is a brainchild of Wotofo, OFRF, and SMOK.
---
---