What is Vaping and How to Vape Properly? Tips for Beginners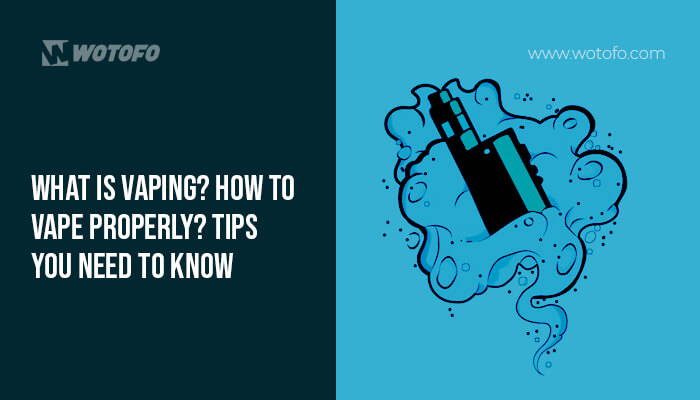 It's barely a decade since vaping was invented implying that it's hard to know its long-term effects on the body. Vaping pumps nicotine – which is highly addictive – into your bloodstream. Nicotine also increases the risk of different kinds of addition to users. Even if vaping is not done frequently, addiction will still catch you.
Besides, people ignore these facts and vape to satisfy their body cravings. After all, it's life and people should find methods of keeping themselves happy, and vaping is not an exception. For newbies, it's often possible to find themselves a little bit upset with their first experience – largely because they fail to recall that a vape isn't an ordinary cigarette.
Nevertheless, when used properly, it delivers that "lung hit" smokers crave for. It only requires patience and little adaptation. Understanding how vaping is properly done is paramount to enjoying the experience, and this is something the majority of people fail to consider when introducing themselves into the vaping world. From knowing the right method of making an e-liquid and inhaling a vape juice, to finding the e-juice that best suits your vaping needs, some bit of research can assist boost your vaping escapade.
If you are new in this world, then recall the phrase "first things first" and learn how to use a vape. Start with simple and easy to use devices, and that does not mean they are inferior. These devices are widely available in stores and come with ready to use features.
The decision to begin vaping is one's choice and also an adult choice to make, and often to evade addition to smoking. But vapes are not cessation items to smoking though they have assisted smokers to avoid dangers of smoking. Vaping may appear intimidating or even overwhelming to people who're just starting, but with some helpful tips, you get to know how it is done properly and with no time find yourself doing it like a pro.
Between knowing which the best e-juices are, how they are used, how vapes are maintained, and most importantly, including vaping in your life, you may find yourself disappointed. Fortunately, there are guides to assist you in understanding all these things with much ease. Now, you need to say a big GOODBYE to cigarettes followed by hello to e-juices.
The best way is to keep as simple as possible by buying a simple vape. Simple devices are not necessarily inferior to complex (advanced) ones, they are only user-friendly especially for beginners. Vaping incorporates several simple steps as outlined below:
#1:Get yourself a starter kit:
Regardless of their design or shape, vape starter kits similarly generate vapor. The price for these devices ranges from as little as $20 to $60 and are classified into four major classes: e-cigarettes, AIOs, pod vapes, and disposable e-cigarettes where some are prefilled while others are refillable types.
The kits come with instructions that explain how best to use them. Besides the prefilled kits, the user is required to refill the other types with their own e-juice. Where assistance is required, a little Google search may help.
#2: Acquire the best e-liquid for the particular type of kit.
Get a flavor that is most appealing to you, and determine its nicotine level. Typically, e-juices with high nicotine levels are packed in small-size bottles whereas those of lower nicotine levels come in large bottles. The preference for nicotine is dependent on the user. The user determines which level – high, medium, low – best suits them depending on their purpose of vaping – heavy, light, or for recreational purposes.
When you are doing it for the first time, be careful because how you inhale it can easily make or even break your experience. It's extremely paramount! If you do it wrongly, it can result in coughing or a bad nicotine rush. Basically, there are two methods of inhaling e-juice vapor: mouth to lung (MTL) vaping and direct-to-lung (DTL) vaping. These inhalation techniques are dictated by the kind of vaping device in hand.
Mouth to Lung (MTL) Vaping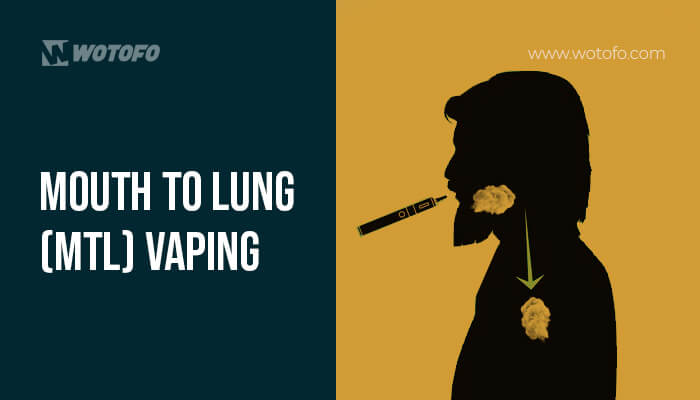 Hits from mouth to lung vaping often work best when using small-size vapes featuring high-resistance coils and high nicotine levels. When dragging vapor from these devices, vapers confess to experiencing the same feeling you would experience when drawing air through a coffee soda straw. The mouthpiece is tight allowing you to suck low vapor to experience the same feeling of smoking and the same hit experienced by smokers. MTL vaping is a simple method that involves:
Slowly drawing the e-juice vapor into the mouth for some seconds
Holding the vapor in the mouth for a few seconds
Opening the mouth and inhaling the vapor into the lungs
Direct to Lung (DTL) Vaping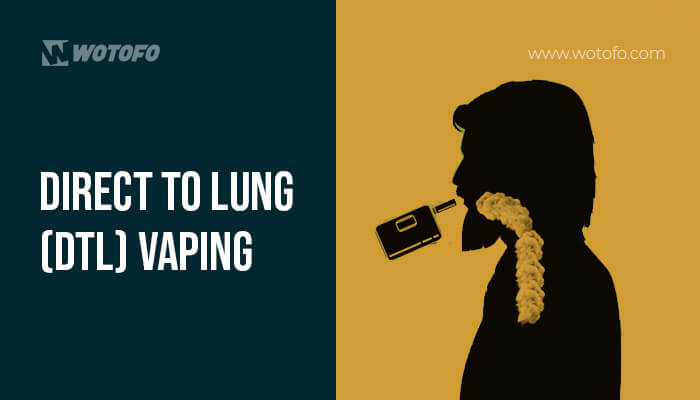 Hits from direct to lung vaping often work best when using large-size vapes featuring low-resistance coils and low nicotine levels. Dragging the vapor using these devices feels like drawing air using a milkshake straw. This DTL vaping style makes the largest amount of vapor and the vaper feels like they are taking a "bong hit" but the hit is regarded as smooth and easy because it is often used with low-level nicotine.
The process is as simple as:
Drawing vapor straight to the lungs
Exhaling the vapor immediately
For vapers who cannot easily find the correct draw for their devices or whose devices have adjustable airflow, the level of nicotine is the right gauge for how inhalation should be done. Typically, a high level of nicotine (12 – 60 mg) is the right choice for mouth to lung whereas low-level nicotine (0 – 6 mg) is the right choice for direct to lung.
---
Concentrates and flowers of cannabis (weed) can be vaped but come with their own vaporizer types that are specified for handling herbs and waxes. Vapers are advised not to purchase vaping devices meant for e-juices to use with cannabis substances unless they are sold as multi-purpose. A known exception for cannabis substances in the CBD as it is available in zero-nicotine e-juices.
Vaping Tips for Beginners
The world of vaping is broad and varied, and sometimes it tends to be intimidating especially for newbies. To start, choose the best e-juice, keep your vaping device in good condition, and try to balance vaping with your daily routine to avoid interferences. Even the experts that come into your mind whenever you hear the term "vaping" were once beginners at a certain point. Try to emulate the things they did to clinch the title "vaping pros" by following the following tips.
1. Buy Yourself Premium e-juices
First of all, conduct some research about the e-juice you want to buy. Also, find a reputable vendor, check their reviews to confirm what people say about them before buying. Trust me, it is worth investing your money in a high-quality e-juice.
Maybe you've come across inexpensive e-juice brands but don't deny yourself comfort by risking this cheap stuff. Recall the phrase "cheap is also expensive". Often cheap e-juices are of low-quality which may contain impurities, or may not satisfy your craving. Always stick to reputable brands (premium e-liquids) that are known to use certified, medical-grade nicotine, and food-grade ingredients.
Choosing which flavor your e-juice should contain is an uphill task for beginners. Luckily, there are plenty of stores and joints that offer different varieties of sample packs to allow your taste buds to choose from. There are several flavor categories that one should choose from such as dessert flavors, candy, tobacco, candy, just to mention a few. It's possible to blend and match different flavors to create a peculiar combination. Indeed, the possibilities are countless.
3. Determine Your PG/VG Ratio
See, 100/0 VG/PG e-liquid generate thick vapor and the hits at the back of the throat are smooth. On the other hand, a 100/0 PG/VG e-juice generates small clouds and the throat hit is way too deep.
Now, you are one to decide which preference of VG/PG ratio is best for you depending on whether you want the cloud larger and dense or thin with a deep hit. Naturally, a high VG e-juice is regarded to be of a better quality due to its association with few numbers of allergies, naturally sweet, no hard hit on throat – which can cause the unpleasant feeling to some vapers – and generate killer vapor clouds.
4. Clean the Tanks Regularly
Frequently, ensure you empty and clean the vape tank. It is simple and easy to do and it can be done once every week. Simply dismantle the device, discard the remaining e-juice, and clean (rinse) the tank, the mouthpiece, and the atomizer with hot water. Air-dry everything. Failure to do this will result in nasty buildup, leakages, or even bad stating e-juice.
5. Ensure You Have Extra Batteries
Some devices have single battery mods and some have more than that. When the current battery dies, you will be in a problem. Always keep an extra fully-charged battery so you can easily switch them especially when you're traveling. This way, you will never need to wait for some hours before it gets charged for the next hit.
This is caused by vaping one type of flavor for so long resulting in losing the taste for that flavor. If you find yourself having this problem, don't panic; it isn't a serious problem though. As a matter of fact, it has happened to some e-cigarette users. It's just a heads up to prevent it from happening to you. It is good to switch to other flavors to fix it.
People are different, therefore people have different stories regarding their vaping lives. Your favorite e-juice might not be my favorite. So, always learn to do things in your own way. Choose which vaping method is your favorite, which e-juice is your best, or which vape works best for you.
---
---
---
---
---