A Beginner's Guide To Choosing The Right Vape Starter Kit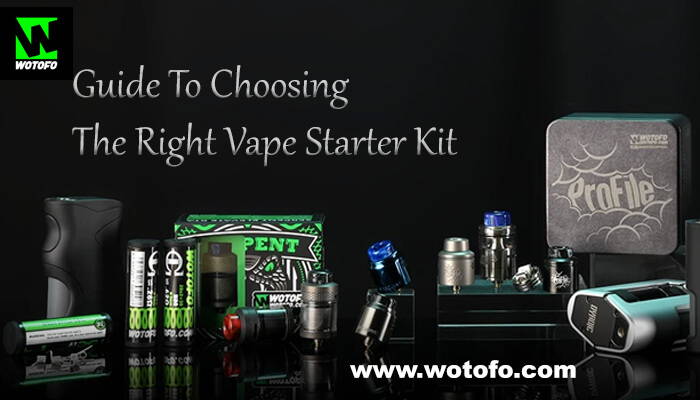 Vaping is by no means a new product or trend. It first came about in 2003 when a Chinese inventor created the e-cigarette. However, it's only in recent years that vaping has become a global phenomenon.
With limited information and guides available for those who want to safely begin vaping, it can deter some from making the switch from smoking to vaping. Vaping is also used to help people quit smoking too, but there are many questions out there that need to be answered, such as "how do you inhale a vape?", "How should it be operated?", and more.
A vape is an electronic device filled with e-liquid that produces vapors. The liquid in a vape is usually referred to as e-juice. The vapor produced from a vape device is different from the vapor/smoke emitted from regular cigarettes. When the e-juice is vaporized, fewer chemicals and other substances are released compared to cigarettes. Vapes also don't have that strong and distinct smell that leaves behind a strong odor, nor does the smell irritate the nose and throat like cigarettes.
Theirs is a smell to vaping, but that's typically the flavor of the e-juice. The vape, also known as box mod or vape pen, has an atomizer attached which vaporizes the e-juice.
Vaping or forms of vaping have been around since ancient Egypt. Hot stones were used to vaporize. The shisha was also introduced, commonly known as a hookah. The hookah, in fact, played a major role in making vaping popular, particularly as flavors were introduced.
The first e-cigarette was invented in the 1920s by Joseph Robinson, but the first tobacco-free and smokeless vape was invented in the 60s. A Chinese company then began making the modern-day vape in 2003.
As the trend of vaping kicked off in the past decade, manufacturers began working on vape related products like e-liquids, oils, dry herbs, CBD vape juice, etc. Standard, tobacco-free e-liquids and e-liquids with nicotine were also introduced. The vape industry has grown significantly, and new products are being worked on and launched every year.
You're not just limited to e-liquid when vaping. Other products can also be used in a vape pen, depending on your preference and vape accessories. Here are some common products you can vape:
E-liquid is the liquid used in a vape device. It's vaporized and inhaled by the user. It is commonly made with nicotine, artificial flavoring, propylene glycol, and vegetable glycerin.
While nicotine is present in e-liquids, it's in a much lower concentration than cigarettes. Some vapes are also completely nicotine-free and, therefore, safe to use.
As for the e-liquid, propylene glycol is added to the vegetable glycerin as VG would be too thick and difficult to vaporize on its own. It also helps the e-liquid become more flavorful when the flavor is added. Popular flavors available include strawberry, lemon, bubblegum, peach, blueberry, vanilla, etc.
Dry herb has become more popular in recent years, particularly for its medicinal benefits. It's also used recreationally where legal. Dry herb vaping is much easier than traditional methods, and it can be done without combustion.
It's important to know that only particular products can be used with dry herbs. These products are developed specifically for dry herbs, so make sure you don't use any atomizer when vaping dry herbs.
Vaporizing wax is similar to vaporizing dry herbs, and the only difference is that you're vaporizing a concentrate instead of a herb. A specially designed atomizer known as dab pen is required to use vaporizing wax. Instead of a heating chamber used to vape dry herb, a coil is used for vaporizing wax.
Beginners Guide To Vaping
There are many kinds of vapes available on the market, making it quite confusing to choose your first vape. E-cigarettes are the most compact of them all, but they do contain nicotine. Vape pens, on the other hand, are also quite compact and sleek in design, but provide a more satisfying vaping experience. Make sure you're buying the correct vape pen for the product you're vaping, e.g., dry herb and wax.
The last type of vape is a mod or box mod. They're larger and require external vape batteries or can be charged with a cable. For a beginner, a box mod with an internal battery would be ideal.
There are various e-cig mods you can choose from. They're shaped like a pen or a tube for a more compact vaping experience. They're referred to as mechanical mods; however, there are some tubular mods available with built-in safety measures.
E-cig mods have a rechargeable battery, which varies according to the size of the mod. Vapers modify these devices for a better battery life and performance, hence the name "mods".
Types Of E-cig Mods Available
Such mods don't come equipped with any circuitry or wiring. They just have space for a battery and a button that you press to activate the atomizer.
Similar to an APV, a regulated mod contains an electrical current and circuitry within.
A personal vaporizer or PV refers to an e-cigarette, and the terms are used interchangeably.
An Advanced Personal Vaporizer contains a circuit and feature variable voltage and wattage too. These are more advanced and should be used after you've gotten used to using a vape. Other advanced features may also be offered on APVs.
Hybrid mods work as an e-cigarette and have a 510 connection too. Like APVs, these are advised for advanced users only.
The Perfect Vaping Starter Kit
At Wotofo, you can get the best vaping kit for beginners. The MDura Pro Kit boasts advanced technology, innovative design, and functions. This box mod is a huge improvement and an upgrade compared to vapes available on the market today.
The box mod is waterproof, dustproof, and shockproof, making it perfect for the outdoors. It can withstand drops without sustaining damage, keeping all the intricate features intact. The performance of this vape is further enhanced with a nexMESH Pro Tank that improves its lifespan and provides the best vape experience.
Using the MDura Pro Mod and nexM Pro Tank together provides the best flavor experience when you're vaping. It also produces better clouds, if that's what you prefer. This bod mod also features the one-of-a-kind nexCHIP technology that improves the safety of the vape. It features a low voltage warning, short circuit protection, and protection against overheating.
This box mod delivers maximum power with the 18650 batteries. The MDura Pro Box Mod delivers 230 W power, and to extend the performance of the mod for more advanced vapers, nickel, titanium, and SS coils can be used.
To refill this box mod, push on the top cap to open the tank and press down on the tip of the needle of the juice bottle. Squeeze the juice and close the tap. It's that simple!
This starter kit comes with:
1pc MDura Pro Mod

1pc Type-C Charging Cable

1pc nexMESH Pro Tank

1pc H15 Mesh & Parallel Coil Combo Head (pre-installed)

1pc H12 Clapton Mesh Coil Head (Not Included in UK Edition)

1pc Bubble Glass Tube

1pc Accessory Bag

1pc User Manual
Whether you have prior smoking experience or not, you'll be surprised to know that smoking a cigarette is quite different from smoking a vape. The process of inhaling a vape is quite different. Don't try sucking in a fast drag on the mouthpiece, vaping doesn't work that way, and you won't get the stimulation of the nicotine.
If you've been smoking cigarettes, smoking a vape might be a bit of a learning curve. Since smoking a cigarette has probably become muscle memory for you, you probably don't think about the steps involved. You inhale the smoke deep into your lungs then release it through your nose or mouth for the tobacco and nicotine stimulation. When vaping, you must inhale and exhale slowly so that the nicotine hits the back of your throat. A vape also requires a few moments to materialize; doing it too quickly won't allow sufficient time for the vapor to develop.
Overall, vaping is a much slower and enjoyable process than smoking a cigarette—you experience the flavor of the vape and enjoy it.
There are certain vapors that enter the mouth as you inhale. The vapor settles, and the flavor develops in your mouth, known as a mouth hit. You could also inhale the vapors directly for a lung hit, after which you exhale. Here are some differences between the two:
To experience a mouth hit, inhale the vapor and swirl it around in your mouth. Allowing more time for the vapor and flavor to develop gives a better vaping experience as the vapor becomes more viscose. Now slowly and gently exhale from your mouth and nose.
You can also try inhaling the vapor from your mouth, waiting a few seconds and then inhaling it deep into the lungs. This method is quite similar to smoking cigarettes. You release the vapor from your mouth and nose. You might experience some coughing while you exhale since your throat isn't used to the new substance being vaporized.
For those who want to vape quicker and prefer lung hits, start by allowing a loose air flow when inhaling the vape. Instead of swirling it around the mouth, draw it into your lungs. Drawing the vapor into the lungs creates the perfect environment for a full and billowing vapor when you exhale.
No matter which technique you prefer, you benefit from the nicotine stimulation without inhaling all the tar and toxins from burning tobacco.
---
---
It Can Help You Quit Smoking
The main reason many people have switched to vaping is to quit smoking. While there are other methods to quit smoking, vaping has proven to be the most effective time and again. With the recent innovations incorporated into vaping, particularly dry herb vaping, it has been effective in helping smokers quit for good.
You Know What You're Inhaling
With vapes, you know exactly what you're inhaling. The ingredients of the e-liquid are clearly mentioned on the packaging.
Vaping is better than smoking since less nicotine is used in vapes. You can also get nicotine-free vapes, which are much better for your health.
A vaping device that produces more vapor uses less nicotine, making it more satisfying for the user, while being an effective way to taper off their nicotine consumption.
Less Harmful Secondhand Vapor
Second-hand smoke is a major problem with smoking cigarettes. With vaping, no harmful smoke is released. The e-liquid also doesn't contain harmful chemicals.
Wotofo is a leading online store that deals in all things vape. We produce innovative vape products, including RDAs, RTAs, Mods, Kits, and accessories. Our online store was launched in 2012 and our goal was to provide good-quality vape products to meet the demand of the rising vape culture around the world. We believe in increasing awareness around vaping and therefore regularly update our blog, so you can realize the full potential of vaping in improving your life. We also have an affiliate program for those interested in making some money. Get in touch with our representatives at info@wotofo.com for more information.
---
---