What are the Benefits of Disposable Vape Pens?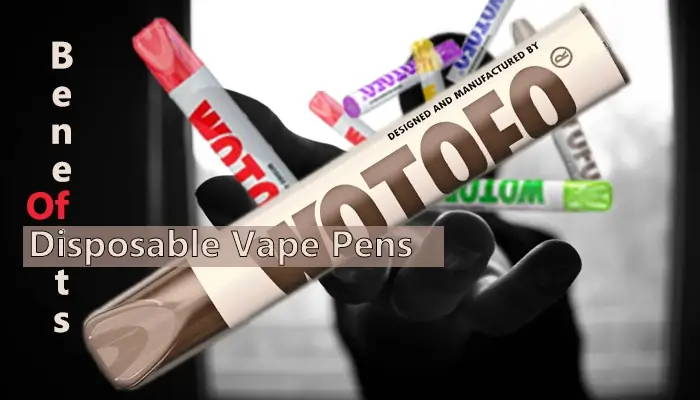 Now that disposable vape pens commonly referred to as disposables are starting to become tremendously popular in today's vaping industry, you may be bewildered at what's making them so much wanted and beneficial.
More and more vapers are discovering that disposable vape pens give them all they need to relish a profoundly vaping experience. They are user-friendly, convenient (easy-to-carry in the pocket), and can deeply satisfy your vaping needs thanks to their capacity to combine delicious flavors with smooth yet formidable salt-based nicotine.
If you're in the search for an awesome vaping setup, it's the right time to give disposables a try. If you're a professional enthusiast, great, high-quality, user-friendly, low commitment units are the best fit, and disposable vape pens are one of them.
But there is a problem: some brands have poor device quality characterized by short shelf life, leaking tanks, and batteries that die before you've gotten through that first round.
If you've experienced such from a past purchase, don't worry as we in Wotofo have solved all of that. At Wotofo, you'll find novel and innovative features that solve regular problems common in disposable vape pens.
Such trademarks include the capability to recharge maximizing the device shelf life, premium heating element that allows the production of ultimate flavors and efficacy, high-quality parts to eliminate failures and leaks, and safety features like child lock safety among others.
Wotofo Disposable Vape Pens are the right alternative devices for vapers: on travel, seeking for a low-cost method of enjoying their vape flavor, looking to acquire an all-in-one unit that does not need a complete kit or separate components like battery, cartridge, charger, et al.
So, what exactly is a disposable vape pen?
Well, as the name suggests, it's pretty self-explanatory (they are simply thrown out when the vape flavor runs out), but you need to know what it is before ordering one.
Typically, it's a vaping unit that obeys the all-in-one complexion of pod devices but to a completely new level. Disposable vape pens feature a fully charged battery together with a pod cartridge completely filled with vape flavor.
Before looking into what makes disposables an outstanding choice for fans of various levels, we need to know some of the best units in the industry.
What to consider in a disposable vape pen
When shopping for a disposable vape pen, you need to make considerations of a few factors such as:
The amount (number) of puffs (hits) you can get from the vape. A typical vape pen can generate at least 200 hits. Anything below that isn't worth your money.
---
Size: a standard disposable vape pen comfortably fits in the hands and is much similar to the size of a typical cigarette. For the majority of vapers, an ordinary disposable vape pen is fine. Nevertheless, if you are seeking a more discrete unit or a device that is a bit more convenient to carry in your pocket, smaller sizes are the best.
---
Coil type: the type of coil configuration determines the amount of vapor and degree of flavor generated. Some available varieties include quartz, ceramic, and wick types. Choose that particular coil that generates a tasty flavor.
---
Oil strain of your preference: Numerous types of oil come with a pre-filled disposable vape pen. It could be indica, sativa, or hybrid. All these factors come into play and must be considered when purchasing the vaping unit. Determine which one suits your vaping desires and make arrangements for it.
---
Conduct some studies concerning strains and brands. Every person has their own private favorite, so people will give you biased information regarding their favorite disposable vape pens. It's always wise to acquire the basics and form your own opinion and find the sort of vape pen you will like. Don't harass yourself, come to Wotofo and choose your unit. It will give you the service that you desire.
---
WOTOFO MINI DISPOSABLE PEN
Wotofo Mini Disposable Vape Pen features a fully charged (non-chargeable) internal battery and vape flavor cartridge. The uniquely developed vape flavors of unparalleled natural taste offer an awesome vaping experience.
This vape pen comes with a 1.6 Ω wire coil (premium-coil materials) packed with organic cotton to offer stable flavor. It is available in 12 distinct flavors: Blueberry Ice, Strawberry Banana Ice, Banana Ice, Watermelon Ice, Multiple Mango, Pineapple Coconut, Guava Kiwi Passion Fruit, Grape Ice, mint, Mango Peach Pineapple Ice, Strawberry Ice Cream, and Blueberry Raspberry Ice.
Brand name: Wotofo

Product name: Wotofo Mini Disposable Pen

Product Type: Disposable vape

Material: stainless steel

Measurements: 14 mm in diameter and 91 mm in length

Battery capacity: 400 mAh

Number of puffs: 600 puffs

Heating element resistance: 1.6 Ohms

PG/VG ratio: 50:50

Tank capacity: 2.2 ml
---
---
Benefits of Disposable Vape Pens
Perhaps the most important feature in disposables is their easy-to-use benefit. For one, upon unboxing from their package, they have with them a ready-to-use vape flavor and fully charged battery. You aren't required to tinker with settings, you are only required to fire them straight (they are self-triggered when vapor is pulled via the mouthpiece) to commence your vaping session; satisfy your needs.
Being superbly easy-to-use, they are most suitable for newbie vapers and people switching from cigarette smoking. Nevertheless, the easy-to-use advantage is highly appreciated by expert vapers who might be seeking simpler methods of doing their thing.
Disposables are as lightweight as they are meant to solve complicated and heavy systems. Their lightweight is a tremendously positive solution as vapers feel much more relaxed if they were to vape for an elongated period. The property is a welcome change that allows your hand to feel far more comfortable during lengthy vaping sessions.
Enthusiast with wide experience of various vaping systems understands the feeling of handling fairly large and heavy vape mod systems throughout a long inhalation process. Additionally, this property supplements convenience as we don't need to carry heavy things in our pockets. Disposables are as light as typical sticks that you will forget you are even carrying them in your purse or your pockets.
3. Affordable and convenient
Being affordable, disposables can be used by anyone anytime they want to settle their vape flavor cravings without changing settings. Since the majority of these units are self-activating, all you need is to "bite" the mouthpiece and breathe in naturally to draw vapor. Regarding convenience, disposables are suitable for vapers who are absolutely strangers to e-cigs or switching from a cigarette.
Disposables are tremendously compact. They are amazingly slim and sleek making them incredibly portable. Compactness in vaping setups offers disposable vape pens an ergonomic edge over other vaping systems since some robust and huge mods start to cause hand cramps after some period of using them. Despite their compact and slim design, these vaping units are small-sized making them easy to carry around in your pocket.
5. Smooth at offering salt-based nicotine
Packed with vape flavors formulated from basic nicotine, disposables generate strongly flavored vapor and contain high nicotine dosage which is absolutely appealing to smokers.
Salt-based nicotine offers a smooth yet stronger throat hit and comes with a high concentration of nicotine per puff. The high amount of nicotine pleases you leaving no strain of stress. Vapers who crave huge and consistent amounts of nicotine throughout their vaping life will truly love this kind of atomization.
Disposables such as Wotofo Mini Disposable Pen contain the ideal concentration of salt-based nicotine necessary to meet your nicotine cravings. Ex-smokers and professional vapers who love consistent nicotine levels throughout their vaping session will enjoy this kind of vaping unit.
One reason why some sections of the vaping community like using disposable vape pens is because these units are maintenance-free. Wotofo Disposable Pen and related units do not require any kind of maintenance that is affiliated to more advanced vapes like box mods and RDAs.
The hardware components do not require cleaning, coil replacement or building processes, or even charging of dead batteries. The advantage, in this case, is that you don't have to waste your time doing all that; all you are required is to unbox your vape pen from the package, and go straight to having a good time!
No one can swallow annoying vape flavor leaks while they are enjoying their delightful vaping experience. Disposable vape pens save you from such embarrassments as they are designed and built as leak-proof vaping units. They feature anti-leak tank technology that keeps all your precious vape flavor inside the reservoir.
Sometimes we underrate the amount of vape flavor that is lost in the event of a leak within the tanks forgetting the disappointment it causes should it occur. Well, say goodbye to this rather pesky problem once and for all simply by migrating to disposables.
Are you currently planning to travel abroad and are confused about whether to come with your vape? If yes, are you wondering whether you can vape on the plane? How would you keep the vape on the plane? Of course, we all want a vaping unit that is easy to carry while traveling because none wants a large and rather tiresome vape during the journey.
Disposables are travel-friendly and can be taken virtually in all places and used at virtually all times. They are ideal setups for use by vapers who are constantly vape while on the go. Moreover, they are such a gem as they don't need to be stored when the vape flavor runs out: you just need to discard them.
Currently, disposables are regarded as the most discreet vape option in the market. In addition, they are sleek, slim, compact, and easily portable enabling you to pleasurably enjoy your favorite vape flavor in an utterly inconspicuous way. It's possible to conceal them: you can hold a disposable vape pen in such a way that no one notices.
Additionally, these devices generate low amounts of vapor compared to sub-ohm tanks and box mods, supplementing their discrete feature. This enables you to vape secretly with less colossal vapor plumes that take some time before they can be dissipated in the air. This implies that you can enjoy vaping without drawing any unnecessary attention to onlookers.
10. Available in a variety of flavors
If you're seeking a specifically delectable flavor in the vapor, then disposables come with a wide variety of absolutely mouth-watering options, from flavorful mango and mango pineapple peach to strawberry banana and everything in-between. Moreover, you can easily find that flavor that hits your palate correctly because we all have different tastes. But you'll have one difficulty: trying to determine which flavor to be tasted first.
---
How do disposable vape pens work?
Chances are, either you or your friend or someone you know have vaped using a disposable vape pen. People vape for varied reasons. Firstly, a disposable vape pen or a disposable as many would call it is more convenient than lighting up a cigarette.
Secondly, a disposable doesn't generate a massive and offensive odor, and it's less costly in the long run. But the question is, how exactly do disposable pens work? It is quite simple.
Typically, the vape pen is powered by a battery. When fired, the current is supplied to the heating element (coil) that in turn vaporizes the vape flavor converting it into vapor form. In return, the vapor is passed through the mouthpiece during the inhalation process.
---
---
How do you pull vapor from a disposable vape pen?
Vaping from a disposable is quite simple. A brand new disposable vape pen comes with a fully charged battery and oil, all that you are required is to close your lips around the mouthpiece and inhale. The battery is non-rechargeable and the oil is irreplaceable – should the battery die or the oil runs out before the vape flavor cartridge is completely drained, the sole alternative is to toss it and acquire a new unit.
In conclusion, disposable vape pens are taking the vaping community by storm, and you can tell the reason. These devices offer varied benefits to newbie and professional vaping enthusiasts, are convenient in different ways, and offer everything that vapers want to satisfy their nicotine cravings.
---
---