Legal Age to Vape in Countries Around the World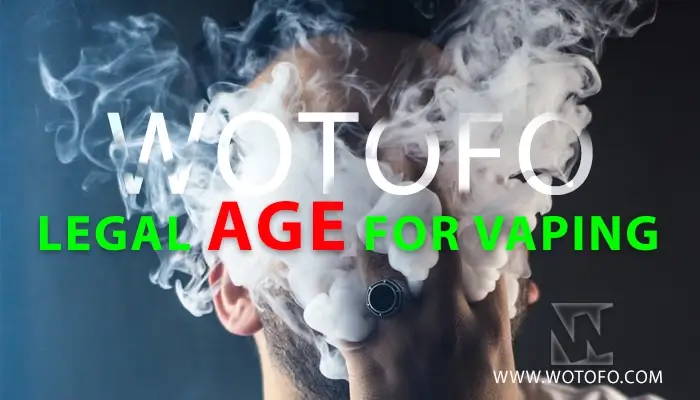 With the crazy growth of the vaping industry, it appears like everyone, irrespective of their age, is trying to grab an e-cig or a fancy vape, and exhale some bigger vape clouds. Apparently vaping seems to be more appealing to the younger generation: they are using it as the newest trend in town or as a way of expressing their rebellious nature. But the majority of them aren't certain whether they're legally allowed to vape.
How Old Do You Have To Be To Buy A Vape?
The most frequently asked question we hear is - how old do you have to be to vape? In most parts of the world, the standard national legal age (18 years and above) is used to set vaping restrictions. Now, there is no exact answer as to how old you must be to vape because this will depend on the country you're living in. For instance, in the United Kingdom, it's unlawful for anyone to vend vaping products to persons under 18 years of age.
It's also unlawful for adults (anyone above the age of 18) to allow or buy vaping products for the underage. Now, until recently, the United States had similar age restrictions as the United Kingdom. But in 2019, the government amended the law that implies you must be 21 for you to purchase vaping products in the country. In the Republic of Korea, vaping is allowed for people above 19 years of age.
As with alcohol products, enforcing a legitimate minimum sales age for vaping products is not the best solution, but it's a reliable method of reducing vaping amongst teenagers. For lawmakers, determining the minimum age limit for persons who are ineligible to vape, the legal age limit for persons to purchase vaping products, fines and penalties to be subjected to vendors and manufacturers who violate the law, and how to legitimize the age-to-purchase regulations aren't easy tasks.
After all, the legislators may end up having eggs on their faces if the legislation backfires and create a black market instead. In some places, states, or countries, vaping products are treated and regulated as tobacco products, as a standalone consumer product, or are not particularly regulated altogether.
In other places, vaping products are completely prohibited. In countries that regulate vapes and vaping products, the minimum age to purchase and consume them is often the same age at which natives are regarded as adults.
What Is The Legal Age To Buy Vapes In The U.K.?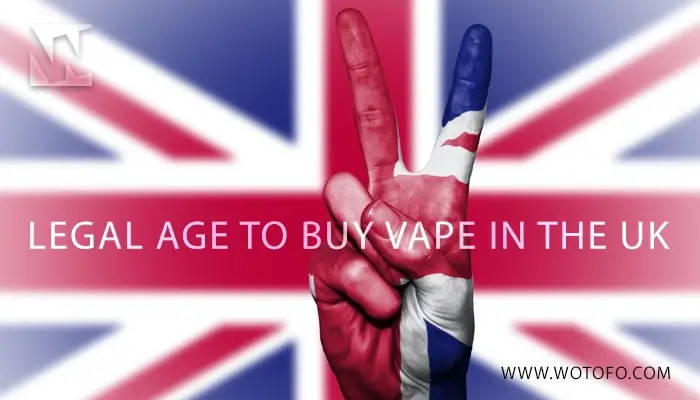 As a relatively modern and better way of nicotine consumption, the vaping industry has grown both in popularity and revenue. Whereas there are no vaping regulations when it first came at the onset of the third millennium, the legal environment for manufacturers and vendors has from then, become aptly rigorous, aligning its policies appropriately with those concerning tobacco products.
The law ensures that vaping products are meant for a particular group of society: cigarette smokers and ex-smokers. In the United Kingdom, vaping regulations are controlled by the EU's Tobacco Products Directive (TPD) that cascades to UK regulations through the Tobacco and Related Products Regulations (TRPR).
That said, the legitimate limit for vending e-cigarettes and vape-related products that include things like nicotine-based vape flavors, nicotine salts (Nic salts), vape pens, etc. is strictly prohibited for persons under 18 years old. Also, as stated in alcohol and regular cigarette legislation, it's equally prohibited for adults to give access to or purchase vaping products for persons under 18 years old.
Any person who flouts these rules, especially vendors and manufacturers, risks being charged a fine of not less than £2,500. For those cigarette smokers seeking an alternative method, what's more interesting is that whether they are 18 or 90 years old, vaping provides them with a better and less harmful substitute.  
What Is The Legal Age To Buy Vapes In The U.S.?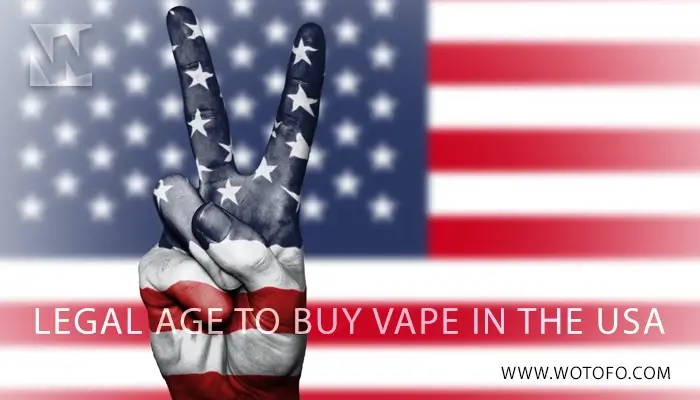 On December, 20th, 2019, owing to pressures from the anti-smoking movements and concerned parents, Congress enacted the Federal Tobacco 21 legislation. President Donald Trump signed the Federal appropriations bill into law and it took effect immediately. Whilst the law covers e-cigarettes and tobacco products, the propulsion to enact the law emanated from the worrying cases of underage vaping, especially by teenagers.
The law adds some lines to the FDA Act stating that – it's illegal for retailers to sell tobacco products to persons under the age of 21. According to the bill, it's the mandate of each state to ensure that the enforcement is adhered to the latter – even in the states that haven't passed their own tobacco laws.
Under the new law, if an underage person is found in possession of vaping products(s), they aren't subjected to penalties or fines for purchase, consumption, possession, but only the retailers who sell to them. The present state and municipal regulations that exempt some people (for example military members) are now preempted by this federal legislation that does not include such exemptions.
---
---
How Old Do You Have to Be to Vape?
Is Underage Vaping Considered A Problem?
Yes! It is. The United States is currently facing an unprecedented epidemic, nothing other than underage vaping. Research published in 2019 showed that there's an imminent rise in underage consumption of e-cigarettes with no signs of declining. Another study indicated that the majority of teens who consume vaping products prefer those manufactured by Juul Labs and unapologetically said mint was their most favorite flavor – this is after the company stopped making fruit and dessert vape flavors.
According to the study, approximately 28% of high school goers and 11% from middle school confessed to being vapers. That amounted to approximately 5.3 million underage users despite the government's effort to cushion teenagers from vaping products. They form part of the whole generation of young users who have been addicted to vaping products. When they cannot get their favorite flavors, rather than quitting, they switch to other flavors that are more available.
In the UK, the reality of teen vaping is similar to USA's. At present, countless lawsuits are targeting vaping manufacturers who have been accused of promoting their products to an underage audience. While the situation may not appear quite endangering when viewed on the surface, delving into detail shows that some parts of the country have higher cases of underage vaping than others.
Besides, studies show there's a staggering figure of underage users that is thought to exceed the estimated number of adult users. In England, Research approximates that 5 percent of kids between 11 and 18 years old are vapers.
A survey conducted by NHS where a sample size of 13,000 kids was used shows the situation on the ground. According to the study, one-fifth of 15 years-olds living in Humber and Yorkshire are vapers, with nearly one-tenth of those children confessing to vaping at least once weekly. Comparing vaping in Yorkshire and Humber to London, hardly 3 percent of children in London were found to be vaping.
---
---
The Push For Tobacco 21 Regulations
Part of the FDA's Deeming Rule of 2016 was a federal outlaw on vending of vaping products to persons under age 18. Under the legislation, the non-tobacco devices and vape flavors are deemed as (considered) tobacco products, and they automatically fall under the present federal regulations on trading tobacco products with minors. In the past, the minimum age to sell vaping products had been a critical campaign tool by anti-tobacco movements, who had portrayed the vaping industry as a "wild west", and that needed subjugation by the FDA.
Contrary, by the time the federal agency was acting, the majority of states already had laid their own age restrictions. Even before May 2016, the time when the Deeming Rule by the federal age restriction was taking effect, tobacco regulation organizations had begun their campaigns.
In 2014, New York City enacted the first "would-be'' Tobacco 21 Law. Two years later, Hawaii became the first state to raise the legal age restriction for tobacco sales to 21. In the same year, the state of California followed. By the time Congress was enacting the Federal Law, at least 19 states and over 500 municipalities and counties had passed the T-21 restrictions.
The proponents of raising the legitimate age beyond eighteen claimed that if young vapers didn't interact with persons old enough to legitimately buy tobacco products or vaping products, then very few teenagers would have access to them and ultimately become potential users. They argued most high school seniors are 18. These young adults can legally purchase and consume vaping products, which they then share or sell to their juniors.
For Tobacco 21, an organization founded by a Medical professor at Ohio State University, raising the legal age to purchase vaping and tobacco products has been part of its agenda. Together with its predecessor, the Preventing Tobacco Addiction Foundation, the group has not only been opposed to smoking but also maintained zero tolerance towards vaping.
In fact, Rob Crane, the founder of Tobacco 21 fought regulations that would raise the legitimate age to purchase tobacco products if they excluded vaping products. Tobacco 21 supports the increase to legal age 21 for tobacco products if it also incorporates vaping and nicotine-based products with exclusion or preemption of local restrictions.
Recall the 2028-2019 vaping moral panic. Here, all eyes were focused around the teenage infamous consumption of renowned Juul pod vapes. There were intensified efforts to illegalize the sale of vapor products to minors. Tobacco control movements jumped onto Juul as the Juul fever has surpassed the vaping conversation.
The consumption of nicotine by teenagers has become a nuisance to the nation. In 2019, Tobacco 21 proposals were produced. Luckily, by this time, the enactment of federal law was inevitable. Congress finally enacted the Tobacco 21 Legislation unopposed.
However, the enactment of Tobacco 21 legislation doesn't necessarily mean persons between 18 and 20 years shouldn't vape or smoke. Young adults can choose whichever method of nicotine consumption to use, which most probably will be a regular cigarette. According to some studies, raising the minimum legal age for purchase and use of vaping products is more likely to force a significant number of potential young adult vapers to use traditional cigarettes.
---
---
The Age To Vape In Countries Around The World
Apart from countries that have completely prohibited all sorts of vaping products, and those that don't subscribe to vaping restrictions, many countries simply apply the legal adult age to stipulate the minimum legal age to purchase and consume vapor products. While some nations have federal legal age, some regions (provinces, counties, states, cities) are allowed to enact their own laws.
For example, whilst the national legal age to purchase vapor products in Canada is set at 18, some provinces and territories have set theirs at 19. In Australia, it's illegal to purchase nicotine-based consumer products (apart from cigarettes) without a doctor's prescription. However, in the same country, zero-nicotine vapor products are permitted, and the legal age to buy them varies from one state to another.
If you intend to come with your vape to another country, you should check with authorities to understand the rules and regulations in that country. Table 1. Below shows the legal age to purchase vapor products in various countries.
Minimum Legal Age For Vaping In Different Countries
| | |
| --- | --- |
| Country | Minimum Legal Age |
| | |
| | |
| | |
| | |
| | |
| | |
| | |
| | |
| | |
| | |
| | |
| | |
| | |
| | |
| | |
| | |
| | |
| | |
| | |
| | |
| | |
| | |
| | |
| | |
| | |
| | |
| | |
| | |
| | |
| | |
| | |
| | |
| | |
| | |
| | |
| | |
| | |
| | |
| | |
| | |
| | |
| | |
| | |
| | |
| | |
| | |
| | |
---
No one can tell when adolescence vanishes nor can they tell when adulthood begins. That said, lawmakers must determine the legal age of the majority which is the age the young adults are allowed to apply for national ID cards, vote in an election, serve in the army, purchase alcohol, and do things that are considered inappropriate for children. Besides, they should choose an age limit at which the majority of young people possess adult traits.
---
---