Importance of Choosing the Right Cotton Wick in your Vape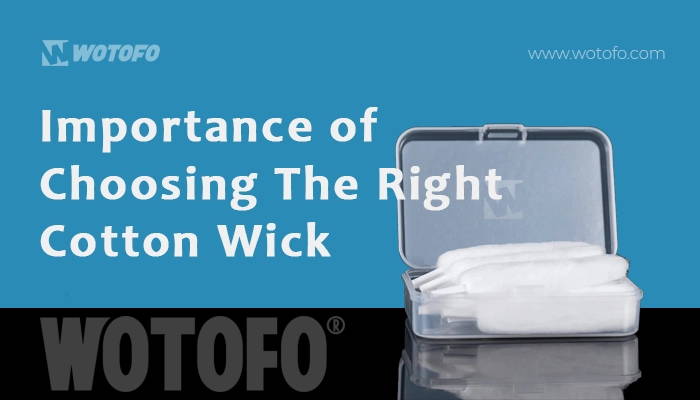 Probably you've seen it in some blog, read it in a certain vaping community, or overheard from your mates how significant it's to choose the right cotton wick for your vape. The right wicking material is very key for an exemplary absorption of e-liquid.
Besides, the right wick should adapt to your vaping preferences. Undoubtedly, cotton is the most renowned and used wicking material. This is attributed to the inexpensiveness and high efficiency of cotton. Nevertheless, back in the old days when vaping was at infancy stages, silica wick was the most popular wicking material. Although silica wicks are still used today, they are common in RDA atomizers.
Does the type of vape cotton matter? One fact you should know is that cotton is not created equal. There are subtle differences that come with this wicking material, and your choice for cotton dictates the quality of your vape experience and can either be a blessing or curse to your next vaping session.
Regardless of the style of custom vape that you're using, you will require high-quality cotton to get full satisfaction. Seasoned vapers understand that a wicking material made from cotton is the best. But how do you get to know the right cotton that satisfies your demands? There are subtle contrasts between different varieties and brands of cotton used in vapes, and finding where to purchase the right vape cotton is the key that unbolts your exquisite vaping experience.
In this post, we are diving into precisely why the right cotton wick matters and how to distinguish quality cotton from "fake" cotton. We'll discuss what sorts of vape cotton are used, the top-rated varieties, and respond to some of the frequently asked cotton-associated questions. Once you're done with this post, you'll be well-equipped to confidently purchase the right cotton wick for our vape, one that suits your build, amplifies your flavors and maximizes your cloud production.
What's a Wicking Material?
A wicking material or simply a vape wick is an absorbent material sitting inside the vape coil and that "funnels" the fluid to the hot coil for vaporization. In order to work properly, a vape wick should be highly absorbent and fluffy to draw and hold vape juice from the reservoir. The wick should always remain wet (primed) to facilitate absolute mouthful and tasty flavor and prevent undesirable instances of burnt taste.
For vapers who love building their coils, chances are they've handled wicking cotton before. For the others who find building their coils difficult and opt to buy pre-built vape coils, they can't have ever seen a vape wick. In all vapes, the vape wicks are the bridge that connects the vape coils to the vape juice, and an absolutely important component. So even if you've never seen it, you should be having some hint of what it does, its significance, and probably what it entails to be of "good quality."
---
---
What is a cotton vape wick made of?
Simply, a cotton vape wick is manufactured from 100% organic cotton. While the first vape wicks were built from all sorts of materials like silica, rayon and the like, organic cotton dominates the modern vape wick market. Expressions such as "wicking cotton," "cotton wick," or just "cotton" have become common terms in the industry. This is because the 'cotton" material has become so synonymous in the vaping industry that there is no alternative material worth considering. Besides, there are quite some good reasons why cotton is the undisputable material for making vape wicks:
Soaks up moisture rapidly:

cotton is a highly hygroscopic material. When fitted properly, a cotton-made vape wick can absorb and hold a lot of e-liquid without leaking.

Heat resistant:

the material does not burn easily. When the wick is thoroughly soaked with vape juice (primed properly), it doesn't char or crisp up – cases of dry and burnt hits are eliminated.

Retains its shape:

even when the wick is fully soaked, cotton does not sag, tear, or break under the weight of vape juice. This allows it to make great contact with the entire surface area of the heating coil.

Biodegradable and Inexpensive:

wick replacement is one of the maintenance practices and it should be done regularly. The implication is that your wicking material should be cheap and that it is not harmful to the environment. Cotton complies with all these – it's relatively inexpensive and doesn't create landfills when disposed of.
How significant it is to choose a quality cotton wick
Does the type, density, and/or shape of a wicking material matter? If you own a Rebuildable Dripping Atomizer (RDA) or Rebuildable Dripping Tank Atomizer (RDTA), you are in a better position to answer this question. E-cigarettes are not different from autos. Even with those "beast" mods, the device will still work despite having a defective part. But to achieve undistracted operations, it's recommended to upgrade all the features and constituents.
Firstly, you must consider the quality of your wick as it directly links your e-liquid with the coil. If you are looking for a quality wick that cannot be bleached, colored, and it's throughout artificial, then consider investing in organic vape cotton.
Different wicking methods zero into the wicking material being crimped or twisted before winding them through the coil. There's a difference between lacking sufficient wick and having it in abundance. Also, how tight and dense the coil wick has dictated the operations of the tank.
For example, if a little wick is used or the cord is kind of loose, e-juice will most likely leak directly to the coil. What is likely to happen is e-juice leaks or burbling. In contrast, if too much wicking material is used, you're more likely to get the flat flavor or some dry shots. Therefore, you should strike a perfect balance on the density of wick you wind on your coil, regardless of which style you choose.
Types of cotton used in vapes
When you unbox your vape cotton pack, you might think it is the same material used to make cotton balls, which is not the case. Vape cotton is actually an undyed, flawless, unbleached, and even untreated cotton particularly designed for vaping consumption. Most vape cotton varieties are grouped as organic cotton. They are heat-resistance, a very significant feature as it's used to wick "hot" coils.
Also, this type of cotton has high-absorption power as it's purposely used to funnel e-juice to the coils. Finally, they are neutral to all flavors – to deliver an unadulterated flavor.
Although vape cotton is the most popular type of wicking material available, in the past, it hasn't always been the case. The vaping community has experimented with different materials such as mesh, silica, rayon, hemp, et al. Before vape cotton became a product that you would virtually find in all vape stores, vapers often resorted to using poor quality cotton balls from local pharmacies.
After it was discovered that the inexpensive and easy-to-work-with cotton can be processed to produce exemplary flavors, it became the best wicking material. Today, there are dozens of manufacturers producing vape cotton. Innovative brands such as Wotofo have gone beyond to produce vape cotton in user-friendly strips, simplifying the entire wicking process to attain a perfect wick. Avant-garde trends in vape cotton such as Wotofo 3mm & 6mm Agleted Vape Cotton and Xfiber Vape Cotton for Profile (6mm) are some of these innovations.
---
---
Why Vape with a Cotton Wick?
A poor-quality wick can destroy your vape experience regardless of how great your device is. A great cotton choice makes a perfect "bridge" between your most preferred vape juice and the vape coil. What an enjoyment that comes when the gap is closed with the right choice of wicking material.
Cheap cotton can ruin your experience even with the most expensive and highest-quality vape juice. Even state-of-the-art atomizers won't deliver tasty flavor when the wrong cotton is used. So a vape coil should be packed with good quality cotton at all times. Some people may overlook this simple element and end up getting a tasteless, uninspiring, and overall, boring experience.
Are Cotton Balls a Good Alternative?
In the olden days, vaping products used to be so simple that vapers would enjoy vaping with crudely prepared rayon- and silica-made vape wicks. Then, there were constant innovations that later settled on cotton as the best wicking material. This transformed and changed the way vape coils and atomizers were assembled. But if there's something that we cannot ignore in this industry, is that someone is trying a strange way of doing things, and that must be they are trying to vape using cotton balls.
If cotton wicks are literally built from cotton, it might appear ordinary cotton balls can as well fit the same purpose. You might even be thinking of someone who reaches for cotton balls when they are in a pinch or you may have overheard someone arguing that ordinary cotton is fit for vaping. But the informed ones would say that ordinary cotton balls are unbleached, pesticide-infected, and contain horrible matter that is dangerous to the human body hence not fit for vaping.
For this reason, it's highly unrecommendable to vape with ordinary cotton balls from your neighborhood drugstore. This is because most of the cotton balls meant for cosmetic applications are highly processed with dyes and breaching products. Even those organic cotton balls that may not be dyed or breached, are quite different from cotton particularly meant for vaping purposes.
And if we are to consider the simmering and dying processes adopted by some vapers to convert cotton balls into something acceptable or similar to the real vape cotton, it shows how important it is to invest in good quality cotton without experimenting with dubious means.
---
---
What Makes a Good Cotton Wick?
Like the countless questions about the best brands/manufacturers for vaping supplies, there is not just a single answer to what the best vape cotton is. Each person has their own views on what they regard as a good cotton wick for their vape and finding your own favorite needs some bit of experimentation.
Besides, there are numerous options on the market that you can choose from:
Inspired by the need for swift cotton preparation to enable easy rebuilding. The cotton of choice has long fibers to enable smooth and effortless wicking. It features a sheath on one of its ends (resembles an aglet on a shoelace) to allow easy threading throughout the coil.
Built from 100% organic cotton

Long fibers

Great retention ability

Great absorption ability

30 pieces/pack
Xfiber Cotton is a supplementary piece built to help vapers get the best out of their 5-millimeter ID Clapton coils. It plays a vital role in ensuring uniform distribution of heat across the whole surface area of the coil to deliver optimal vapor cloud and flavor. The wick is explicitly designed to ensure that you don't face problems while swapping out your coils between different RDAs.
Built from 100% organic cotton

Long fibers

Great retention ability

Great absorption ability
As an upgraded version of the Wotofo Agleted Cotton 6mm, the 6-millimeter-thick-cotton-striped Xfiber Cotton For Profile (6mm) is the brand's newest organic cotton wick that is taking the industry by storm. It offers you rapid cotton preparation to enable easy rebuilding.  
Built from 100% organic cotton

6-mm thick long fibers

Great retention ability

Great absorption ability

Fresh and clean flavor production

Electro-cleaned, healthy purification method
---
As aforementioned, the choice for the most appropriate cotton wick for your vape is entirely left for you to decide which one works best or which one gives you vape satisfaction. Odds are that you have some particular preferences for flavor and the overall vaping experience, similar or different from other vapers. The subtle differences from various kinds and brands of cotton wicks provide different vaping experiences. So your best option might differ from that of your mates.
---
---