Best RDTAs of 2022 - Top RDTA Vapes for Clouds and Flavor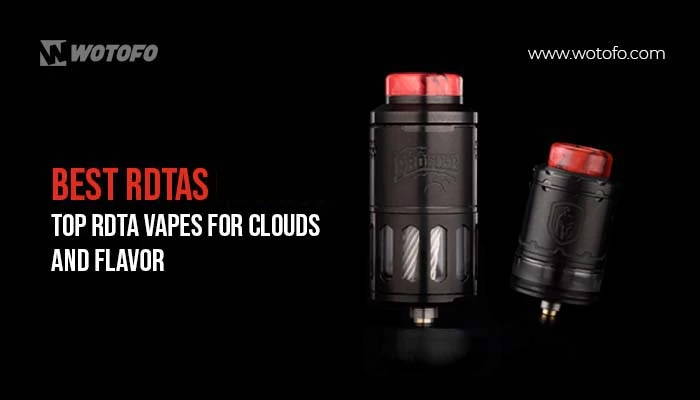 How's blowing smoke rings with an ordinary cigarette? Of course, it's a big deal. Blowing vapor with a vape turns the whole thing into magic; you will definitely love it. Furthermore, you can practice a couple of tricks with your vapes and your mates might turn you into their small god.
Recall that first time that you saw someone pull a lovable smoke trick. Perhaps you're watching a movie, someone from your neighborhood was showing off to their mates, or was your friend who had just started vaping. Undoubtedly, you loved it.
After all, some vaping tricks might seem cool and easy but they have been around for a while. Thrilling tricks are achieved using a powerful and convenient vape that facilitates the generation of huge vapor clouds, delivery of great flavor, allows adequate airflow into the heating system, among other features.
RDTAs (Rebuildable Dripping Tank Atomizers) are the best bet for this purpose. They combine the features of both RDAs and RTAs in a single unit. This combination allows vapers to buy a single vape rather than two. It's a hybrid mod that saves the owner tons of money while giving the owner the best vaping experience with less hassle.
Rebuildable dripping atomizers (RDAs) have been around for a while and have a long history regarding the mechanics of vaping. RDAs are well-known for their simplicity and cost-effectiveness; ability to select from a wide variety of flavors; allows easy coil rebuilding; limited breakage replacement of delicate parts as there are no glass accessories; come in a variety of shapes, sizes, and colors; and features different designs for airflow, chambers, and posts among others.
Nevertheless, vaping with an RDA is a bit tedious as the vaper is required to constantly refill (drip) vape flavor into the tank, making them inconsistent for chain vaping – it becomes more of a work refilling the tank rather than pleasure from the vaping flavor. On the other hand, RTA has an adequate tank capacity.
All you need is to fill the reservoir with vape flavor and vape for a long period without the worry of getting dry hits, or stresses of recalling where you left your vape flavor bottle. Unfortunately, RTAs aren't built to give the best flavor.
Vape flavor is subjected to direct hitting light and oxidation muting its flavor. Since the tank is a bit tall and long, it tends to dull the flavor. But an RDTA combines dripping and tank capacity. The only challenge with RTDAs is uncertainty to decide when to drip or fill the coil head.
---
---
Your choice for a particular RDTA depends upon your vaping needs; whether for cloud or flavor chasing. Now, a dripper, or an RDA offers you the capacity of dripping on your tank enabling you to achieve a fresh flavor every time you're vaping. A typical dripper comes with a small-sized reservoir without any indication of the amount of vape flavor left in the well.
Fortunately, an RDTA features a tank rather than a vape flavor well that accommodates an adequate amount of vape flavor. Besides, the RDTAs feature various properties of RTAs, like the clear glass vape tank allowing you to know the amount of vape flavor left in the atomizer.
An RDTA provides you with a cleaner flavor, different filling options, coil rebuilding options, no need of squonking, a bigger vape flavor tank for holding an adequate amount of flavor, dripping option, and additional vape flavor from dripping gets into the tank among others. With a broad selection of build deck styles and options, coil configurations, and tank capacities, RDTAs are designed to suit the requirements/needs of different vapers.
Their popularity has been on the rise as more and more vapers are acknowledging the benefits of combining various rebuildable features into a single unit. Various manufacturers are unveiling their powerful RDTA products to the industry. Wotofo doesn't disappoint when it comes to "leading for the other to follow:" She has some of the best RDTAs in the market.
The Best RDTAs From Wotofo
It's designed and built from the collaboration between Wotofo and MrJustRight1. Indeed, the Wotofo Profile RDTA is an unrivaled cloud monster. Besides, it's a sure way of living up to your flavor chasing expectations. The vape improves vape flavor transfer from the bottom part to the top with the use of four stainless steel wicking materials and this can be applied using one wire coil configuration or a mesh coil setup.
Designed and built with ultra-high quality stainless steel with seamless design, the vape is easy-to-use, portable, easy-to-build-on, and stunning to use. It comes with an easily adjustable airflow meant to direct air directly to the mesh through either post.
This product comes with necessary spares like organic cotton (wick) and spare glass among others. The Wotofo Profile RDTA features a ULTEM top cap meant to offer a heat-free vaping experience that performs very well in combination with a 510-drip tip adapter – suitable for vapers who want to take charge of their intake.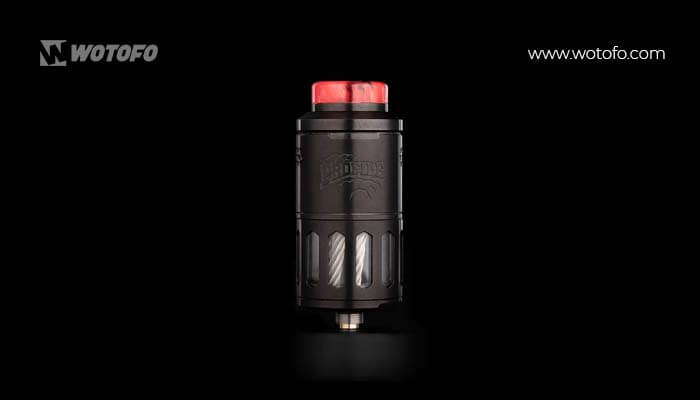 Two-in-One Atomizer for Tailored Cloud Chasing Experience: this RDTA absolutely suits its label. It can be easily transformed into an RDA and vice versa. To convert it into an RDA, we simply detach the tank part and attach an RDA adapter. It's the pioneer RDTA that is meant to fulfill the expectations of flavor chasers.
Unique Coil Design for Production of Huge Vapor Clouds and Stunning Flavor: the RDTA is compatible with nexMesh Clapton mesh coils that deliver the work of both a mesh coil and an ordinary coil. These coils are best known for the production of amazing flavors and big clouds.
A Solid display of Strength and Great Vape Experience: the RDTA is an ideal vape for vapers who wish to experience strong yet smooth cloud chasing. The vape is designed to operate within a wattage range of 60 to 80 watts but performs best within a wattage range of 70 to 75 watts.
An 810 Sized Resin Drip Tip: the Wotofo Profile RDTA is designed to work with a typical 810 drip tip that features a lovely decorative ring at its bottom, livening the appearance.
Available in Six Stunning Colors: this rebuildable atomizer is available in six attractive colors such as rainbow, black, stainless steel, blue, gunmetal, and gold.
Tank capacity: 6.2 milliliters

Size: 25 mm in diameter and height of 52.7 mm

Tube material: PCTG

Filling method: mid filling

Insulation material: German PEEK

Threading type: 510 Thread

Airflow: adjustable side airflow

Coil types: single-mesh coil, single and dual wire coil

Wattage: a range of 60 to 80 watts, performs best within 70 to 75 watts
---
The Wotofo Faris RDTA is regarded as an ingenious vape that is a product of the collaboration between the Wotofo and Vape Geek Q8. The device itself is characterized by decent machining. Its squonk compatibility and detachable tank allow switching of the vape from an RDTA to an RDA and vice versa. It's versatile, comes with innovative sloped airflow channels, as well as a post-less double coil build deck that delivers a peculiar and flavorful experience to vapers.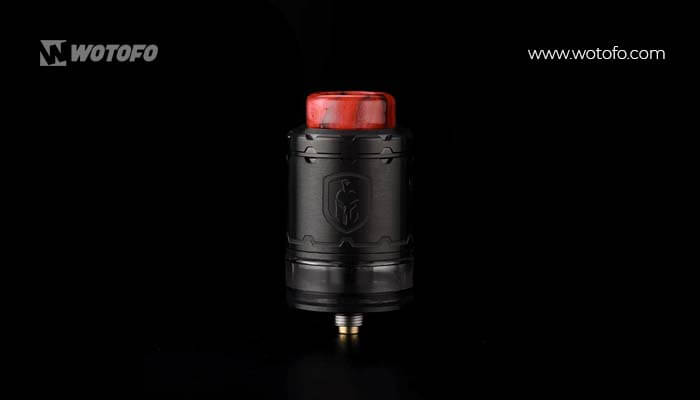 A Vivid Exhibit of Strength and Gentleness: first of all, the name "Faris" is an Arabic term that means "knight". It's an implication of dignity, talent, gentleness, strength, and, equestrian among others. Just as the name suggests, the Wotofo Faris RDTA is a display of excellence and strength combined with gentleness and adaptability. The vape is built from stainless steel implying that it's mechanically strong.
Two-in-One Atomizer: the vape is mainly an RDTA, but it's easy to convert it into an RDA. Also, it can be fit into a squonk mod as it's squonk compatible.
Vapor Condensation Barrier: condensation of steam results in a bad evaporation experience which is a real problem for the atomizer. To avoid it, Faris features a barrier in the cover for preventing the condensate from climbing inside the atomizer internal wall.
Postless Build Deck: the RDTA comes with a postless build deck as well as four side secured terminals that are placed at the base of the build deck. The positioning is ideal to allow vapers to make selections between single and double coil settings. Besides, the RDTA features silicon wicking ports that facilitate blockage of the cotton path as a single-coil requires less cotton.
Detachable Tank 3 ml in Capacity: by detaching the tank and attaching vape flavor well at the base, the RDTA turns into an RDA. Also, the vape employs an ingenious side refilling method using the duckbill-style silicone fill port. The method enables vape flavor to flow in while blocking its way out, and this makes the tank leak-proof.
24 Karat Gold-Plated 510 Contacts: its application of the 510 drip tip increases its versatility. The vape features a double segment top cap that rotates to regulate the airflow and airports that measure 9 mm by 3 mm. besides, its airflow design applies pocket hole air inlet style.

Available in a Variety of Colors:

 the vape is available in five different colors such as bronze, gold, stainless steel, black, and iridescent.
Tank capacity: 3.0 milliliters

Size: 24 mm in diameter and height of 36 mm

Material: Pyrex and stainless steel

Filling method: side filling

Insulation material: German PEEK

Threading type: 510 Thread

Airflow: adjustable side airflow
---
---
Serpent RDTA is not available now. This is one of the best vape in the Wotofo Serpent family after the Mini ETA, Serpent RTA, and Serpent Sub Tank among others. It's the first single-coil RDTA in the industry. The device comes with a huge clamp-style deck and a deck that measures 22 millimeters and it is easy to wick.
It combines the huge storage of an RTA with an easy-to-build deck capability. Besides the technology being new, and a few complexities, the Wotofo Serpent boasts of the production of great dense vapor, simple and seamless design, leak-proof and fine workmanship, splendid for flavor chasing, great packaging with various accessories.
Its exterior is built from stainless steel making it incredibly solid. The Wotofo Serpent RDTA features a PEI 510 drip tip adapter that offers some level of warmth to the cold metallic body. Arguably the whole vape looks compact and stylish. The Wotofo usually take great care in building atomizers, and Serpent isn't an exception.
Its machining is stunning with all parts fitting together very well. It features a highly appealing design with streamlined and nicely rounded edges. On the side of the vape, the word "Serpent" is engraved using a stylish font.
Compact and Seamless Design: its overall size is relatively solid and this is purposely made to look appealing on most devices. Built for single coil configuration. Features a dual wicking hole and refilling is done through a side filling hole that is easily accessed when the top is removed.
Tank Capacity: the vape features a 2.5-ml glass tank where the amount of its exposure is kept as minimum as possible so that the vaper is unlikely to damage it.
Airflow: the device features a simple but effective airflow that consists of a single slot that enables the passage of air to the deck. The top cap is adjusted to regulate the air stream into the vape. By creating a tight airflow, the RDTA can be used for MTL vaping.
User-Friendly: the atomizer is an easy-to-use. Essentially, it's designed in a much similar way to Kayfun where the leads go in opposite directions. Ideally, the wire isn't necessarily wound under the screws as the Serpent RDTA comes with double clamps. Moreover, wicking the device is easy. Dismantling and assembly of the vape are equally simple as it only requires you to unscrew the Phillip head screws, remove a few accessories, and screw them back into place.
Tank capacity: 2.5 milliliters

Size: 22 mm in diameter and height of 41 mm

Material: Pyrex and stainless steel

Filling method: side filling

Threading type: 510 Thread

Airflow: adjustable side airflow

Weight: 70 grams

Dual post with a huge clamp deck