An Introduction to Wotofo SMRT Series - Advantages and SMRT Coil Building Guide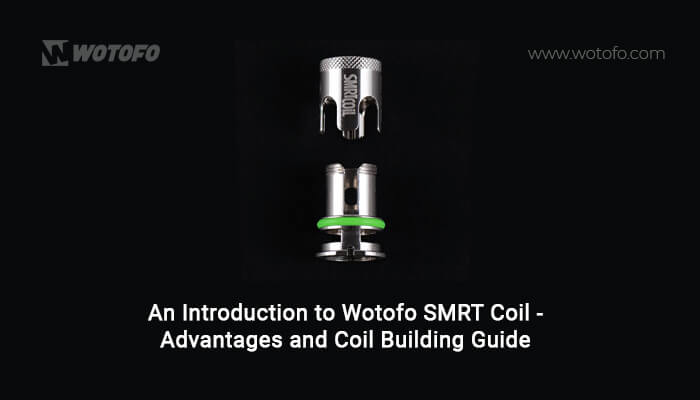 'Hacking vape coils smartly! This is the new slogan in town. In the next few months, the vaping community will get saturated with this line. There's no way Wotofo will follow anyone in vaping matters. Guess what; Wotofo have just launched their brand new kind of pod kit known as the SMRT Pod kit that features an inventive rebuildable coil kit enabling easy coil rebuilding, and it's cost-effective.
The new coil reminds us about some coils currently available in the market, which has been boasting of similar features but this time round SMRT is beating it mercilessly! But unlike these predecessors of SMRT, which are known to have some drawbacks such as short-circuiting, leaking, dry/burnt taste, and complicated functionality among others, SMRT comes with more perfected features and is all set to become the most loved playable pod system in the world.
So, Wotofo SMRT will be the next playable pod kit and probably the solution to levelling up various interactions between vaping products and vapers by allowing easier rebuilding options of coil heads.
The new pod system features a 4.5ml/2.0ml cartridge which is compatible with D11/D13D14/D15 and PnP-series as well as GTX-series Coils, an adjustable airflow located at the bottom to comply with various requirements, an SMRT PnP Rebuildable coil kit to allow easy do it yourself (DIY) method, side filling capability, a screen display, Type-C charging system, a 2000mAh inbuilt battery pack with a 5 watt to 80-watt output power, and an aluminum alloy outer shell.
With SMRT, you can certainly enjoy more fan of your coil DIY and get an absolutely incredible vaping experience – the coils are easier to rebuild compared to conventional coils and they are more cost-effective compared to the completed coils in vaping stores.
Some of the available Wotofo SMRT coil brands currently in the market include nexMESH Chill for SMRT PnP, nexMESH Turbo for SMRT PnP, nexMESH Extreme for SMRT PnP, SMRT Rebuildable Coil Pack, SMRT PNP Mesh-Cotton Set, SMRT REBUILDABLE COIL KIT, SMRT Pod Cartridge, and SMRT Pod Kit.
These SMRT systems have displayed elegance in terms of the coil rebuilding process, external color availability (black, gold, black-red, and black-blue), power output, and outstanding functionality.
#1. Wotofo SMRT Pod System Kit 2000mAh 4.5ml
This is an absolutely brand new solution that's been invented to particularly level up extra interactions between vaping products and users by providing an easier rebuilding method for the coil heads.
This Wotofo SMRT coil applies the nexCHIP that enables fast ignition within 0.001 seconds while offering an intelligent identification of the coil. Its outer shell is manufactured from an aluminum alloy that is durable and lightweight. Additionally, the aluminum finish gives the whole park a redefined sensuous aesthetic.
The SMRT coil comes with a D15 coil with an adjustable/controllable/tunable air intake situated at the bottom. It's versatile; the coil can be used with a variety of coil systems like D11/D13D14/D15 and Voopoo PnP-series as well as Vaporesso GTX series Coils. In reality, equal attention and efforts have been invested in both the appearance and functionality of this SMRT pod system
Manufactured by Wotofo brand

Comes in a single set

Measures 29.2 * 23 * 117.3mm

The capacity of the pod measures 4.5 ml

Outer shell made from aluminum

Power output between 5 and 80 watts

Type-C charging system

Inbuilt 2000mAh battery

Refillable pod
---
#2. Wotofo SMRT PnP Pod Cartridge 4.5ml
This SMRT Pod cartridge is specially meant to be used in Wotofo SMRT pod system kits.
Features
Manufactured by Wotofo brand

Comes in a single set

The capacity of the pod measures 4.5 ml

Comes in a simple packaging
---
#3. Wotofo SMRT PnP Rebuildable Coil Kit/Pack
This is a perfect soil series for vapers who would wish to eliminate coils waste or search for an RDA experience with little or no hassle. The rebuildable kits are interchangeable with VooPoo PnP as well as Vaporesso GTX Coils.
Features
Manufactured by Wotofo brand

Comes in a single set

Comes in a simple packaging
The SMRT PnP Rebuildable Coil Kit consist of:
SMRT PnP Rebuildable Coil x1

nexMESH Chill x2

nexMESH Turbo x2

Cotton Strip x6

Accessory Bag x1

Coiling Rod x1

User Manual x1.
The SMRT PnP Rebuildable Coil Pack consists of the same tools as above and have an extra:
Cutter x1

Carry Case x1

Cleaning Cloth x1
---
#4. Wotofo SMRT PnP Meshed-Cotton Set (10 pieces per pack)
This is a perfect soil series for vapers who would wish to eliminate coils waste or search for an RDA experience with little or no hassle. The rebuildable kits are interchangeable with VooPoo PnP as well as Vaporesso GTX Coils.
Features
Manufactured by Wotofo brand

Comes in a single set

Comes in a simple packaging
---
SMRT pod kit systems are intensely marketed as and presently being regarded as a "playable pod system". The term "playable" implies "hacking coil heads with much ease." By paying a keen look on the side of the mod, you will notice a huge "Manik" graphic.
Playability matters a lot: with Wotofo SMRT coils, the brand believes that a good pod must always be playable, implying that it should be meant to be more interactive with the owner. Actually, an SMRT pod system is indeed the most playable kit ever.
Vaping more with SMRT coils tends to make your experience more charming: SMRT is a modern vaping solution for facilitating the interaction between vapes and vapers. It facilitates easy coil rebuilding without any hassle. Suitable for both newbies and professional vaping fans.
Less money, more fun: compared with coils with equal functionality and capability, particularly Vapefly Coils, the Wotofo SMRT Coils are relatively cheaper. Additionally, these coils are characterized by high performance resulting in more fun. With Wotofo SMRT coils, it's like receiving a huge basket of Christmas gifts: yes, you'll be getting exactly what you needed in a vape. So it's the moment to roll your sleeves to get the satisfaction you've been yearning for.
Advantages of SMRT over existing coils
The majority of modern vape coils feature superb voltage and wattage control capabilities. Additionally, coil resistance is fundamental in the production of both flavor and vapor. Moreover, the amount of power that flows through the coil dictates flavor delivery as well as vapor production.
Nonetheless, don't expect things like "best vape voltage and/or wattage." While some vapers are looking for vape coils that generate incredibly superb vapor, others are preferring stealth vaping to generate just some bit of vapor.
As above-mentioned, there is no perfect voltage or wattage for any kind of vape or coil. Nevertheless, the resistance of the coil plays a very critical role in achieving the desired vaping experience. But some professional vapers opt for vapes and coils with variable wattage and voltage controls so they can adjust the power to attain their preferred vaping experience.
Recall that too much voltage/wattage levels tend to have negative effects like causing burns to the wick or the coil. The Wotofo SMRT pod systems are innovative kinds of vape coils that allow you to experience vaping up to a satisfactory level.
Aluminum is precious material – lightweight, extremely strong, resistant to rusting, insensitive to temperature extremes, excellent heat dissipator, easy customization, beautiful finish, safe, et al.
So you can imagine how powerful the Wotofo SMRT coils are. The devices are strong and tough implying that they are hard to break and resistant to accidental impacts. They are corrosive free implying that they can serve you for a long period. They are tolerant of high wattage and resistance controls and can dissipate heat excellently.
Also, they are suitable for all sorts of environmental conditions – outdoor, chilly weather et al. They have a beautiful finish and are relatively cheap to customize.
Most importantly, aluminum is odourless, tasteless, non-poisonous, non-absorber, non-magnetic, and inflammable. This means that it doesn't interfere with the taste of your vape flavor.
e-cigs and vapes are a section of the exploding industry of smokeless nicotine products whose popularity has grown over the last decade.
While the wholesale vape flavor makers, retailers community continue to grow, there's an acute demand for operational, aesthetically looking, and relatively cheap vape flavor reservoirs that meets customer demands.
Now, beyond the appearance, a vape flavor reservoir should effectively administer vape flavor into the vape. The Wotofo SMRT pod system comes with a 4.5 ml tank which makes vaping convenient with minimal refilling.
More and more vapes nowadays are packed with plenty of features. From voltage/wattage and temperature control to power curves, time clock, and all other sorts of settings, they require some kind of interaction with the vaper, and this is enabled through a screen.
When you're indoors, reading the settings from the display is easy. This isn't affected by the size or kind of technology applied. But outdoors on a sunny day, things will be different especially for an LCD type of display that isn't as sharp as the OLED screens. The TFT LCD on SMRT pod systems offer powerful viewing angles as well as outdoor visibility.
Vape flavor bottles are primarily applied for refilling open system vapes. An open system vape implies that the reservoir can be topped manually. The Wotofo SMRT pod system features a window on its side for refilling vape flavor when it's exhausted in the tank. The side refilling method is convenient because time conscious and requires little hassle to accomplish.
SMRT pod systems come with an open side airflow implying that you don't have to pull very hard to draw vapor. The vents are positioned in a manner that air is pulled through the channel to the coils when you pull the vapor into your mouth. This allows easy picking of flavor and nicotine.
This is capable of charging the device ten times faster than the normal charger. This implies that a completely discharged battery can take a couple of minutes to reach maximum charge when plugged in a socket. Also, the tiny connector allows manufacturers to build small-sized yet powerful mods.
● In-built 2000 mAh Battery
Whether used in a mobile phone, a radio, or a smartwatch, a single notable advantage of an inbuilt is that the device comes with a compact, tighter, and slimmer design. Its outer appearance is awesome since there are no scratches from nails or other sharp objects, unlike removable battery-powered devices.
Although this is not sufficient power to enable the production of huge vapor clouds, it is adequate to enable a smooth and stealth vaping experience.
● Refillable Pod for Replaceable Coils
This facilitates the replacement of worn-out or damaged coils.
#1: Centering the mesh upon the strip of cotton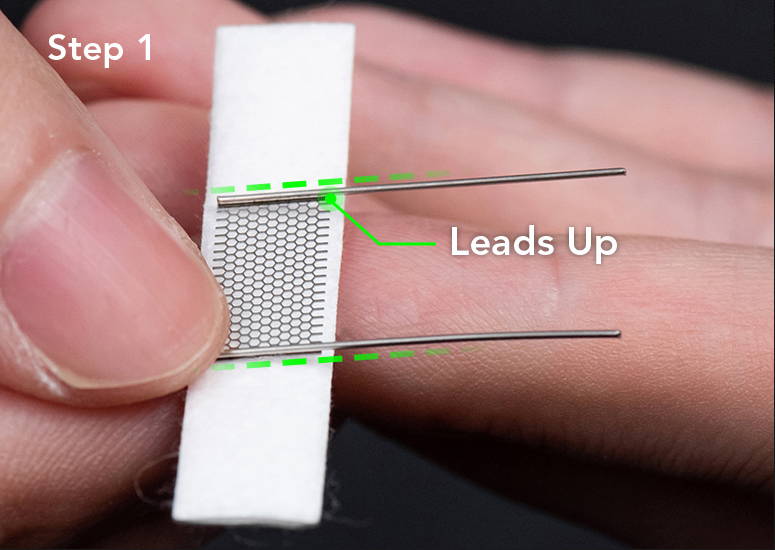 Ensure that the flat side of the mesh lies on the cotton. Ensure that the mesh center is horizontally and vertically oriented.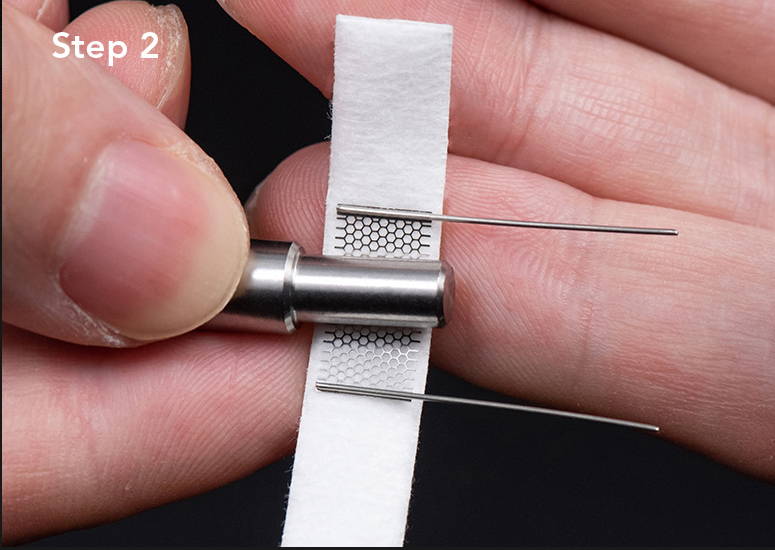 #2: wrapping the mesh and cotton around the thinner end of the rolling rod
Mesh toward the rod together with the cotton on the external part. The leads of the mesh should point in the same direction as the thinner rod end.
#3: pinching the wrapping cotton tightly and aligning the extra cotton to the slot cut on the shell of the coil.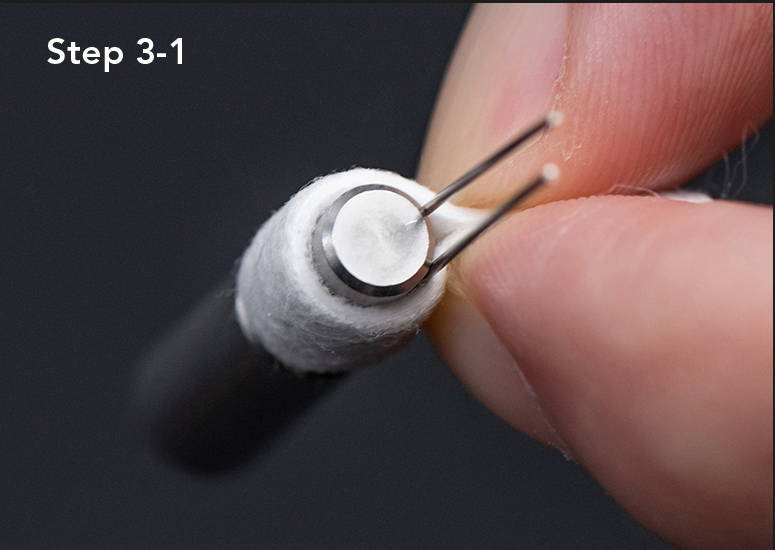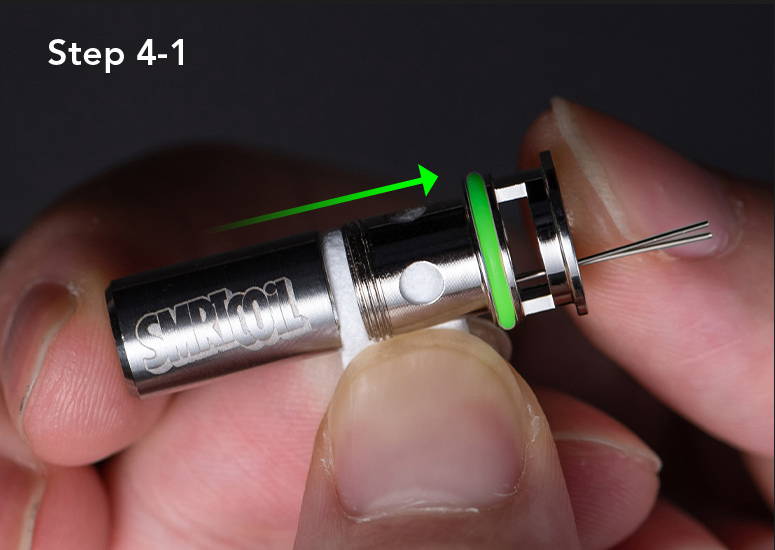 #4: sliding the entire thing into the coil shell and leaving the extra cotton sticking outside from the slot.
By pinching the edge of the cotton, it's easy to slide the cotton. Keeping the coiling rod in.
#5: With the two mesh leads adjacent to each other, pick the one you like or the one that is closer to the coil shell notch, and bend it.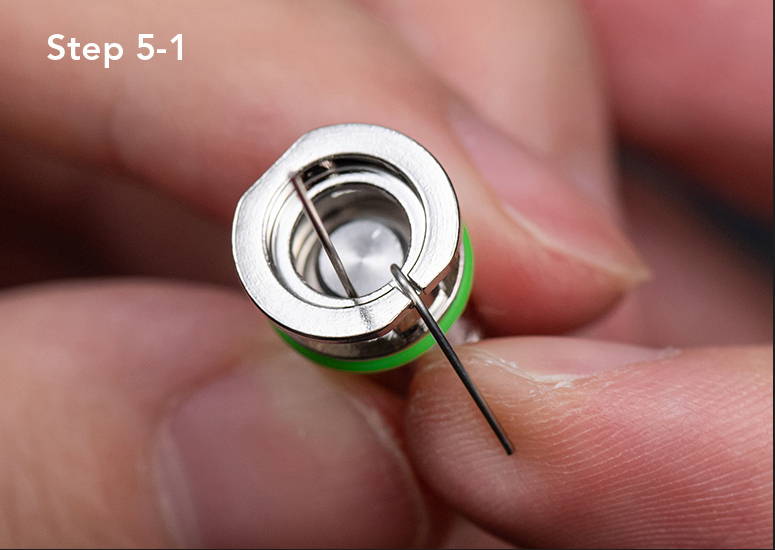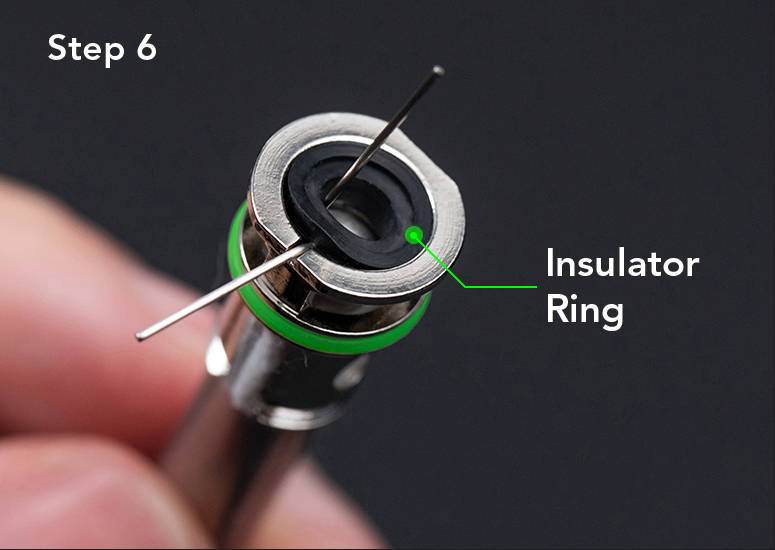 #6: Finding the insulator ring and threading the left alone lead through the ring.
#7: Inserting the golden object into the insulator ring and trapping the left alone lead between the two.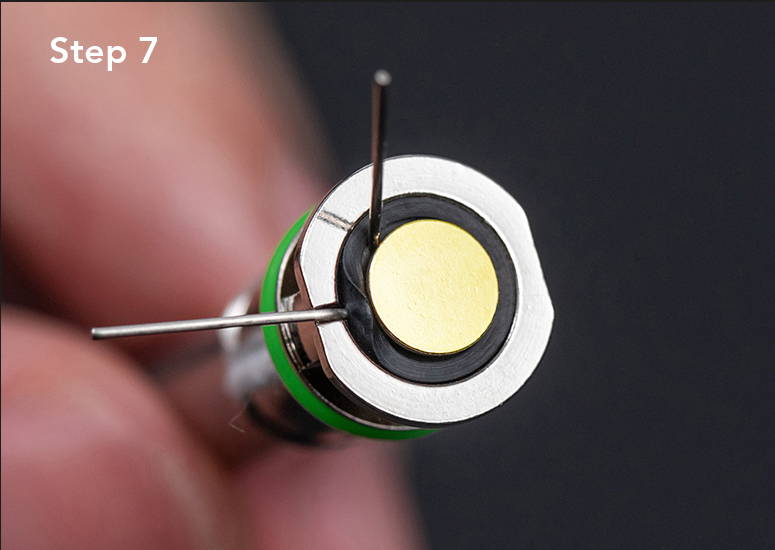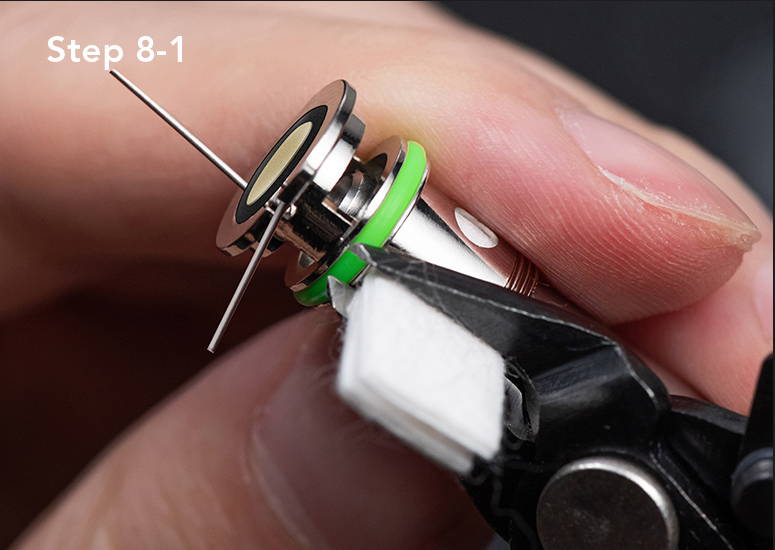 #8: cutting off the extra leads and cotton
#9: Finally, screw the outer shell on
Wotofo is taking the vaping industry by storm. This brand will always be the leader for others to accept and move on. They never disappoint! Grab yourself the newest SMRT pod system and enjoy your vaping life.