The Best Nic Salt Juices in 2020
Nicotine Salt E-Liquid Flavors You Must Try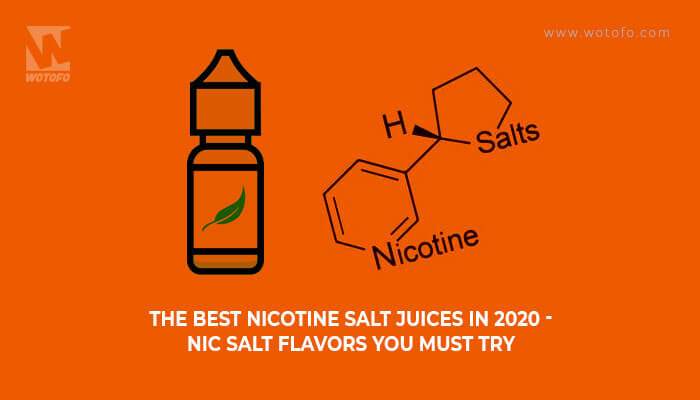 Even if you aren't so attached or attracted to vaping, I presume this term isn't new to you. Probably you have that friend or a relative who constantly talks about it, or maybe you have known about it through the media.
Nicotine salts, also known as nic salts are chemical substances extracted from tobacco leaves. Nicotine salt juices are e-liquids prepared using nic salts. Nic salt e-liquids are nothing new, people have been using them for quite some time. But it was until recently when you can find a wide variety of tasty and satisfying nic salt e-liquids in the market.
Some vapers prefer nicotine salt e-juices to ordinary freebase nicotine e-liquids for their smooth hit of vapor. With the reduced intensity, inhaling vapor from nic salt vape juices is easy and characterized by fast absorption in the bloodstream. Also, compared with the regular e-liquids, nicotine salts e-juices are stronger implying that only a less amount is required to experience the same pleasure.
Compared to freebase nicotine, nicotine salts are a better option for those wanting to quit smoking: they deliver a great amount of nicotine in every puff drawn and deliver almost instant satisfaction. The tastiest and most satisfying nic salt e-liquids available in 2020 are now available in the market.
Also worth noting, these e-juices are best vaped using low-power pod style vaping devices as they aren't meant to deliver a lot of nicotine at once.
Regular (freebase) Nicotine vs Nic Salts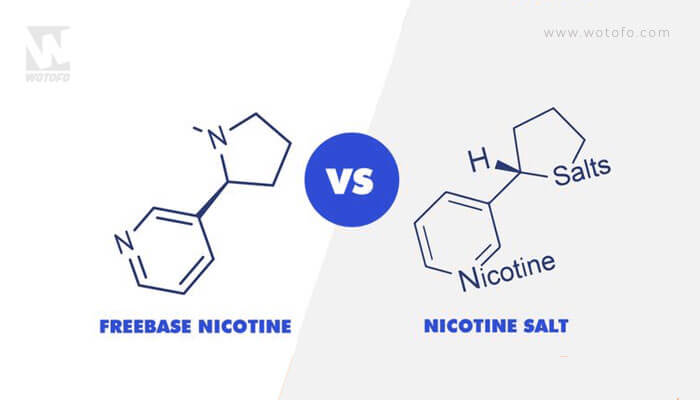 Ordinary cigarettes and traditional e-juices are prepared using freebase nicotine. This has been around for quite some time since the discovery of how to make cigarettes stronger by freebasing nicotine was done by Phillip Morris (of Marlboro) in the 1960s.
Freebasing nicotine simply involves conversion (extraction) of nicotine from its natural state, "salt state" into a pure "base" state. It's a technique that aims at increasing its potency without compromising the dose.
Here, the protons in the nic salts are stripped using ammonia to introduce alkalinity – raise the pH level – and reinstate its deprotonated "freebase" form. Removing protons implies that the nanoparticles can easily travel through the body cells to reach nicotine receptors located in the lungs and brain. The paradox is that freebase nicotine is the purest form of nicotine but vapers prefer switching to nic salts!
The drawbacks associated with vaping e-juices prepared from freebase nicotine can be used to clear this mystery. Its high pH level makes it more basic (alkaline) and it's extremely harsh when used in high doses. Throat hit can be too severe for some people to enjoy vaping or even tolerate it. This can be solved by reducing the concentration of nicotine in the e-juice meaning ex-smokers will not get the satisfaction they needed forcing them to go back to cigarettes.
It's exactly nicotine salts from tobacco leaves that are chemically manipulated to produce freebase "pure" nicotine. Nicotine salts are characterized by a weak base which requires protons to stay stable. Ions do not travel easily through the cell membranes implying that if the unadulterated nicotine slats are added to a VG/PG mixture, vaping should be done at extremely high temperatures for it to be effective, as you might be aware of the temperature control vaping and its benefits.
Nevertheless, there will still not be effective absorption as compared to vaping freebase nicotine e-liquids. Benzoic acid and citric acid are added to nic salts to give them to lower their temperature of vaporization, lower the pH level to give them a smooth throat hit, and increase their absorption rate.
While rating their high-nicotine concentration/concentration/level, this modification enables the delivery of nicotine at even high concentrations comparable to that of regular cigarettes.
Are Nic Salt e-Juices Safe?
Regarding the information we have, there's not much difference between nic salts and traditional freebase nicotine e-juices. Since the two affect the body in similar ways, there seems to be no worry using nic salt e-juices.
Benzoic acid added to nic salts has very low toxicity and is recognized as safe for ingestion – it occurs naturally in different foods like plums, prunes, cranberries, ripe cloves, et al. Consumption of nicotine salts is much safer than smoking cigarettes and offers a soft "landing spot" for people who would like to quit smoking to get an alternative way of enjoying nicotine.
Also, nic salt e-liquids are considered to be safer than traditional freebase nicotine e-juices because the pod systems allow you to inhale less vapor. Also, there is no excessive vaping because you'll be getting more nicotine in each puff.  
PG/VG Ratio is Best for Nic Salt
Traditional e-liquids come with a wide variety of PG-VG ratio, because people want to experience vaping in different ways.
For example, vaping an e-juice with a higher amount of vegetable glycerin (VG) produces denser clouds. But a standard e-juice prepared from nicotine slats comes with a 50/50 PG/VG ratio. Well, there are several reasons for it. They appear to perform best at this ratio because shifting from it makes the throat hit experience either too weak or too harsh for vapers.
Also, nicotine salt e-juices are often vaped using low-wattage mods that do not allow users to explore a broad range of output settings, and 50/50 is actually the best ratio for accommodating the output settings of the device. The 50/50 base allows you to enjoy a smooth inhale and a perfect quantity of flavor. It is the consistency that appears to allow for an ideal concentration of nicotine potency whenever you draw a puff.
Pros and Cons of Nic Salts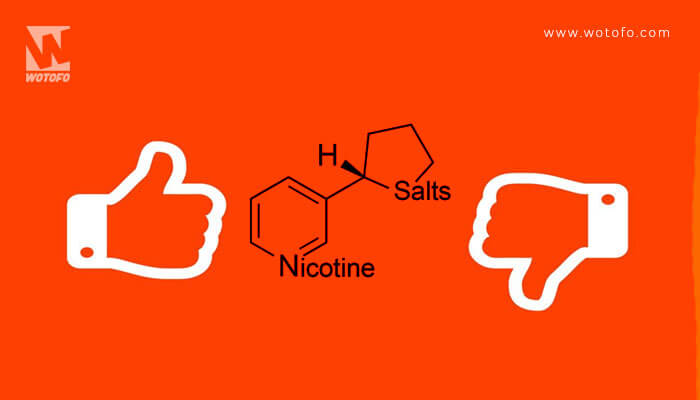 Let us go through some of the pros of using nicotine salts.
inhaling too much of a traditional vape juice may cause some harsh hits on the throat and this is extremely irritating when using high nicotine concentrations. Adding benzoic acid "smoothens" the throat hit enabling easier inhalation rather than irritating puffs.
● Reduces the cost of vaping:
nicotine salt e-juices are used with tiny pod-based mods to achieve equal satisfaction as large sub-ohm vape mods that produce large clouds. Switching to these pod systems implies that the vaper requires less amount of e-juice to deliver equal blood-nicotine levels and they do not need to purchase much e-liquid. The coils have a prolonged lifespan hence they will spend less on them.
● Makes switching to vaping easier:
Nic salt e-juices are most likely to make a difference between people who are currently smoking and haven't yet switched to vaping. According to researchers, a 50 mg nicotine concentration e-juice can deliver equal blood-nicotine levels achieved from smoking. Alternatively, you can use e-cigarettes for transition but you must adjust the nicotine levels in e-liquid, which is an added task and even an uncomfortable phase.
● Enables discreet vaping:
sometimes it may appear offensive or if not, uncomfortable to vape in public places as the huge vapor clouds may annoy passerby. Fortunately, with small pod-based vapes and nicotine salt e-juices, you don't need to worry much. If the vapor is held in the lungs for a couple of seconds, the exhaled cloud won't even be visible to onlookers.
Now, let us check out the common cons of nicotine salts.
● May increase the blood-nicotine levels:
For instance, if you've been using squonk mods with freebase nicotine of 3 mg nicotine strength and now you're switching to a pod with nic salt e-juice of 25 mg nicotine strength, you're actually increasing the amount of nicotine in your bloodstream unless you reduce your vaping frequency. If you intend to minimize and eventually get rid of nicotine consumption, then using nicotine salts is a bad idea.
● Not comparable with sub-ohming hardware:
often, nic salt e-liquids have high nicotine concentrations and usually don't work with sub-ohm tanks as these strengths aren't ideal for vapes that generate large clouds. These types of e-juices are not meant for large vape rigs: for rig lovers and vapers who crave customization, it serves as a big blow to them.
The Best Strength to Choose for Nic Salt Juices
Most e-juices prepared from nic salt come in 25 – 50 concentrations/strengths. Newbie vapers are advised to begin with 20 – 35 mg unless they are ex-smokers. For those who love their vape juice with less strength nicotine to enjoy huge vapor clouds, some manufacturers are offering nic salt e-liquids of as low as 2 to 5 mg. Even if you are making your own vape juice, you need to check these strengths.
3 – 5 mg – ideal for flavor chases. It can be used with sub-ohm vapes. The low concentration offers a clean and is less visible compared with freebase nicotine.

20 – 35 mg – regarded as the middle of the road and suitable for vapers who don't want to reach 50 mg.

50 + mg – ideal for transitioning ex-smokers who crave for an equal satisfaction of smoking. Often used with low-power mouth to lung vapes.
6 Best Nic Salts e-Juices to Try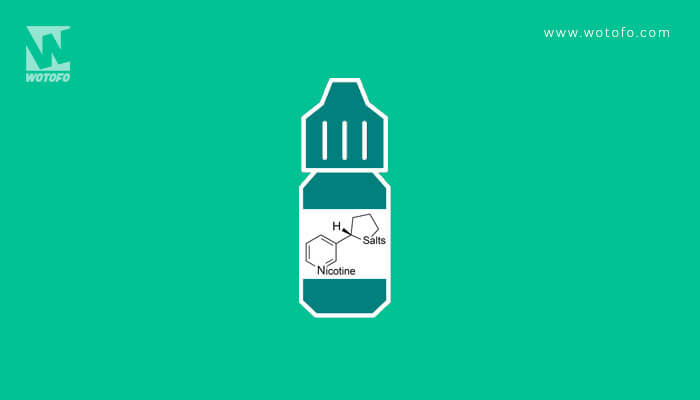 Here are some of the best nic salt vape juices for 2020.
For enthusiasts of the original Dinner Lady line up will certainly want to have one. This product comes with nicotine concentrations of 30 mg and 50 mg and with similar flavors as the original line up.
As with Dinner Lady, which is its constant nicotine counterpart, Lemon Tart is a reputable name and one among the best-selling nic salt e-liquids today. This brand also tops in sales of its other brand, Blackberry crumple.
The Dinner Lady salts are considered as the best choice of nic salt e-liquids that maintains the flavor as it is. As we are talking, Dinner Lady salts are the most satisfying nic salt e-liquids of 2020.
Naked is another reputable brand that is renowned for producing some of the top e-liquids. Particularly, their NKD 100 Salt e-liquid collection is one of the best nic salt e-juices on the market today. It's popular for the production of premium nic salts and offering splendid customer service.
NKD 100 Salt comes with nicotine concentrations of 35 mg and 50 mg and in different satisfying flavors such as Really Berry and Lava Flow e-juices which are available in 30 ml bottles. When listing the best nic salt e-liquids in 2020, NKD 100 Salt is undeniably a top pick and wildly received rave reviews from the global vaping community.
This brand exists to offer vapers a different way of enjoying nicotine. SOLACE Salts produces some of the best and high-quality nic salt e-liquids around. Arguably, vaping fanatics consider their flavor selection as one the tastiest, and come with flavors such as Neked Peach Rings as well as Vanilla Bean.
The e-juice is available in nicotine strengths of 30 mg and 50 mg. This brand is a must-try for anyone searching for smooth, enjoyable nic salt flavor.
This brand has grown itself a "crazy" following and currently one of the most well-known e-liquid brands across the globe. This brand is working tirelessly to protect its customers by offering domestic and even international shipments. Their e-juices are available in nicotine strengths of 25 mg and 45 mg.
Mr. Salt-E is a must-try for anyone looking for a delightful and satisfying e-juice. They produce top pick flavors like Salted Caramel and Blue Razz Lemonade.
If you've tried candy and strawberry flavors and they didn't satisfy you, then try Yami Salts by Yami Vapor. It's a top brand that comes with one of the best and unique flavor combinations.
For example, Taruto which is a dessert made from smooth custard, Juusu which is a mixture of apples, lychee, and even sweet peaches. The e-juices are available in nicotine concentrations of 35 mg and 50 mg.
Beard Salts e-juices are renowned for their delightful and satisfying flavors. They are available in nicotine strengths of 30 mg and 50 mg. They come with flavors such as cinnamon funnel cake as well as NY style cheesecake.
Studies show that nic salt e-juices are the most efficient ways of delivering nicotine to vapers. Vapers report a smooth and tasty experience with top brands prepared with nic salts. They are weak alkali (caused by the addition of benzoic acid) hence a reduced pH level implying vaping is not harsh. Several experiments are underway to improve their efficiency.
---