The 5 Best Vape Mods of 2021 for Beginners and Professionals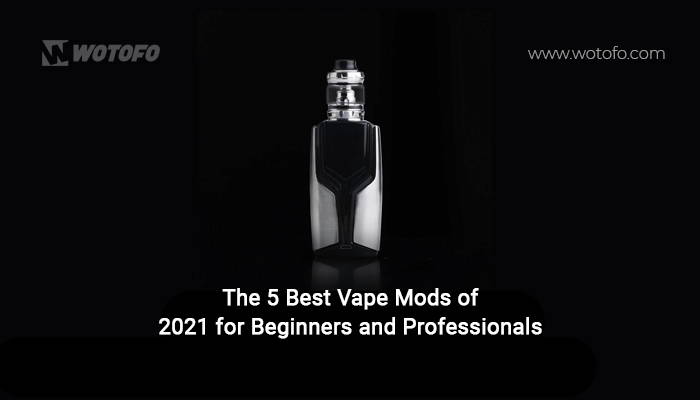 So, it's 2021, a year that we must stay truthful and learn to solve life problems. Boredom is one such stressful situation that we are caught up in when things don't go as expected. Take 2020 for example; you might have had a lot of plans but COVID 19 hit you hard. Probably you achieved a few or none.
But there is a lot of things you should learn in 2021. If you are a vaping fan, you should understand which vape mods are the latest and powerful to carry around.
Now, compared with other types of vapes, vape mods apply better and advanced vaping technology. They come with internal electronics with numerous capabilities and safety protection to enable vapers to get the best from them.
For instance, you will be aware of the best box mods. A box mod combines sleek, powerful, and high capacity battery parts that are compatible with 510 threaded tanks. Before describing the best vape mods available in the market, we need to explain what these devices are and how they differ from typical vapes.
In simple terms, they are larger, have a more advanced chipset, have a faster firing speed, and use a high-capacity battery, among other capabilities.
Choosing the Right Vape Mod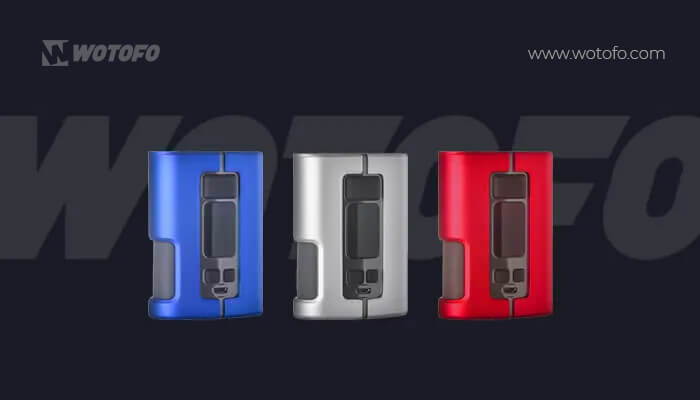 If you have finally made your mind to take part in the wonderful vaping world, feel safe and in the right place because you're going to learn and enjoy a few things. Since you're a beginner, you might be wondering where you'd begin.
The good news is that Wotofo is offering the best vape mods in the industry. Besides, their products are available at customer-friendly prices and in a wide selection. You don't necessarily need to invest too much, but rather ensure that you have gotten the best mod for the best manufacturer.
The type of vape mod you can choose depends on the sort of vaping experience you need. For low-maintenance kits, user-friendly kits if you are just commencing on with mods and you've been using a modest amount of power, an option having a built-in battery is the best. This kind of vape offers you the right wattage to vape with, with minimal complication regarding other settings.
If you've been in the game for a while and you've mastered the advanced mods, something new with modern settings such as temperature control and power output of 80 watts and above won't be a bad idea.
Besides, understanding which vape mod suits your vaping needs is very appropriate. If you need to create huge vapor clouds or blow smoke rings, there is a mod for that. If you need a smooth and intense delivery of flavor or a vape that can easily be carried in the pocket, there is also the right device for you. Before you start, there are three tips that you must follow:
Selecting a mod maker with a superb reputation for manufacturing high-quality devices. Wotofo serves you well in this case – it's renowned for the generation of outstanding and reliable vapes. Choosing Wotofo is a sure bet for knowing you are getting an excellent product.

Think about the environments you're going to use the device. Huge, heavy vapes are great at home setups. A smaller device is easily carriable and can be used when going out.

Tanks and coils supplement your vaping excitement. Coils having an updated technology generates superb flavor as well as thick vapor clouds.
For long-term vaping, vape mods are undoubtedly the ideal vapes, offering enormous superiorities in the life of the battery as well as performance. The mods industry is such a big one, providing a wide range of mod varieties – from newbie stuff to mechanical vapes preferred by veteran vapers.
Now that we're finally in 2021 and the vaping industry is constantly improving, it's time to unveil vape mods with "crazy" features that suit your vaping desires. Some of the latest vape mods in the market include Wotofo Dyadic Squonk Mod, Wotofo Recurve Squonk Mod, and Stentorian Ram BF Mod, among others.
#1. Wotofo Dyadic Squonk Mod
The Wotofo Dyadic Squonk Mod is a product of the merger between Wotofo and Tony B a YouTuber. This mod comes with three distinct levels of power and a firing speed of 0.00001 sec. The mod can support the resistance of 0.05 ohms and supports a pro-level coil configuration. It's squonk bottle measures 8.5 milliliters.
The mod's easy-to-loosen connector design is meant to ensure there is no stuck-on-mod difficulty. Wotofo Dyadic Squonk Mod is a sleek and powerful vape that enables powerpack performance. Its zinc-alloy coating offers the mod aesthetic and incredible ergonomic features. The outer cover is manufactured from rubber giving the mod a smooth finish and protection from accidental fall.
The mod comes in five different colors: silver, blue, gunmetal, black, and red. The mod features a dual 18650 battery that offers a long vaping experience as well as a power output of up to 200 watts. The battery uses an industry-topping internal chip offering it an instant firing speed of 0.00001 sec and easy setting.
The mod supports a pro-level coil configuration and can support a coil resistance of as low as 0.05 ohms. The vape mod features a squonk bottle measuring 8.5 milliliters – featuring both the side and top filling capabilities – and an additional spar bottle. It's easy to remove the bottle for cleaning and/or refilling.
Wotofo Dyadic Squonk Mod features a 0.96" TFT display that shows the mod settings, wattage, resistance, output voltage, and battery status. The three power levels are standard, powerful, and powerful+. On its front side, the mod comes with a pair of adjusting buttons – for setting the wattage level, and a firing button.
To switch the vape mod ON/OFF, the firing button is clicked five times. By pressing the two adjusting buttons simultaneously, locks and unlocks the mod – safety feature for preventing the mod from firing while in the pocket. By pressing the firing button alongside the upper adjustment button, the power levels will be adjusted.
200-watt power output: mods give a powerful performance. Usually, numerous adjustments tend to make them hard when handling. But Wotofo Dyadic Squonk Mod nails it well here: it's easy to achieve an exemplary power output without difficulties.
18650 battery: the 18650 is the source of power that delivers power output between 5 and 200 watts supporting a resistance range from 0.05 to 3.0 ohm.
3 distinct levels of power: depending on their level of expertise, vapers can adjust the power levels to the standard, powerful as well as powerful+ for extremely high performance.
Integral safety features: this mod features numerous protective features like protection against low voltage, short-circuiting, overheating, and the 10 seconds automatic cutoff among others. This device also features the auto atomizer recognition capability: uses an industry-top internal chip with an instant 0.00001 seconds firing speed, easy-to-loosen connector design.
#2. Wotofo Recurve Squonk Mod

Wotofo Recurve Squonk Mod is a product of the merger between Mike Vapes and Wotofo. The choice for custom batteries enables utilizing this mod with existing batteries. This kind of mod produces up to 80 watts of power.
The Wotofo Recurve Squonk Mod is an RDA as well as being a squonk mod which can be powered by one battery of 18650, 20650, 20700, or 21700 type. This vape mod combines ergonomics seamlessness with beautiful curves and offers a sleek and smooth finish with rubber coating.
The mod features a tactile firing button for turning the device ON/OFF. Like other unregulated mods, this vape gives several protective approaches like protection against low voltage, short-circuiting, reverse battery, 10-second automatic cutoff, et al.
The mod comes with an 8.0-milliliter squonk bottle – top-filling design manufactured from baby feeder silicone – sitting in place with the assistance of a magnetic cap.
Enriched performance with perfect curves: truly, curves add beauty and this Wotofo mod proves it well. Besides its outer appearance, these curves supplement a better ergonomics and firm grip. The mod provides a perfect combination of sleekness and performance.
80 watts power output: mods give a powerful performance. Usually, numerous adjustments tend to make them hard when handling. But Wotofo Recurve Squonk Mod strikes it very well: it's easy to achieve an exemplary power output without difficulties. The mod provides power and mechanical capabilities with minimal criticalities. It can support a resistance range between 0.08 and 3.0 ohms.
Safety features: its integral chipset enables protection against low voltage, short circuit damage, battery reversal, overcharging, and overheating among others. Besides, it enables the 10-second automatic cutoff.
Compatibility of the battery: custom battery options enable this mod to be an ideal vape for vapers. The 20700 and 21700 battery types fit very well with minimal difficulties. Sleeves are applied for both 18650 and 20650 battery types.
#3. Stentorian Ram BF Mod
This is an elegant squonk mod that features the bottom-feeding mechanism. The device is powered by a 18650 battery type cell. The mod features a huge 7.0-milliliter squonk bottle that enables a full day of vaping with minimal refilling.
Stentorian Ram BF Mod features a firing button plus a safety lock to prevent accidental firing. Its 24K gold 510 connected combined with the firing button offers the best electrical conductivity. The mod is powerful and features an awesome cover.
Wotofo co-designed this product alongside a popular brand, Rig Mod to redefine the implication of "powerful" regarding vaping. The device features a foolproof interface, a compact starter mod that eliminates all the unnecessary multi-menu functions like temperature control vaping.
The vape gest power from the double 18650 batteries giving it a maximum power output of 200 watts. The mod takes after a medial helmet and uses a fire bar rather than a firing button – enables a better grip as well as the overall aesthetic.
Body manufactured from zinc alloy

Dual replaceable 18650 battery park

Power output range between 5 and 200 watts:

caters for varied firing preferences. The vape features there firing modes: the standard mode designed to fire faster compared to the average mode; powerful mode which is higher than the standard mode for vapers who prefer experiencing the next level of faster firing, as well as the powerful+ mode which is the extreme level for vapers who love the speediest firing.

The maximum charging current of 1.5 Amps

Ultra-fast ramp-up time:

as described above, the powerful+ mode can fire up with an incredible speed of close to 0 seconds. This is such a terrific operation which is unbelievably fast for the best vaping experience.

Foolproof functionality with minimal multi-menu operations:

the box mod offers a minimal user functionalities interface to avoid unnecessary mistakes. Switching between the mode requires you to just press the firing bar as well as the right button (plus button) simultaneously. Additionally, customizing the light requires you to press the fire bar while holding the left button (minus button).

Customizable light-show:

for some additional fun, this mod features an adorable light-show function that is centered in the middle – shining slimly and vertically half the front height. The light-show can be tailored up to seven different colors either individually or mixed.

Resistance range of 0.08 and 3.0 ohms
#5. Stentorian Basilisk Box Mod
Powered by a pair of 18650 batteries, the pack can produce over 200-watts of power. The vape uses resin and zinc-alloy stitching, offering a fancy visual appearance.
This rebuild mod is aimed at fulfilling various requirements for newbies and professional vapers. It comes with a three-key interface for offering an easy-way of functionality.
The mod is available in five different colors: red & blue, pink & blue, yellow & green, purple & yellow, and black & red.
Hopefully, you have found your match from the description of vape mods above. Whether it's a single battery mod or a dual battery mod that you're looking for, Wotofo offers the latest and excellent vape mods for you. You can visit your nearest vaping store or order online to get the best mod delivered to your doorstep. You don't need to invest a lot on mods, but always check the manufacturer, and only a reputable one: Wotofo all the way!